Is Michael Vick in the NFL Hall of Fame?
Michael Vick may be retired from the NFL, but he finds ways to remain in the conversation. Once one of the most popular NFL players, the former quarterback now makes the rounds on TV and speaks at public events. One might expect Vick to be in the NFL Hall of Fame, but this is not the case — at least not yet.

Michael Vick's career
Vick first got attention while playing football at Virginia Tech. His unique skill set and ability to run the ball in the days before running quarterbacks were the rage made him a top prospect in the NFL Draft.
In 2001, the Atlanta Falcons chose Vick with the No. 1 overall pick. He only started two games in his rookie season, going 1-1-0, throwing for two touchdowns, and rushing for one. In 2002, however, the now-starting quarterback had a breakout year.
With raw and unique talent, Vick rushed for over 700 yards and eight touchdowns. He threw for nearly 3,000 yards and 16 touchdowns on top of this. After an injury cost Vick most of the 2003 season, he was right back at it in 2004, leading the Falcons to an 11-4-0 record
Although Vick threw for over 2,300 yards, 14 touchdowns, and 12 interceptions, his running truly made him a superstar. The quarterback ran for over 900 yards and three more touchdowns that year. He continued this two years later when he became one of the rare quarterbacks to rush for over 1,000 yards in a season.
Defenses did not know what to do with Vick, but it didn't matter. His dog-fighting scandal put his career on hold for the next two seasons. The athlete served time in prison and was forced to rehabilitate his image. 
In 2010, Vick started 12 games with the Eagles. The quarterback also had his best season as a thrower, getting 3,000 passing yards, 21 touchdowns, and six interceptions. It was Vick's final year as a star quarterback, although he lasted five more years in the NFL. 
Is Vick a Hall of Famer? 
With a controversial past and a penchant for inconsistent play, some think Vick has been bypassed by the NFL Hall of Fame. But the reality of the situation is that he's not eligible yet.
Vick retired in 2015 after going unsigned. This makes him eligible for the 2020 class — one that will be bigger thanks to the NFL's centennial celebration. You may assume that this makes Vick a shoo-in, but his place in the Hall of Fame may not be secure. 
Will Vick make it?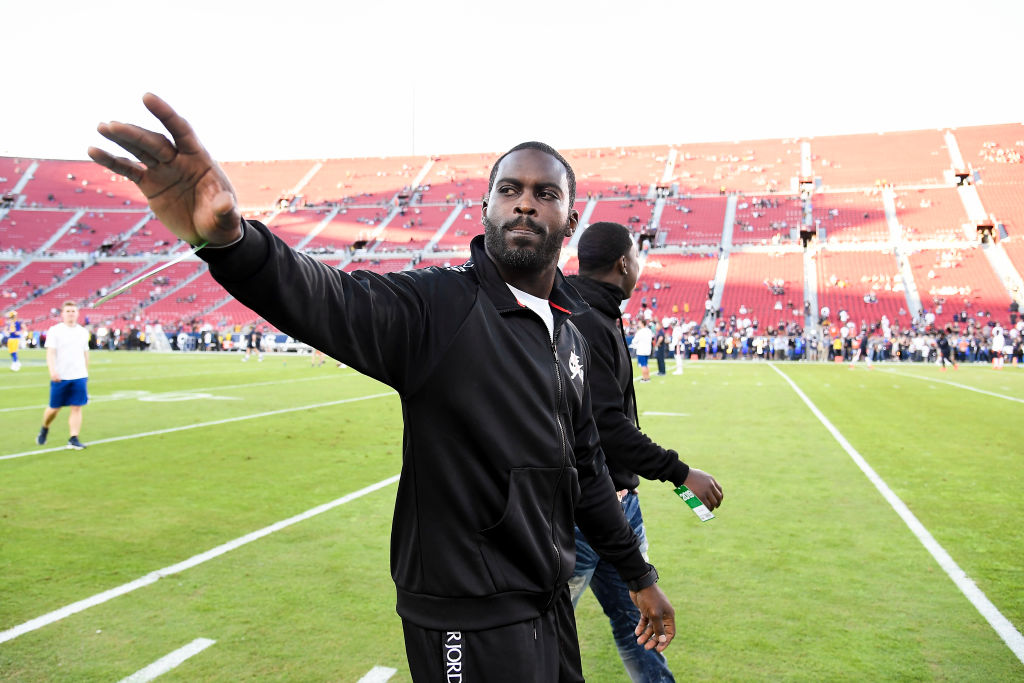 If you ask Vick, he is Hall-of-Fame talent. While the now-39-year-old may not have experienced a lot of team success — even his success is relatively limited given the scope of his name — he did revolutionize the quarterback position. Guys like Lamar Jackson can thank Vick for his impact, although this doesn't mean he will be rewarded. 
His game-changing style is exactly why Vick believes he should get the nod. He was a four-time Pro Bowler with 22,464 and 133 touchdowns. His TDs, however, were met with 88 interceptions — not a great ratio for an NFL quarterback. Vick may have been an important player, but his numbers just might not be there for the Hall of Fame. 
The retired athlete is a fascinating character on many fronts. Vick was important to the NFL, but he was also a headache involving a high-profile scandal. His impact could theoretically trump this, but smart money might be on Vick not making it into the Hall of Fame, even when he is eligible.