Is Patriots Coach Bill Belichick Married?
You get the feeling that Bill Belichick, the head coach of the New England Patriots, would be good at a lot of things. For example, Belichick would likely be a great poker player. He keeps his emotions and reactions guarded without giving his opponent insight into how he's thinking or feeling. 
It's this same wall Belichick puts up that's made it notoriously difficult to learn about his personal life. It begs several questions, including whether he's married. Let's look at Belichick's history and marital status. 
Bill Belichick's history as an NFL head coach
RELATED: Mike McCarthy Just Did His Best Bill Belichick Impression With the Cowboys
According to Brittanica.com, Belichick's first foray into head coaching came in the mid-'90s, when he became the head coach of the Cleveland Browns. He had one playoff appearance there, but ultimately after five seasons, the team fired him. His next head coaching gig came with the Patriots — one that was obviously more successful. 
Before and in between those gigs, Belichick also served as a defensive coordinator and assistant. He became famous for being the mastermind behind the New York Giants' defense that won two Super Bowls with Lawrence Taylor at linebacker. His defensive scheme against the Buffalo Bills in 1990 was particularly lauded. 
Belichick followed his former boss Bill Parcells back to New York, where he served as the team's defensive coordinator. Parcells assumed Belichick would be his successor but was shocked to see him resign after Parcells quit. 
Belichick has won six Super Bowl championships as a head coach with the Patriots, more than any other coach in NFL history. So how has he done it? How did he turn a career as a defensive coordinator into the most successful one in football coaching history?
How Belichick became the greatest coach of all time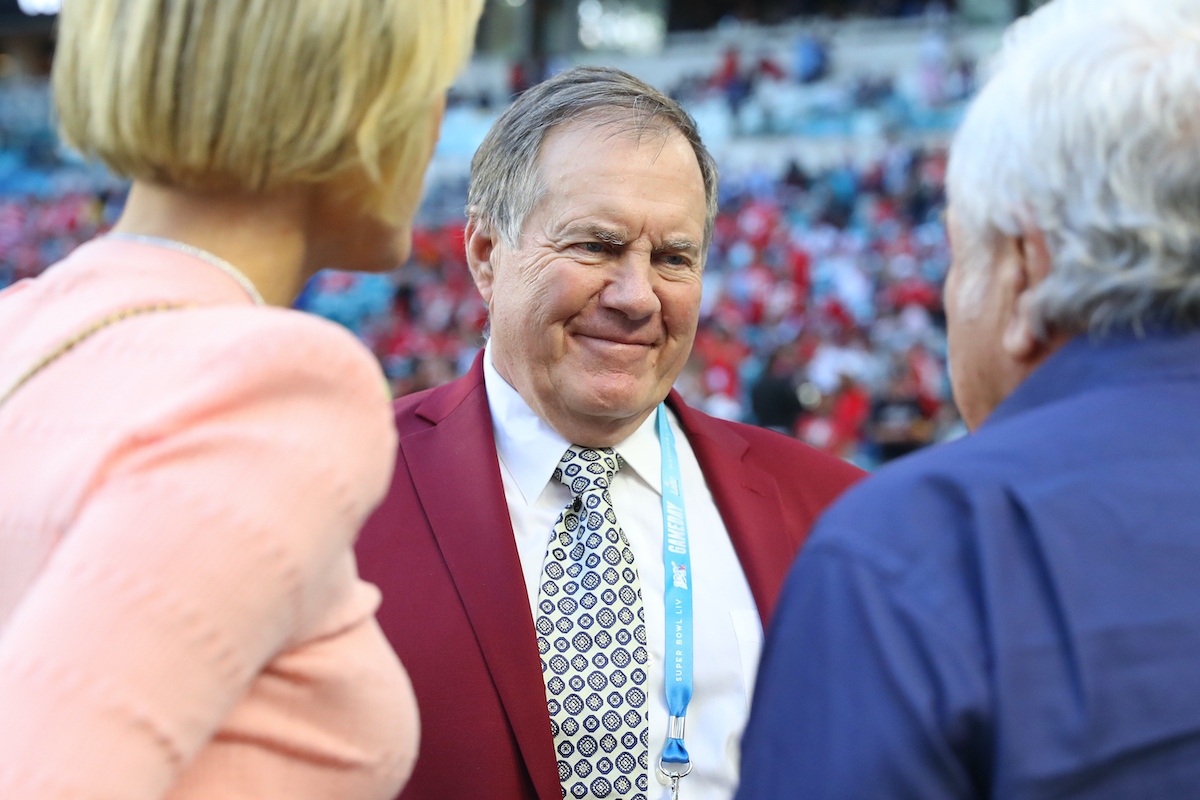 Belichick is known for his singular-minded focus. He's obsessive about the game of football. He's also known for not revealing too much to the media. This means he likely spends long hours with the team and doesn't give away too much to anyone outside the sphere of that community.
It's impossible to say if this is how Belichick manages his personal life, and doing so would be flat out irresponsible without additional evidence. But it's fair to speculate that life as an NFL coach would make it hard to maintain a strong marriage based on the enormous time commitment involved. This brings us back to whether or not Belichick has a wife. 
Is Patriots coach Bill Belichick married?
According to Heavy, Belichick was married to his former wife Debby for many years. The two met in high school and have several children. In 2005, reports of a marital rift surfaced when Belichick was named in a separate divorce suit as possibly being involved with another woman going through a split. This led to the couple divorcing in 2006. 
As of now, Belichick is not currently married. He is, however, dating a woman named Linda Holliday and has for over a decade. Belichick met the woman at a nightclub in Florida in 2007. She often posts about the two on social media, which is a far cry from Belichick's rather private approach to his personal life.
Belichick and Holliday often make public appearances together, either at live sports games or other events. Belichick may not be married at the moment. But he's been in a long-term, committed relationship since 2007.