Is QB Mitchell Trubisky Fed up With Bears Head Coach Matt Nagy?
The 2019 NFL season has been a rough one for Chicago Bears quarterback Mitchell Trubisky. Just two years removed from being the second overall pick in the NFL draft, he has struggled in nearly every aspect. Fans and media have been quick to blame Trubisky for these issues, while others have thrown blame in coach Matt Nagy's direction. Trubisky doesn't disagree, and his recent comments about his struggles may be troubling for some Bears fans to hear.

Mitchell Trubisky's career so far
Trubisky came into the NFL with the types of issues that are common for a young quarterback. He struggled with accuracy in his 12-game rookie season, completing just 59.4% of his passes for 2,193 yards. Those numbers were good for seven touchdowns, but also seven interceptions. There were hints that Trubisky was ready for the NFL, but his skills were still quite raw.

The 2018 season was another story altogether. Trubisky raised his completion rate to nearly 67% and threw for 3,223 yards en-route to an 11-3 record as the quarterback. He more than tripled his touchdown numbers from the year before, throwing 24 on the season to go against his 12 interceptions. The Bears gave Trubisky more chances, and he was making the most of them. That culminated in his selection to the Pro Bowl.

Entering the 2019 season, Mitchell Trubisky had some lofty expectations, with some even believing that he could be a dark horse MVP candidate on the season. When the season started, however, something was different. Trubisky didn't have the killer instinct he had the year before. He threw the ball more, but it also felt as though the Bears were scared to give him too much to do.

A late-season push has improved Trubisky's overall standing, but 2019 is still a major step back. He has thrown 62%, nearly 4% less accurate than last year. Barring a miracle in the season finale, his touchdowns will likely be down, and his interceptions could very well be up. It's not an all-time terrible season, but it's a concerning one for a young quarterback who was believed to be on the uptick before this year.

What does Trubisky think of his regression?
Some players will take ownership of their struggles, and Trubisky cannot say that everything is out of his control. That won't stop him from trying to take the target off of his back, however, so making Nagy the target of his grievances is the logical place to go.

Following a loss late in the year to the Green Bay Packers, Trubisky appeared to be taking potshots at his coach.

"I feel like they were pretty good," Trubisky said (per Yahoo! Sports). "They had a really good front. I felt like our O-line played really well. I thought we could have taken more pressure off them [by] moving the pocket a little more and me getting out."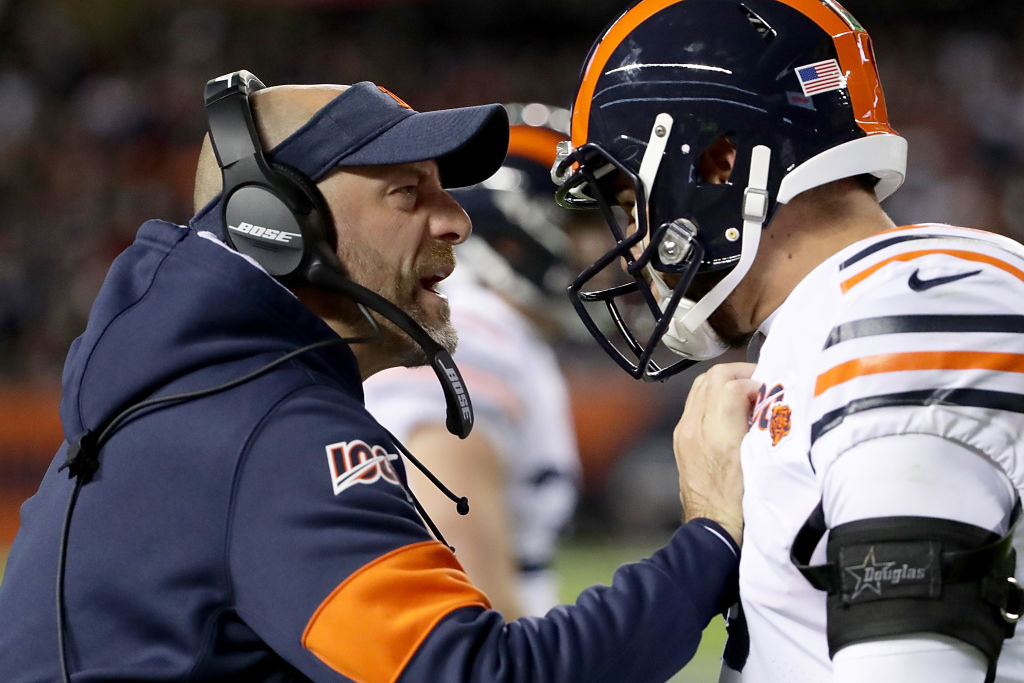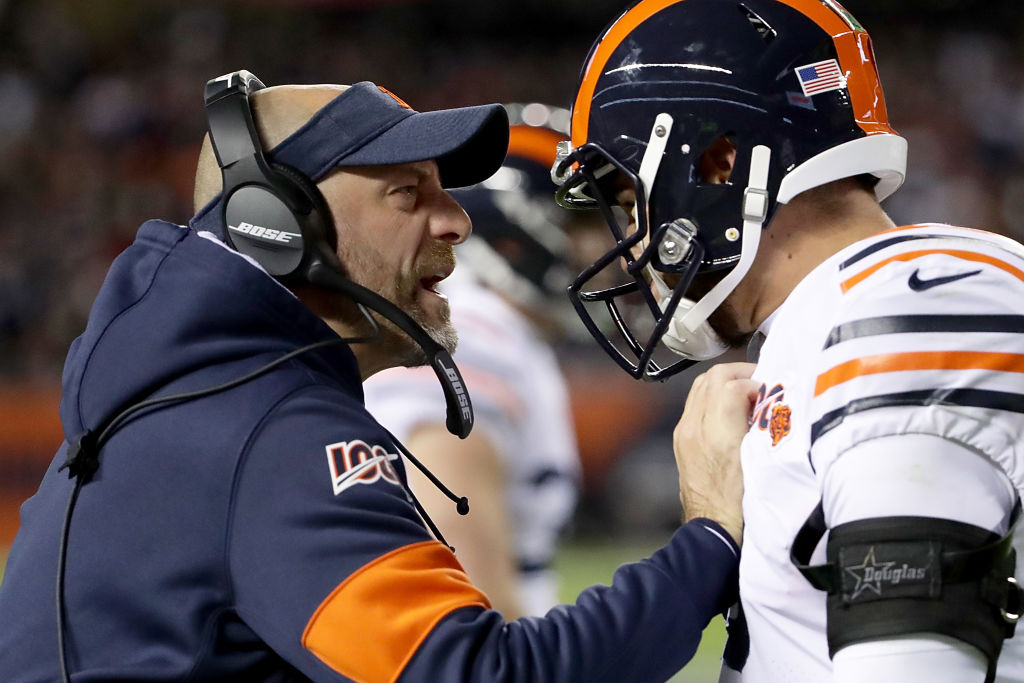 Trubisky later clarified his veiled statements by saying, "Could've done a lot of stuff, yeah."

Matt Nagy is not absolved of blame. His offenses have a knack for not taking risks and playing it either too safe or too economical when the team needs a big play. Trubisky is likely frustrated with himself, but his coach isn't helping anything. If the Bears side with Nagy, however, the Bears could be looking for other options.

Could the Bears replace Mitchell Trubisky?
If Mitchell Trubisky isn't the answer at quarterback, then the Bears could look to someone else this offseason, and they might have options to consider.

Andy Dalton was in and out of a starting spot in Cincinnati this season, but after his final benching, it seems clear that he might be on the move. With reports that the Patriots might be ready to move on from Tom Brady, he could be an unlikely, but an interesting option if he chooses to go away from the team he's spent nearly 20 years with. Heck, even Eli Manning has been a target of speculation.

Trubisky's struggles are baffling. Whether he is to blame or not, the NFL doesn't always look glowingly at those who will call out coaches or teammates. Perhaps, there will be an impasse, and the two sides can move forward, but it appears the Bears may need to make a change this year.