Is Rudy Gobert Going to Win a 3rd Straight Defensive Player of the Year Award?
The NBA has officially returned. The unfinished business of an exciting season will finally give pandemic-weary basketball fans what they've craved for months. It's the perfect time to return to where we left off: the state of defensive play. Rudy Gobert, who won consecutive Defensive Player of the Year awards, was at the center of the league's sudden suspension.
He tested positive for COVID-19 not long after being publicly dismissive of the coronavirus pandemic. Since then, Gobert has realized the gravity of the situation, atoned, and donated big. Can he return to the NBA after his illness with the same fire he brought before?
Defensive Player of the Year contenders for 2020
Rudy Gobert remains in the running for DPOY. His 2020 season started slow, leaving him ranked 13th in overall defensive production according to Forbes. He heated up before the pandemic hit the brakes on the entire league. Notably, he rocketed up the ranks on blocks, second to only Hassan Whiteside.
Milwaukee Bucks center Brook Lopez earns major points for his work around the rim. He's just one part of the Bucks' borderline historic defensive season so far — more on that later.
The Philadelphia 76ers have Ben Simmons to thank for their own defensive feats this year. He notably has little to give on offense, compared to most hyped-up young superstars. He makes up for with his ability to guard across multiple positions, according to NBA.com.
That tradeoff is less of a problem for Lakers star Anthony Davis. Working as LeBron James' sideman has put more emphasis on Davis' defensive skills, and he came up huge in 2020. It shouldn't be much of a surprise, though. Basketball Reference notes that he is one of seven players in NBA history to average two blocks and one steal per game.
Can Rudy Gobert dethrone Giannis Antetokounmpo?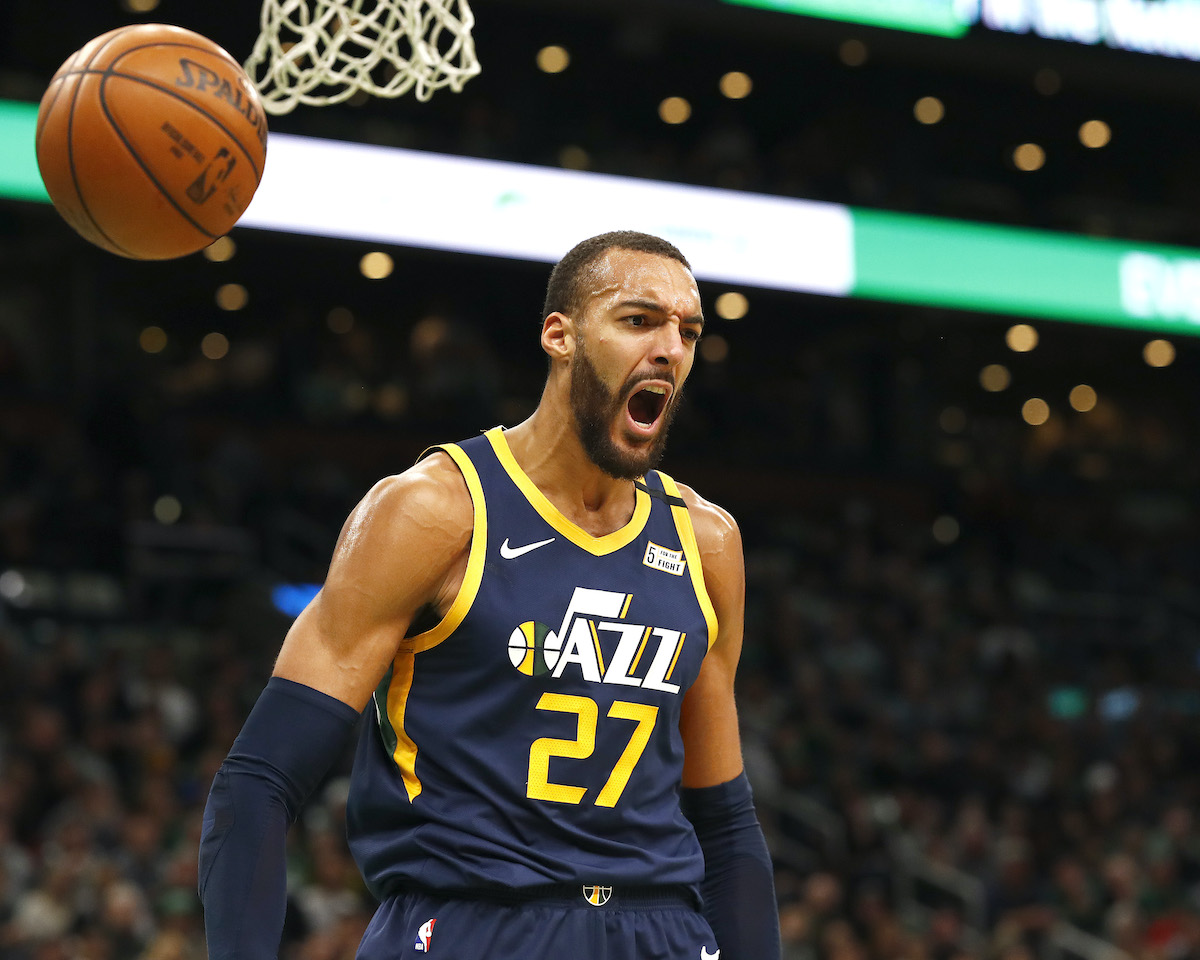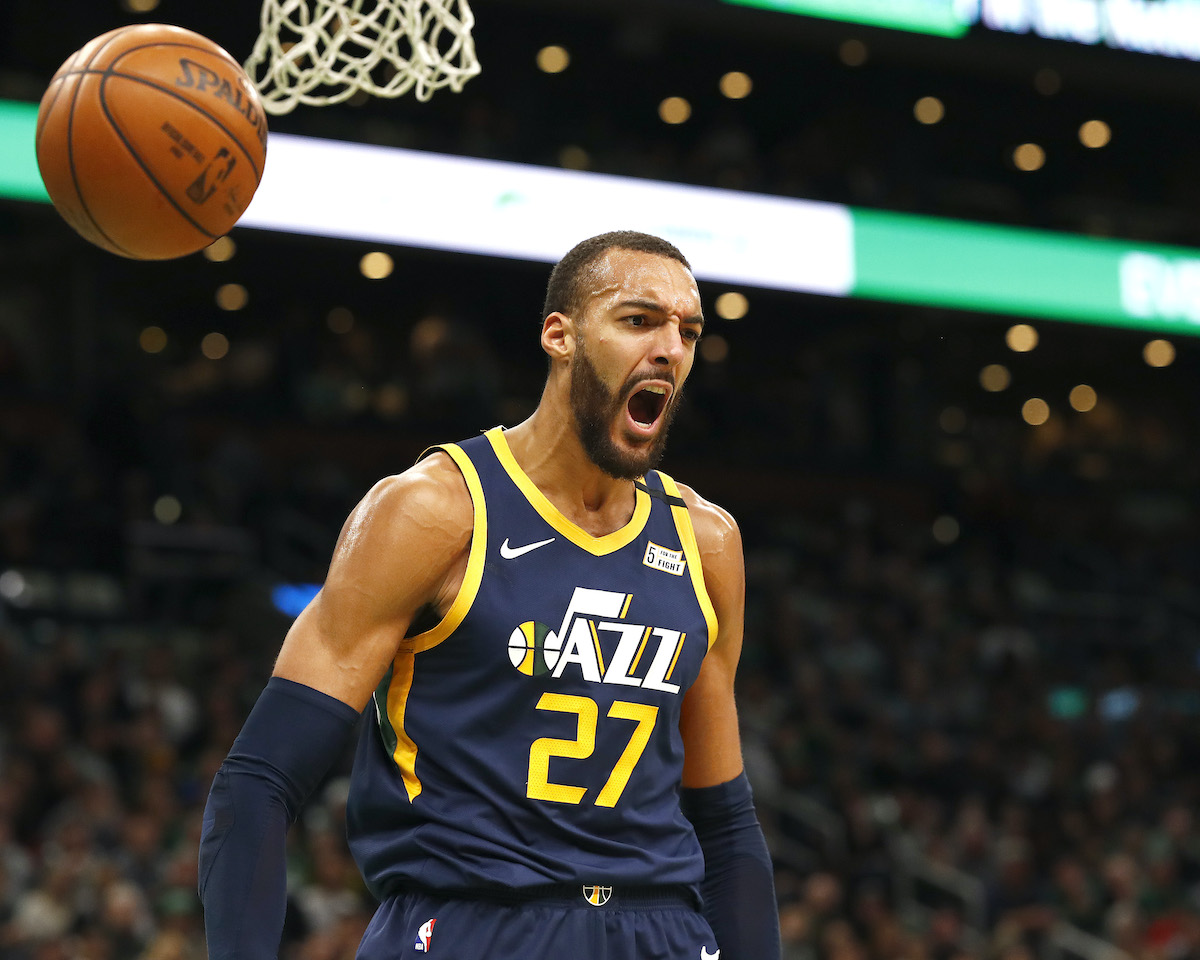 The name that lurks above all is the Greek Freak himself, Giannis Antetokounmpo. His official NBA stats page preserves the absolutely mind-boggling fact that opponents shoot just 41.9% at the rim against him. Antetokounmpo's 6-foot-11 frame regularly contests shots from far larger players, including some monstrous blocks at the rim.
Gobert, at 7-foot-1, is built for defense. Forbes points out that he breaks fast for his size, spinning into U-turns that repeatedly disrupt transitions. In most straightforward stats, Gobert declined in 2020. But ESPN's calculations on his real impact across the season rate him as the most valuable defensive piece in the NBA.
Who truly has the best chance of getting the DPOY?
Gobert's year-over-year decline defensively, concerning basic stats, is troubling. Antetokounmpo, on the other hand, has a resume's worth of defensive highlights from this shortened 2020 season alone, details NBA.com. Gobert rarely makes top-five lists, while Antetokounmpo usually tops them.
The aforementioned EPSN value metrics put Gobert over the top, though. He's making lots of smaller, less splashy moves that nudge the Jazz toward winning positions. Meanwhile, Antetokounmpo has the best defense in the league opening up space for him. It's difficult to dig down to an objective take on this, but accounting for all these variables, Gobert may actually be working harder on defense than anyone.
Gobert actually suffered through COVID-19 personally, and still hasn't fully recovered. Can both of these NBA defensive masters pick up exactly where they left off?