Is Russell Wilson an Elite NFL Quarterback?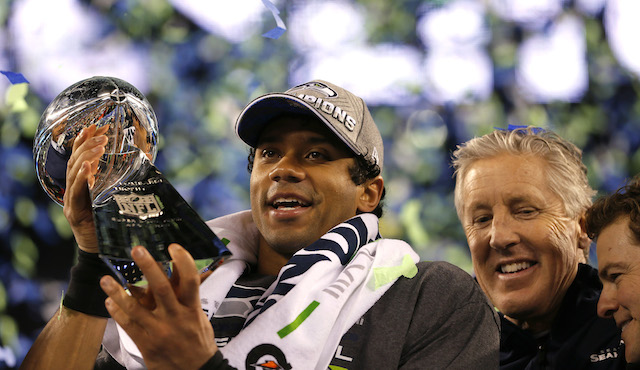 Seattle Seahawks quarterback Russell Wilson is on the verge signing a contract extension that will pay him in line with what the top quarterbacks around the NFL are being paid. We all know that there is a major difference between being paid like an elite quarterback, and actually being an elite quarterback. Within the last year, Jay Cutler, Tony Romo, Colin Kaepernick, and Andy Dalton have all signed contract extensions that are worth north of $100 million in total value. Wilson will probably demand a higher paying contract than all four of them – deservedly so – and he has a Super Bowl ring in his corner to help his case in negotiations.
The Seahawks were fortunate enough to build the foundation of their team that won Super Bowl XLVIII through the draft more so than free agency. Now they face the unfortunate reality of having young, All-Pro caliber players looking to cash-in on their second NFL contracts. Seattle has already locked up Earl Thomas, Richard Sherman, Michael Bennett, and Kam Chancellor, and will be looking to lock up offensive tackle Russell Okung in the near future as well. Russell Wilson, who has zero All-Pro selections to his name, will make substantially more than all of them.
Probably the best player to compare Wilson to in terms of perceived contract value is Joe Flacco of the Baltimore Ravens. Both players won Super Bowls while playing under their rookie contracts, and both players have gotten mixed reviews up to this point in their careers. Heading into the 2012 season, Flacco deemed himself an elite NFL quarterback. At that point, he was probably the only one that felt that way. He went on to a so-so regular season, followed up with a stellar postseason and Super Bowl victory over the San Francisco 49ers. As an impending free agent, Flacco had forced the Ravens' hand and ended up signing a 6-year, $120.6 million contract extension. Wilson is in an eerily similar situation. In 2014, he is making a mere $662,434, far less than most back-up quarterbacks around the league. Like Flacco, Wilson will be pushing for a massive raise. And like the Ravens before them, the Seahawks will have to pay Wilson what he wants, or some other team in the league will.
All contract data courtesy of Spotrac.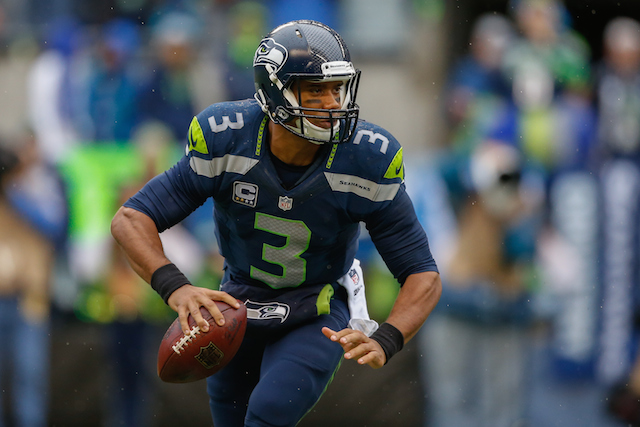 It's a given that Russell Wilson will be paid like an elite NFL quarterback, but should he be mentioned in the same breath as Peyton Manning, Drew Brees, Tom Brady, Aaron Rodgers or Andrew Luck? Yes, he has a Super Bowl ring, but, no, he should not be mentioned with the likes of those five truly elite NFL quarterbacks. Anyone who follows football knows that the key to the Seahawks' Super Bowl XLVIII title was a defense that was one of the best defenses in NFL history, not Wilson. Don't get me wrong here; Wilson is a really, really good football player. He's a top 10 quarterback in the NFL, but can he carry a team without a dominating defense and an All-Pro running back? It's starting to look like he cannot.
When he is forced out to play outside of his comfort zone, Wilson looks like an average quarterback at best. Wilson's comfort zone is outside of the pocket. Teams that have been able to force Wilson to beat them from within the pocket have enjoyed a great deal of success against the third-year pro. If the Seahawks can get their running game going, and let Wilson use play-action to get outside of the pocket, he is very hard to slow down. So, why should a player whose effectiveness is dependent on some many other factors be paid like an elite player at his position? The New York Jets are finding this out first hand in 2014. They chose to pay Eric Decker elite wide receiver money this past offseason, and are finding out that his success and production in Denver were a direct result of having Peyton Manning as his quarterback.
Situations can change in a hurry in the NFL, so there is no saying that Russell Wilson won't have proven his doubters, myself included, wrong by the end of the 2014 season. But as it stands now, it looks like Wilson is on the verge of becoming another quarterback who is elite in terms of salary only.