Is Scott Brooks Done in Oklahoma City?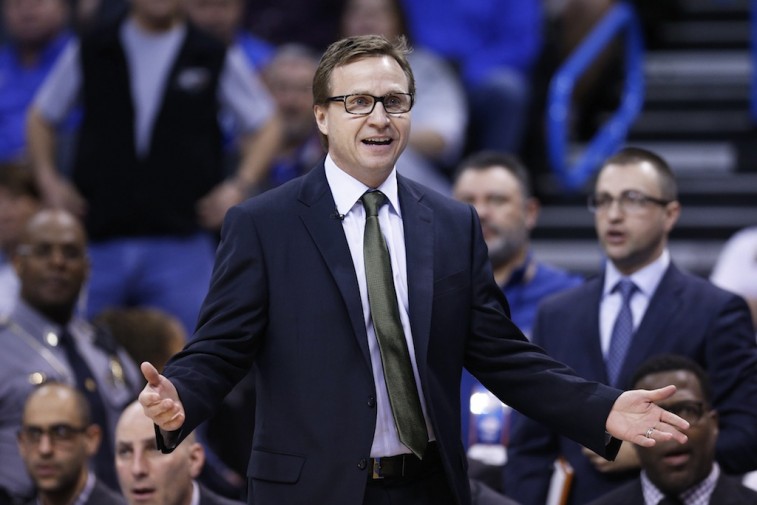 On Wednesday night against the Minnesota Timberwolves, Russell Westbrook made sure to leave it all on the floor. He dropped a game-high 37 points, and the Oklahoma City Thunder won their regular season finale by a score of 138-113. The outburst allowed Westbrook capture the 2014-15 scoring title, but it wasn't enough to propel OKC into the playoffs. And that didn't sit well with the superstar point guard.
When asked about what this individual accomplishment meant to him, Westbrook couldn't have been more blunt. "S—," he said. "It doesn't mean nothing. Good job. Hooray. I'm at home. Watching other teams play. Doesn't mean nothing." The Thunder may have taken care of business in Minnesota, but the New Orleans Pelicans did the same against the San Antonio Spurs. Despite having the same 45-37 record, the Pelicans hold the tiebreaker over OKC, and therefore earned the eighth and final playoff spot out West.
This will be the first time since the 2008-09 season that Oklahoma City won't be in the postseason. They have also not been to the NBA Finals since 2012. For a team with so much talent on the roster, and an extremely competent front office, these results are simply unacceptable. Granted, the Thunder have experienced a fair of bad luck this season, but when teams continue to fall short it often becomes time to make a change. If this turns out to be case in OKC then it's safe to wonder if head coach Scott Brooks will be the one who's forced to fall on the sword.
According to Adrian Wojnarowski of Yahoo Sports, sources claim that the Thunder will take some time to evaluate their current coaching situation. Brooks has one year remaining on his contract, but that doesn't mean he's guaranteed to be a part of the organization's future. If the front office believes it's time for a change, don't be surprised if the team looks at the college ranks for a possible replacement: "…University of Florida coach Billy Donovan could emerge as a serious candidate to coach Oklahoma City, league sources said. Presti has a longstanding friendship with Donovan, a two-time national championship coach who has been open about his interest in moving to the NBA.
"Connecticut coach Kevin Ollie would be a candidate for the Thunder's coaching job if it opens, league sources told Yahoo Sports. Ollie was a teammate with Durant and Russell Westbrook in Oklahoma City and he's an individual whom Presti holds in high esteem."
Of course, the Thunder don't have a head coaching vacancy just yet. And it's not as if team hasn't been successful for the better part of a decade. In his seven years on the bench, Brooks has won 338 games, amassed a .620 winning percentage, and took NBA Coach of the Year honors in 2009-10. The one thing missing from his résumé is an NBA championship. And that's a major strike against him.
This 2014-15 season didn't go exactly as planned for the Oklahoma City Thunder. This was a team with serious championship aspirations. It didn't even make the playoffs. Considering that reigning-MVP Kevin Durant only played in 27 games this season, is that really so surprising? Under those circumstances, Brooks did a pretty good job of helping keep the Thunder afloat. It certainly helped that Westbrook played out of his mind when given the opportunity to be the main option, but it would be unfair to deny Brooks at least some of the credit.
The Thunder struggled to maintain their elite status this season, but injuries played a major part in that — it'd be unfair to put on the head coach. We don't believe that many others in his position could've handled things any better, but in the "what have you done for me lately" world of sports, the only thing OKC has done as of late late is miss the playoffs.
Brooks probably deserves one more year to see if he can right the ship. The players like him and he has a good relationship with the organization. But if the Thunder brass don't believe he has what it takes to bring a title to OKC, then none of that will matter. Regardless of how it all eventually plays out, we don't suspect Brooks will be out of a job for too long. Someone will want him as a head coach. It just might not be the Oklahoma City Thunder.
All statistics are courtesy of Basketball-Reference.com and ESPN.go.com.