Is the AFC North Suddenly Cincinnati's to Lose?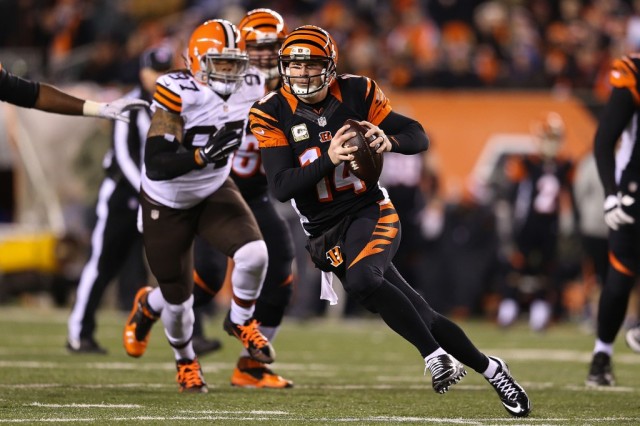 If you're ever looking for a reasonably successful team to pillory on account of its consistent postseason shortcomings, the NFL's Exhibit A is without a doubt the Cincinnati Bengals of the Marvin Lewis-Andy Dalton era. While it's been pretty exhaustively noted that Lewis is 0-6 in playoff games during his now 13-year tenure as the team's head coach, it's been the past four (which have all ended in playoff defeats) that have been the most glaring.
It's not merely that the Bengals have lost these Wild Card round games for four years running now. It's how they've gone down and, in particular, how quarterback Andy Dalton has performed; in four career playoff games, the redhead has one touchdown pass against six interceptions. Dalton, Lewis, receiver A.J. Green, and company have been literal paper tigers the past four seasons, impressing in the regular season but coming up woefully small when it matters most in January.
Here we are after three weeks of the NFL season, though, and the Bengals once again find themselves in a fairly advantageous position within the AFC North, perhaps more so than ever before in the Lewis era. The Ravens, who they just defeated last Sunday, are sitting at 0-3 and have lost linebacker Terrell Suggs for the year. The Steelers, thought by some to be a Super Bowl threat, are 2-1 but have lost Big Ben Roethlisberger for at least four weeks and have turned their offense over to a 35 year-old Michael Vick.
On top of that, those two teams play each other this week while Cincinnati faces the suddenly struggling Chiefs. A Ravens victory could leave the Bengals two games up on everyone else in the division just four weeks into the season. And while their run of moderate success has seldom included division championships, the Bengals' problems in the playoffs haven't been unique to playing at home or on the road.
In spite of the fact that Andy Dalton has posted almost Aaron Rodgers or Tom Brady type numbers through the season's first three games, there's certainly a prevailing sense about these Bengals that the regular season standings will be somewhat meaningless if they cannot figure out a way to correct whatever has been ailing them in past playoff appearances.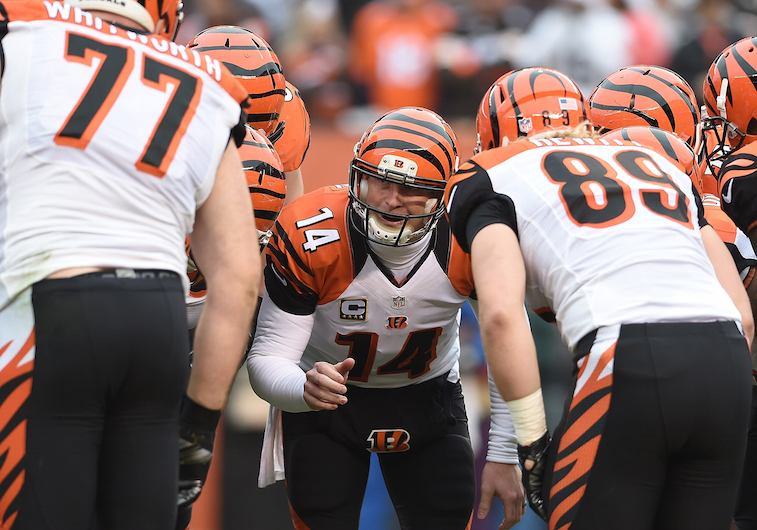 As much as we'd like to jump ahead to January to see if these Bengals have finally turned the corner, they do have to get there first and while their rivals don't seem to be in especially good shape, Cincinnati's schedule the rest of the way is a little bit challenging to say the least. There are few gimmies and several tough contests. That being said, let's forecast where they could go, and see if the Bengals can earn themselves a home game come the playoffs.
Beginning with this weekend, the Bengals have the Chiefs, Seahawks, and Bills leading up to their Week 7 bye. They get Kansas City and Seattle at home and Buffalo on the road, so let's say they go 2-1 in those games. At the bye, that makes them 5-1. From there, they'll get the Steelers (possibly in Big Ben's return), Cleveland, and Houston. Assuming Roethlisberger isn't back or 100%, that looks like a sweep. 8-1.
The season concludes with Arizona, St. Louis, Cleveland, Pittsburgh, San Francisco, Denver, and Baltimore. The Arizona game could be a road loss, St. Louis, Cleveland, and San Francisco should be victories, and the Pittsburgh, Denver, and Baltimore games are a toss-up. We'll say they lose to Denver and Pittsburgh and beat Baltimore. That would leave them at 12-4, giving them a very strong chance of winning the division.
As far as the AFC is concerned, 12 wins may be enough to catch a first-round bye, but it's unlikely to push the Bengals past the Patriots. Assuming the AFC South winner (probably Indy) has fewer than 12 wins, that leaves the North or West champ. The Broncos are also 3-0 and showing signs of getting their act together, so that game we have pegged as a loss could prove absolutely pivotal for each.
One thing we can say for sure: It's all about the playoffs for the Bengals, and they look likely to get there, but at least they should have an easier path in 2015.
Information provided by ESPN.
Connect with Tamer on Twitter @iamtamerabouras