Is the Robert Griffin III Era Over in Washington?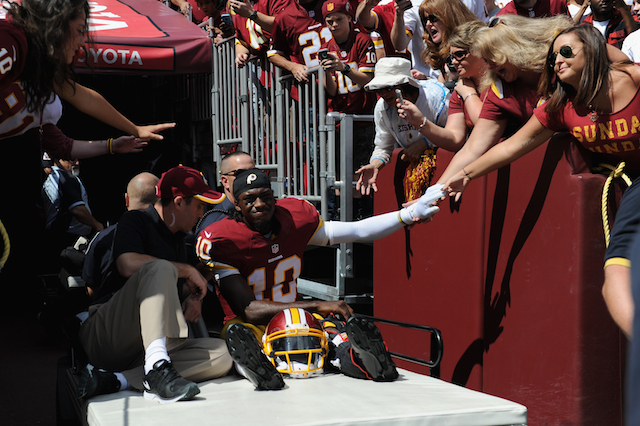 April 26, 2012: The dawn of a new era in Washington, as the Redskins used the No. 2 overall pick to draft Heisman Trophy-winning quarterback Robert Griffin III out of Baylor.
September 14, 2014: The possible end of said era in Washington, as Robert Griffin III sustained yet another injury, a dislocated ankle that will likely keep him out for much, if not all, of his third NFL season.
In between, the nearly two-and-a-half years encompassed incredible highs and startling lows, with the roller coaster featuring a seven-game winning streak, a division title, an ACL tear, a mysterious benching, and a coaching change.
While RG3's career appeared to have so much promise on draft day — and he lived up to the hype during a charmed rookie season until that fateful buckling of the knee in January 2013 — the way the last 20 months have unfolded since then have led Griffin and his franchise to today. And today, it seems that for all parties involved, the best course of action for the future includes a different quarterback under center for Washington.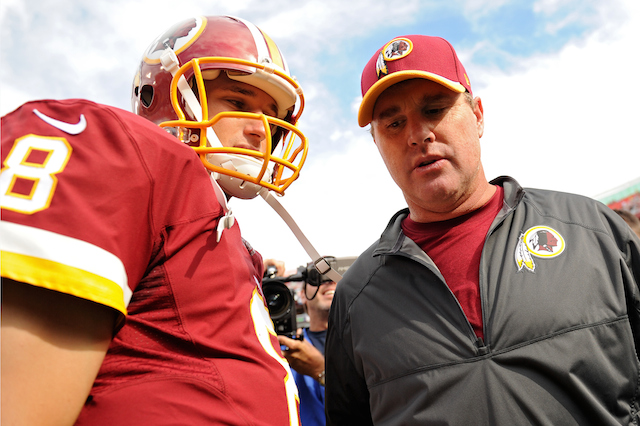 Would new coach Jay Gruden have come to that conclusion if Griffin hadn't sustained the ankle injury Sunday? Will RG3 have a chance to earn his job back when he's physically 100 percent? The answers to these questions aren't easy, but the evidence points toward the same conclusion. The quarterback drafted three rounds after Griffin in April 2012 seems more likely to be the QB of the future in Washington than the can't-miss prospect GM Bruce Allen spent three first-round picks to move up and take in that draft.
Kirk Cousins is the next man up in D.C., as he has been each time RG3's been injured. (According to ESPN, Sunday marked the fourth time in 31 career games that Griffin has had to leave due to injury.) Cousins is expected to bring some calm and consistency to Washington's offense, as well as a preference for staying in the pocket instead of abandoning it. In fact, The Washington Post's Mike Wise reported that first-year coach Gruden actually preferred Cousins to Griffin, but knew he couldn't make a change because of the politics involved with benching the face of the franchise.
The Cousins-over-Griffin bandwagon isn't a recent phenomenon. Mike Shanahan never really had a good explanation for deactivating RG3 late last season to install Cousins in his place (unless he was just openly begging to get fired?). Team legend Joe Theismann pointed out on-air during a 2014 preseason telecast for the Redskins Broadcast Network that Cousins had been outplaying Griffin on a consistent basis. Joint practices between the Redskins and Patriots last month led one writer to declare that RG3 "didn't look like the best quarterback on his own team."
And that brings us back to September 2014, when Cousins came on in relief for Griffin against Jacksonville, completed his first 12 passes, and, in the words of an Associated Press reporter covering the game, "looked more comfortable in new coach Jay Gruden's offense than Griffin ever did." Cousins threw for 250 yards and a pair of scores, completing 22 of 33 passes, and will be Washington's starting quarterback Sunday in an NFC East clash at Philadelphia.
"I feel like we can win any game with Kirk Cousins," Gruden said Sunday. "Kirk is a special guy. … I feel like he can make every throw in the book, and we are going to move forward with Kirk."
Although Cousins's career stats don't jump off the page in comparison to RG3's (57.6 completion percentage and as many interceptions as touchdowns), the third-year man out of Michigan State has his chance now. If he makes the most of that chance, we may very well have seen the last of RG3 with the Redskins, injury or no injury. If Gruden really did want to make Cousins his guy, a successful on-field body of work to point to could give him the ammunition with owner Dan Snyder and the Washington fan base after Griffin is medically cleared — whenever that is — to keep Cousins, well, on the field.
From the "truer words were never spoken" category: "One guy doesn't define this team, and that includes me," Griffin told reporters after dislocating his ankle on Sunday. He might not have known just how right he was.