NFL: Is This a Make or Break Year for RGIII?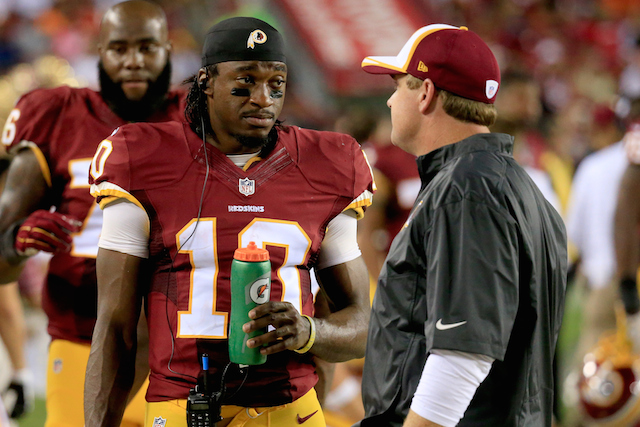 Washington Redskins coach Jay Gruden surprised the media at the NFL Combine when he informed them that Robert Griffin III would enter the 2015 season as his starter.
"We'll go into the season with Robert as our No. 1 guy," said Gruden. "It's up to Robert to continue to grow and mature as a quarterback and as a person. Moving forward we want to see improvement. It's up to us as a staff to get more out of him."
This is a bold move on the part of the second-year head coach, who had previously discussed his intentions to have an open quarterback competition heading into next year. However, it may turn out to be exactly what Griffin needed to hear. After a promising rookie season, RGIII has regressed as a quarterback, and is no longer a safe bet to be the face of the Redskins' franchise. That title doesn't get handed to you on a silver platter; it's something that you have to earn. And now Griffin better take full advantage of this opportunity. It could be the last one he ever gets.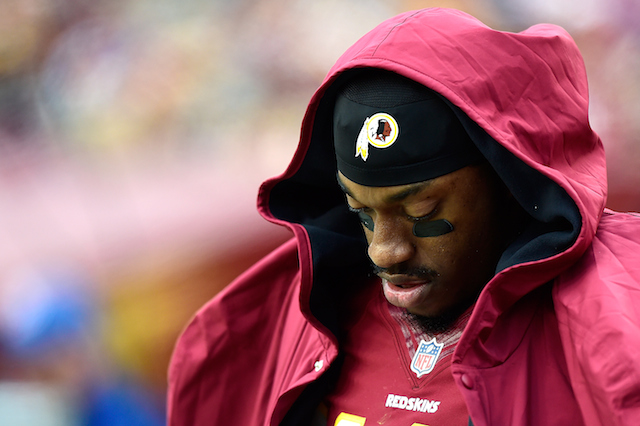 When the Washington Redskins gave up the farm in order to move up to the second position in the 2012 NFL Draft, the belief was that Griffin could be the savior this team so desperately needed. And he most certainly lived up to the hype during a rookie campaign, where he earned AP Offensive Rookie of the Year honors.
However, a lot of his success could be attributed to his ability to utilize his athleticism. But what kind of quarterback would RGIII be with that part of his game limited? How would he fare under center when other teams no longer had to fear his running ability? That's what we learned in 2013, when Griffin would start the season following an offseason of rehabbing his recently repaired ACL. With limited mobility, the world witnessed a different kind of Robert Griffin III. And this one was a far cry from an NFL quarterback.
What we now know is that Griffin's skills on the ground masked his struggles as a pocket passer. This wouldn't be as much of an issue if RGIII was big enough to withstand the punishment that comes with being a running quarterback. Except he's not. At 6-foot-2, 220 pounds, Griffin has already shown in his three seasons that he is injury prone. He tried to play too soon in his second season because he wanted to prove that he could come back from a massive injury. Only he wasn't the same quarterback in 2013; it was clear as day. And despite former coach Mike Shanahan shutting him down at the end of the season for "safety precautions," many felt that wasn't necessarily the whole story. And this past season only further provided evidence that RGIII was not ready to succeed in the NFL.
Robert Griffin III's miserable 2014 season was  well-documented. He dislocated his ankle in Week 2 against the Jacksonville Jaguars, and didn't return to the starting lineup until Week 9 against the Minnesota Vikings. Then the Redskins decided to bench him heading into Week 13's matchup against Indianapolis Colts in favor of former third-stringer Colt McCoy. The writing was certainly on the wall here.
And yet, RGIII finished the season in the starting role because McCoy got injured himself. What a cruel twist of fate that turned out to be. And now we find ourselves here. "Robert ended the season as our starter and we anticipate that going forward," said Gruden at the NFL Combine. "He'll be the No. 1 guy." This doesn't come across as a major vote of confidence, does it? It just appears to be the easiest choice to make.
Griffin ended last season with 1,694 passing yards, four touchdowns, and six interceptions, in just nine games. He also only rushed for 176 yards on the ground. We know it's only a small sample size, but it's nowhere near the numbers he put up in 2012. And the reason for that is because Griffin needed to adapt his style of play. In doing so, we were able to see firsthand his complete regression as a quarterback. If he wants to cut it in this league, he needs to become a better pocket passer. It's that simple. And he will get the chance at the beginning of the 2015 season to show that he understands this. Jay Gruden has made sure of that. Let's just hope he takes full advantage of this opportunity. His NFL career most likely depends on it.
All statistics are courtesy of Pro-Football-Reference.com.