Is This the End for Tiger Woods?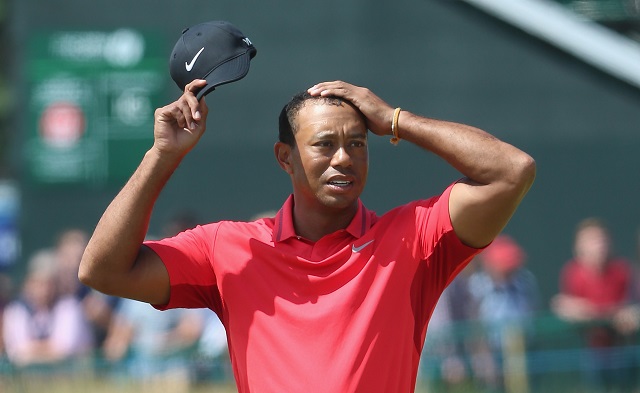 They say all good things must come to an end; we just didn't expect it to look like this for Tiger Woods. On Thursday, after making it through 12 holes of the first round at Torrey Pines, Woods officially withdrew from the Farmers Insurance Open. Once again, his ailing back continued to be his achilles heel. According to Woods, the two-hour delay, due to fog, didn't do his troubling back any favors.
"It just never loosened back up again," Woods said during a 90-second media session before getting into his courtesy car. "And when we went back out, it just got progressively tighter." Tiger continued by saying: "It's frustrating that it started shutting down like that. I was ready to go. I had a good warm-up session the first time around. Then we stood out here and I got cold, and everything started deactivating again. And it's frustrating that I just can't stay activated. That's just kind of the way it is."
This is the third occasion in his past nine showings that Woods has been forced to withdraw from a tournament due to back injuries. It's clearly a bigger problem than he led on when he decided to return to golf in December. Woods just can't seem to get over this hurdle. At this point in his illustrious career, does he have it in him to make one last push at Jack Nicklaus's major record of 18? We don't think so.
The Woods we have seen so far this season is merely a shell of his former self. For the first time in three years, Woods has fallen out of the top 50 world golf rankings. And this latest setback is not going to make matters any better. In 2015, Woods has played in three competitive tournaments, and the results shouldn't make anyone hopeful that Tiger has what it takes to return to his past glory. It was one thing for Woods to put up his career-worst round (82) at the Phoenix Open on January 30, but this last issue has to be even more draining, both physically and mentally.
Woods's superiority came not just from his incomparable competitive nature but also from his physical strength. The way he worked out, the power that he brought to the game of golf, had never been seen before. He revolutionized the sport, and others knew that if they wanted to compete with Tiger, then they were going to have to adapt themselves. But what's a guy to do when he no longer has the mental edge or physical dominance that made him unrivaled? That's the question Woods must now ask himself right now.
Unfortunately for the 14-time majors winner, we're not sure he's going to like the answer.