Is This the Greatest Moment of the 2014 Baseball Season?
Dreams do come true.
Just ask Texas Rangers rookie Guilder Rodriguez.
It doesn't seem right to call Rodriguez a rookie, since he's logged well over a thousand professional baseball games in his career. The first 1,095 of those games came in the minor leagues. That's 4,095 plate appearances, countless bus rides, and who knows how many mostly empty ballparks since Rodriguez was signed by the Brewers in March 2001.
The journey was slow and painstaking: from the Dominican Republic to the Arizona League to Helena to Beloit to West Virginia to Huntsville to Brevard County to Huntsville to Frisco to the Arizona League to Frisco to Oklahoma City to Frisco to Round Rock to Frisco to Round Rock to Frisco to Round Rock to Frisco.
If nothing else, it would make a great answer to a TriBond board game question: "What do these three have in common: Helena, Montana; Beloit, Wisconsin; Charleston, West Virginia?" "Oh, that's an easy one — they're all obscure places where Guilder Rodriguez plied his trade as a baseball player between 2003 and 2005!"
There wasn't anything about Rodriguez as a minor-league player that said "next-level superstar." That's probably why he stayed a minor-league player for so long. He managed exactly two home runs — total — in those 4,095 plate appearances. His batting average was a pedestrian .256. To some extent, he was a man without a position: Over Rodriguez's minor-league career, he was, at one time or another, a third baseman, shortstop, second baseman, first baseman, left fielder, center fielder, right fielder, designated hitter, and even a pitcher. If you're keeping score at home, that's every position on the baseball diamond except catcher that Rodriguez has manned for at least one baseball franchise.
Rodriguez owned the distinction of playing the most minor-league games ever without a big-league call-up, at 1,095 when the phone finally rang this September. The 31-year-old was going to The Show. Whether you call it a "Lifetime Achievement Award" or a way to help mentor some of the young players on the Texas roster — Rangers manager Tim Bogar said Rodriguez is "basically a player-coach" — a journey that looked like it would never reach its intended destination finally has.
And isn't that what we love about sports?
The minor-league veteran turned major-league rookie cried when he was informed of his promotion. And really, who can blame him? Rodriguez's perseverance paid off, and he made his long, long, long-awaited debut in the bigs on September 9, 2014.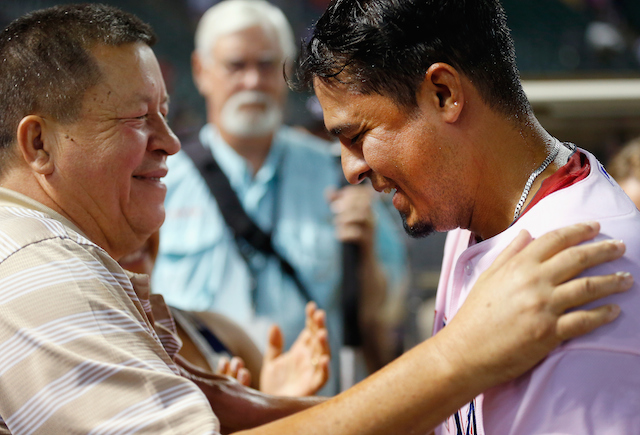 Fast-forward two weeks to September 22, the moment that brought goosebumps to baseball fans everywhere. With his father from Venezuela (visiting for the first time in 10 years) and his wife both in the stands, Guilder Rodriguez got his first major-league hit. Rodriguez had tallied plenty of hits over the years — 905 in all, to be exact — but we're guessing none of them compared to this third-inning line-drive single into left field, which drew a standing ovation from his teammates and will be something Rodriguez remembers forever.
In case that wasn't enough drama and emotion for one night, Rodriguez still wasn't done. He ripped a single over shortstop in the seventh inning for his first career RBI and drove in the eventual game-winning run in a 4-3 win. No, it wasn't a walk-off grand slam with two outs and a full count in the bottom of the ninth (What do you think this is — a Disney screenplay? He only has two home runs ever, remember!), but Rodriguez did exactly what he was getting paid (much better than usual) to do. He helped his team win.
"I know I'm a rookie, but I can hit too," he told the MLB Network after making the Astros pay for intentionally walking the previous batter to face him instead. Yes, he can hit. (Of course, he's had a lot of practice over the years.)
Although no one knows if the major-league career of Guilder Rodriguez will ultimately extend any further than September 2014, for at least one night, everything that is good about sports was on display in Arlington, Texas, on Monday, during one of the best moments of the baseball season. Persistence, hard work, dedication, and a refusal to quit paid off after years of seemingly fruitless labor, and we would all do well to learn from the example this previously unknown baseball player has set every day since 2001.  In other words…
Dreams do come true.