Isaac Bruce and Shannon Sharpe Already See DeVonta Smith Joining Them in the Pro Football Hall of Fame
Although Philadelphia Eagles rookie DeVonta Smith hasn't even played his first NFL game, two Pro Football Hall of Famers certainly sound like they expect him to join him in Canton, Ohio.
If Isaac Bruce and Shannon Sharpe are correct, the reigning Heisman Trophy winner is going to quickly take over the NFL. Don't look so skeptical.
Bruce compared Smith to Marvin Harrison in a recent interview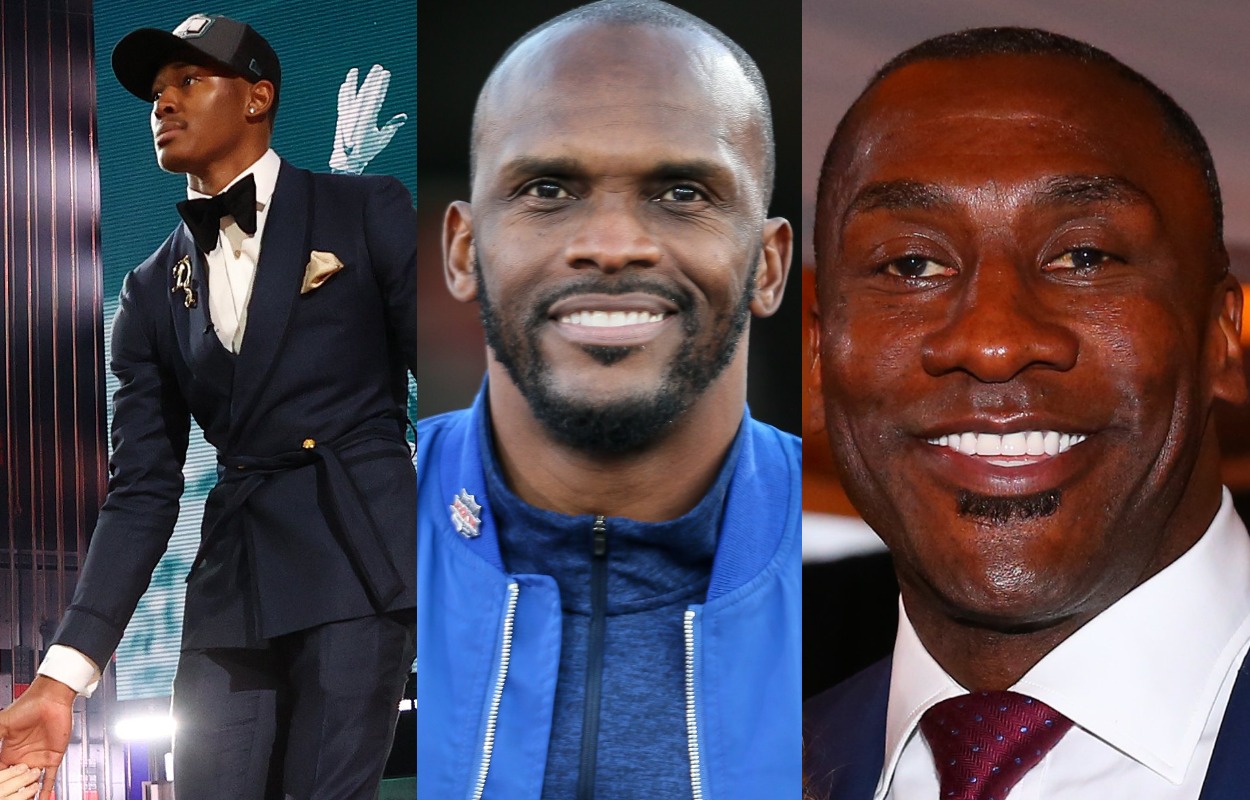 Smith routinely torched SEC defenses with precision in his final season at Alabama and easily won the Heisman Trophy. So why did he fall to the 10th overall pick in the 2021 NFL draft?
Size matters in the NFL, as much as Yoda may disagree, and the league's official website lists Smith at six feet tall and weighing 170 pounds. Although the height isn't a problem, we can all agree Smith isn't exactly the largest receiver.
Enter Isaac Bruce, the legendary Rams receiver who weighed 180 pounds during his career. In a recent interview with ESPN, Bruce explained why he doesn't expect Smith's size to hold him back in the NFL.
"He has tremendous confidence when he does open his mouth, and you can see it in his play. He's very similar to Marvin [Harrison]. I can see a lot of it as far as separation is concerned, and how he catches the ball well, strong hands, and his ability to run after the catch, very similar to the way Marvin played."

Isaac Bruce
For what it's worth, Harrison played around 195 pounds for most of his career. The Indianapolis Colts great hauled in 1,102 catches for 14,580 yards and 128 touchdowns in 13 seasons and entered the Hall of Fame in 2016.
Sharpe also had lofty comparisons for Smith
It isn't just smaller players like Bruce who have rallied around Smith in recent months. Before becoming a popular host on Fox Sports 1, Shannon Sharpe shredded opposing defenses as an All-Pro tight end who stood 6 feet 2 inches and weighed 228 pounds.
In a segment on Undisputed earlier this year, Sharpe invoked Bruce and Harrison's names when discussing Smith. Bruce will officially join Sharpe (a 2011 Hall of Fame inductee) and Harrison in Canton this summer.
As for Smith, Sharpe praised the receiver's route-running and ability to make plays despite being undersized.
"He understands competition, and at Alabama, there's competition every day because if you have a slip-up, another guy is gonna get on the field. … I think he can be a very, very good pro."

Shannon Sharpe
Before the draft, Sharpe said he wanted Smith to land on a team with a good quarterback. The Eagles reunited the reigning Heisman Trophy winner with Jalen Hurts, the second-year signal-caller who played alongside Smith at Alabama from 2017-18.
The expectations only keep rising for Smith ahead of his rookie season
It is way, way too early to even think about Smith entering the Hall of Fame. There is no guarantee that he'll ever even earn All-Pro honors at any point in his career.
But the Eagles didn't draft Smith by accident. This is a team in desperate need of a reliable and electric youth receiver who can elevate Hurts, or whoever is the franchise's long-term quarterback, to another level altogether.
The Eagles have not had a receiver top 1,000 yards in a season since Jeremy Maclin's 1,318 yards in 2014. Tight end Zach Ertz, who is not guaranteed to play for the Eagles in 2021, totaled 1,163 receiving yards in 2018.
If Smith uses his speed and route-running to his advantage, it may not be too unrealistic down the line to start comparing him with Bruce and Harrison. For now, let's temper the expectations and watch how he adjusts to the NFL after four seasons at Alabama.
Like Sportscasting on Facebook. Follow us on Twitter @sportscasting19.
RELATED: DeVonta Smith's Barber Made the 'Slim Reaper' Gain 30 Pounds Before Going to Alabama: 'I'm Gonna Make You Great'