Isaiah Thomas May Not Get that Happy Reunion With the Boston Celtics Despite His Ridiculous 81-Point Pro-Am Game
Isaiah Thomas last played in an NBA game on April 12, 2021. That was the final day of his 10-day contract with the New Orleans Pelicans. It's been a long, steep fall for a player who finished fifth in the NBA voting and was an All-NBA performer four years ago for the Boston Celtics. There are conflicting reports about the possibility of a Thomas reunion tour in Boston.
Thomas left the Celtics with some hard feelings after a hip injury sustained in the 2017 playoffs lingered. Since the injury, the 60th overall pick in 2011 missed 120 games and has been in three trades. He's currently a free agent for the third time in that span, and the LA Clippers waived him after a February 2020 trade.
Now 32 years old, Thomas still thinks he belongs in the NBA.
How did things go so wrong for Isaiah Thomas and the Boston Celtics?
Isaiah Thomas was a revelation with the Boston Celtics. After he slid to the last pick in the draft in 2011 because of his size, Thomas proved himself a capable player for Sacramento.
After a brief stint with the Phoenix Suns, Thomas went to Boston in a February 2015 trade. He exploded almost immediately on arrival.
Thomas was an All-Star in 2016 and 2017. His 2016-17 season was legendary. The 5-foot-9 guard averaged 28.9 points per game, second in franchise history behind Larry Bird. But in Game 2 of the Eastern Conference Finals against the Cleveland Cavaliers, Thomas ran full-on into a Kevin Love screen and injured his hip. The series was over for Thomas. The Celtics followed shortly after that.
He was traded to the Cavs that summer but was damaged goods. Thomas eventually had surgery to repair the hip. He felt he was sold down the river by former Celtics president of basketball operations Danny Ainge. He vented a bit during an appearance on Showtime's All the Smoke podcast in June 2021.
"The only thing that I think they handled wrong was not explaining to me what the extent of my injury could be if I do play. That was the biggest thing for me that I disliked. Because nobody gave me no insight, 'OK, you do play, this can happen.'"
Thomas said he hurt the hip initially in March 2017. The diagnosis was a bone bruise.
"If you're gonna tell me it's a bone bruise, I'm playing 10 times out of 10. I'm 5-foot-9. If I don't play, they gonna forget about me. That's how I always felt, just being the smaller guard. I played through it, hurt myself even more."
Thomas is trying to play his way back into the NBA
Isaiah Thomas headed south this summer to play in the Crawsover Pro-Am in Seattle. It's a pro-am circuit featuring a raft of NBA players.
In a recent game, Thomas transcended merely being hot. No, IT went full supernova. He finished with 81 points, matching Kobe Bryant's NBA career-high. That warranted a shoutout on social media.
It also revved up interest in Thomas' chances of returning to the league. A report from Mark Stein on Substack said the Boston Celtics were interested in bringing their former star back. But that was refuted by Chris Mannix of Sports Illustrated during an appearance on Boston sports radio WEEI's Ordway, Merloni, and Fauria Show, per Boston.com.
"Brad Stevens does feel a certain loyalty to Isaiah Thomas for what he did for that team in 2017 — playing hurt, pushing them into the conference finals. There's definitely an attachment there. The problem is that we've got a pretty good look at what Isaiah is as a basketball player right now. He's just not close to the player that he was during his best years in Boston."
It's one thing to light up a pro-am game. It's another to be NBA-ready.
Isaiah Thomas is no longer the Boston Celtics IT of old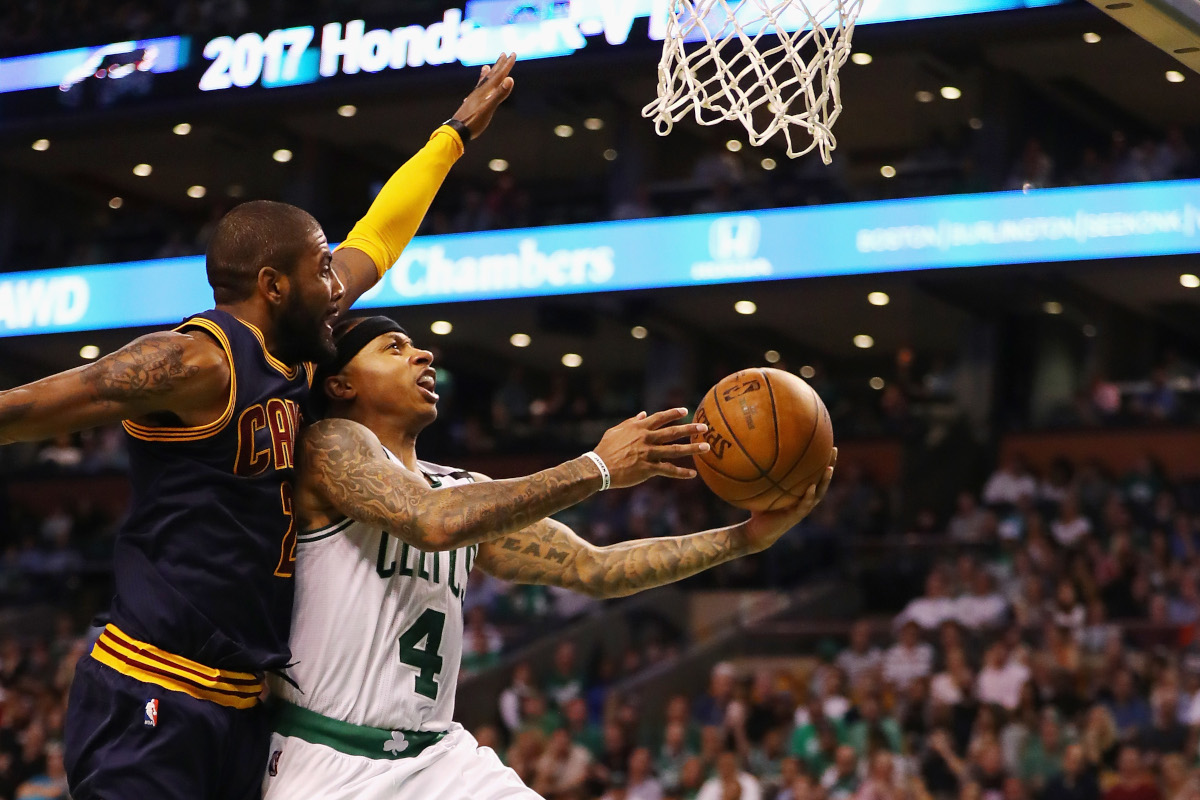 At 5-foot-9, Isaiah Thomas overcame mountainous odds just to reach the NBA. He defied the odds even more by becoming an All-Star and MVP candidate. But that doesn't mean there weren't always warts on his game.
His size makes him a defensive liability by default. Solidly built at 185 pounds, 5-foot-9 is still 5-foot-9 in a league where there are point guards more than a foot taller (at least until Ben Simmons isn't a point guard anymore).
A comeback in Boston would be a great story. Teaming up with LeBron James in LA would be sweet. But since his big season, Thomas is a 38.4% shooter. Poor shooting and defense don't make for a good roster move.
Statistics courtesy of Basketball Reference.