Isaiah Thomas Makes Huge Statement to NBA Executives and Honors Kobe Bryant With Absurd 81-Point Game
Isaiah Thomas hasn't been able to stick in the NBA in recent seasons and remains a free agent. However, he is putting league executives on notice after a ridiculous 81-point game in a recent Pro-Am, which also acted as an ode to Kobe Bryant.
Thomas previously developed a national profile as an undersized star with the Boston Celtics. But things have not been the same since he was traded to the Cleveland Cavaliers before the 2017-18 seasons, with injuries and style of play seemingly getting in Thomas' way. Yet, his recent scoring exploits send a clear signal to NBA executives that he can still play at the highest level.
Isaiah Thomas puts up 81 points in pro-am showing and honors Kobe Bryant in the process
Thomas has stayed in the gym as he continues to hunt another NBA opportunity, and he's putting up some insane numbers in the process.
The 32-year-old showed out in the Crawsover Pro-Am in Seattle on Sunday. Thomas scored a whopping 81 points, matching the single-game total of his idol Kobe Bryant back in 2006. Interestingly, he had tweeted about Bryant just two days before his incredible performance.
Pretty telling foreshadowing from Thomas, who was feeling it all day and hearing it from the Seattle crowd.
Fans cheered as the two-time NBA All-Star drilled step-back jumpers and broke out ankle-breaking crossovers. Thomas put on a show for the crowd, and those in attendance responded by giving him a standing ovation.
Granted, this was a Pro-Am. However, Thomas is dominating former professionals and paid ballers in just about every circuit possible. The diminutive guard poured in 37 points in his Drew League debut. He also scored 65 points in the Atlanta Entertainment Basketball League.
If nothing else, Thomas has very plainly shown he still knows how to put the ball in the hoop. His recent summer run might just be the launchpad for his next job in the NBA.
Thomas got support from the NBA community
Several persons in the NBA community issued statements of support for Thomas after his legendary performance.
Fellow Washington state native Jason Terry said Thomas would "100%" be on an NBA roster for the 2021-22 season, though IT remains a free agent. Jamal Crawford tweeted people will be talking about Thomas' 81-point game for "decades."
Thomas likely welcomes the support of his peers as he tries to get back to the Association. But the reality is that support doesn't mean as much if he cannot land a contract.
In April, the New Orleans Pelicans signed IT to a 10-day contract, but he struggled to make the most of his opportunity. Thomas shot 33.3% from the floor in three games and also averaged 4.5 turnovers per 36 minutes. The Pels declined to offer him a second 10-day contract.
Despite his April struggles, though, Thomas already appears to be turning the page. He clearly still desires to play. Current and former NBA players believe he has a place in the league. Will general managers see it the same way?
IT's style of play has its drawbacks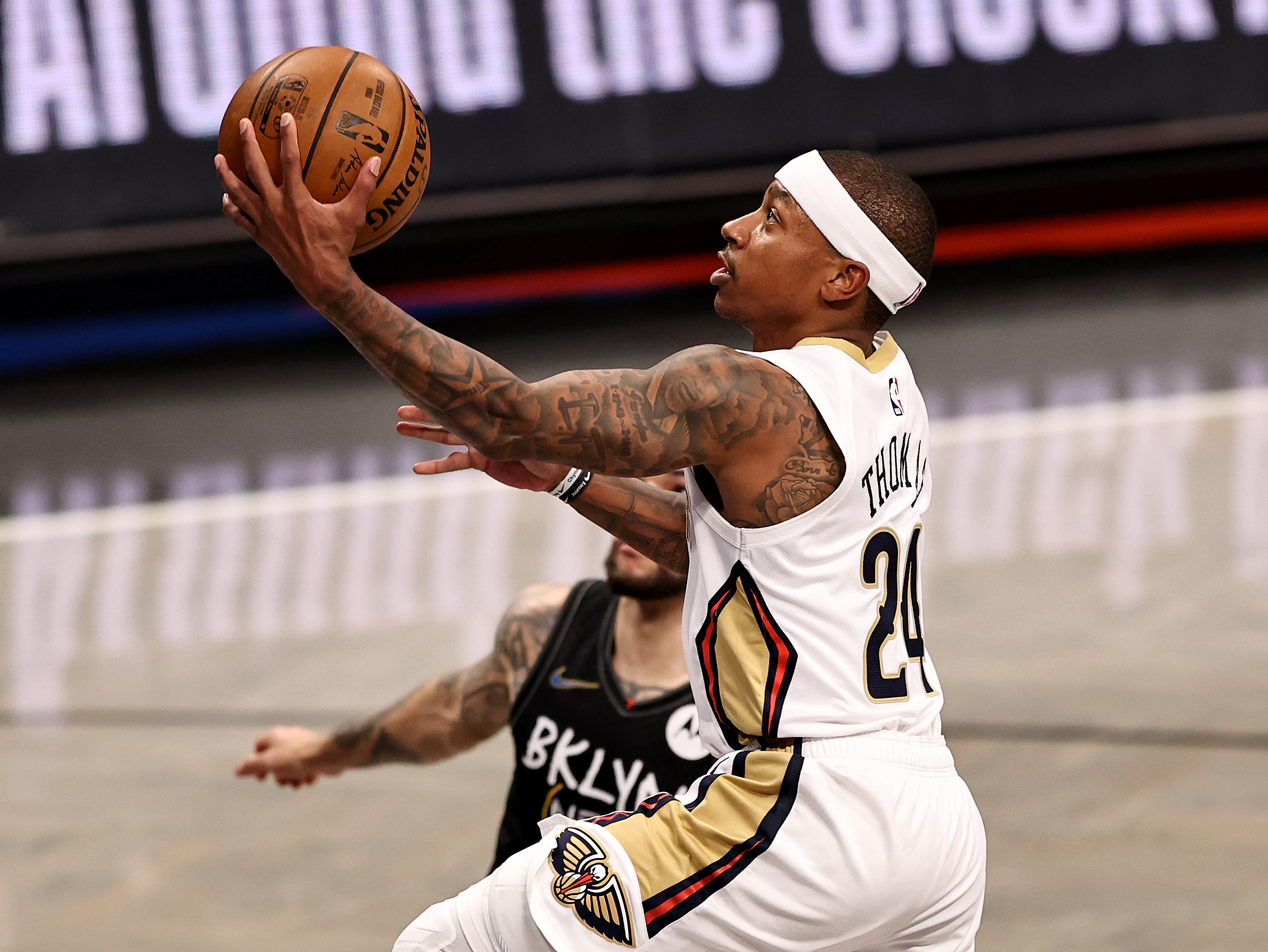 As previously noted, Thomas knows how to score the ball. That said, he struggles to impact the game in other areas.
Thomas has traditionally been one of the worst defensive players in the NBA. He ranked dead last in defensive rating as a member of the Washington Wizards during the 2019-20 season, per NBA.com. Size precludes him from making much of an impact on the boards.
Additionally, while Thomas is a decent assist man, he is more of a score-first guard. Are there many (or any) teams willing to take a chance on a guy who lacks size and doesn't quite have the same explosiveness as he once did?
Maybe Thomas can be a guy who provides bench scoring for a team in need of backcourt depth. It's hard to deny the performances he's had this summer.
However, roster spots could be few and far between for remaining NBA free agents, and Isaiah Thomas could still have a long and uncertain road back to the NBA.
Stats courtesy of Basketball Reference unless otherwise noted.