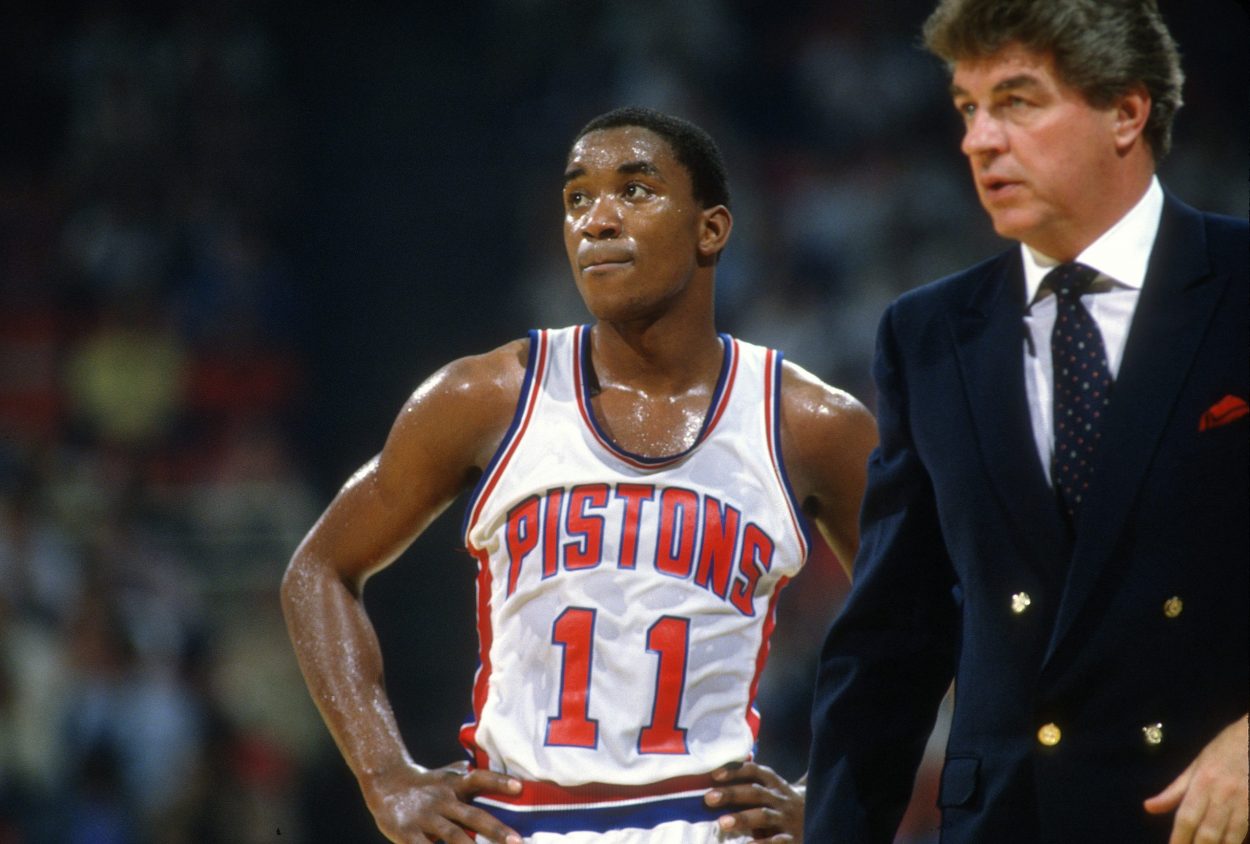 Isiah Thomas Begged to Guard a Top Scorer Instead of a Journeyman Player Because He Couldn't Defend a Move Called the 'Crooked Leg'
Former Washington Bullets guard Steve Colter played just 10 seasons in the NBA and averaged less than 10 points for his career. But his "Crooked Leg" move gave Detroit Pistons legend Isiah Thomas nightmares and resulted in Thomas asking to check All-Star Jeff Malone when Detroit played Washington.
Detroit Pistons legend Isiah Thomas might not have been an all-world defender. But he wasn't exactly a slouch, either. Thomas ranks 17th on the NBA's all-time steals list and, despite being a guard, played a significant role in cultivating the "Bad Boy" image the organization developed in the 1980s.
However, Zeke was terrified of defending journeyman guard Steve Colter because he couldn't stop Colter's specific signature move.
Isiah Thomas had a whale of a time defending Steve Colter's 'Crooked Leg' move
Steve Colter was hardly the most prolific scorer during his eight-year run in the NBA. Colter averaged just 6.3 points for his career and never averaged more than 8.7 points in a single season.
However, Colter had a move that proved impossible for Isiah Thomas to defend.
On the "Signature Moves" episode of NBA TV's Open Court, Thomas explained that Colter's "Crooked Leg" routinely caught him off balance. Zeke said Colter possessed a crazy ability to stick his plant leg in the floor and simultaneously cross the ball over to beat his defender and get to the rim.
Fellow panelist and Atlanta Hawks legend Dominique Wilkins said Colter snatched plenty of ankles with the move, at which point Thomas admitted to falling because of the "Crooked Leg."
The Hall of Fame point guard shouted out Colter on Open Court once before, even saying he preferred to guard one of the NBA's top scorers because of his inability to defend Colter.
The "Crooked Leg" had Zeke begging to guard two-time All-Star Jeff Malone over Steve Colter
The Washington Bullets of the 1980s had a backcourt comprised of Colter and 1983 first-round pick Jeff Malone. Whereas Colter didn't exactly put up big numbers, Malone rapidly became one of the better scoring guards in the NBA.
Malone made back-to-back All-Star teams in 1986 and 1987 and averaged 20 or more points in six different seasons, finishing his career with a scoring average of 19.0 points. He was the top threat for a Bullets team that typically found itself at the back end of the Eastern Conference playoff picture.
It would have made sense then, for Detroit to put Joe Dumars — the team's top defender — on Malone when they played the Bullets. But Isiah Thomas said on an earlier edition of Open Court that he begged to check Malone whenever the Pistons played Washington because of his inability to stop Colter and the "Crooked Leg."
As humorous as Thomas' story is, it's also a good reminder of just how talented players must be to make it to the NBA. His recollection of Colter is also reflective of the fact that even the best players in NBA history struggled with seemingly easy matchups.
Most NBA stars had at least one surprising player who typically gave them issues
Isiah Thomas is hardly alone in remembering Steve Colter as a relatively unknown player who gave him issues.
Shaquille O'Neal said during that same Open Court episode that he had a hard time with Bryant "Big Country" Reeves because of the former Vancouver Grizzlies center's ability to pick-and-pop and knock down midrange jumpers. Chauncey Billups named Carlos Arroyo and Tyronn Lue.
Charles Barkley hilariously said later in the segment that he never understood why certain guys had success about him. But that probably wasn't the case with Thomas.
Zeke knew why he couldn't guard Steve Colter: it had everything to do with the "Crooked Leg."
Stats courtesy of Basketball Reference.