Isiah Thomas Claimed the NBA's Most Underrated Point Guard of the 1990s Would Be a 'Dominant' Force in the Modern Era
When most NBA fans think of the top point guards in the late 1980s and early 1990s, they probably gravitate toward Los Angeles Lakers legend Magic Johnson or Detroit Pistons great Isiah Thomas. But there were a number of terrific guards in that era, including a guy whom Thomas believes would excel in today's game.
Nothing about former Cleveland Cavaliers point guard Mark Price was overly flashy. But he was one of the best shooters at the position and had a certain anticipation in pick-and-roll that, according to Thomas, would have made him a bona fide star in the modern NBA.
Isiah Thomas said former Cleveland Cavaliers All-Star Mark Price played in the wrong era
Mark Price and Isiah Thomas played under a different subset of NBA rules. Hand-checking was allowed during their era, and it was something defenders used as a physical tactic to impede the progress of ball-handlers.
Thomas' Pistons teams tried to harness hand-checking as a weapon against Michael Jordan to slow him down before help defense arrived. Bigger defenders could pressure the likes of Zeke and Price to make quick decisions or give up the ball, if they weren't forced into turnovers.
But the game has changed quite a bit.
The elimination of hand-checking has made it possible even for smaller guards like Stephen Curry and Trae Young to exploit their ball-handling abilities and create separation in today's NBA. There's also been an evolution in the emphasis on three-point shooting, making scoring guards more crucial than ever.
Thomas believes someone like Mark Price wouldn't just thrive in today's NBA. He would dominate.
Price never had the dynamic athleticism of some of today's point guards. However, he certainly had the shooting ability and basketball IQ, in addition to exceptional shiftiness, especially in pick-and-roll sets.
But who was Price, exactly? Well, he is perhaps the most underrated NBA point guards of an entire generation.
Price made four All-NBA teams and became the second member of the 50-40-90 club
Isiah Thomas and the Detroit Pistons captured their first championship during the 1988-89 season, but then-Cleveland Cavaliers point guard Mark Price made some history of his own.
Price became just the second player in NBA history (at the time) to shoot at least 50% from the field, 40% from beyond the arc, and 90% from the free-throw line, joining Boston Celtics legend Larry Bird. He averaged 18.9 points, 8.4 assists, and 3.0 rebounds en route to his first All-Star appearance. It was the first in a string of brilliant seasons.
The former Georgia Tech product made four All-NBA teams between 1989 and 1994. He earned All-NBA First Team honors during the 1992-93 season, when he averaged 18.2 points with 8.0 assists and 2.7 rebounds despite playing under 30 minutes per game. From 1988 to 1995, Price averaged 17.6 points, 7.8 assists, and 2.7 rebounds while shooting over 48% from the field and better than 41% from deep.
Price wasn't just a sniper from beyond the arc. He practically invented the "split" when opponents would come to trap in pick-and-roll. He'd use a quick dribble or cross to go between defenders and get into the lane, with the ability to finish via various floaters and runners. Price could also split doubles and kick to shooters. Considering the spacing in today's game, he undoubtedly would be a top assist man if surrounded by the proper personnel.
The combination of shooting ability, savviness, and quickness likely would have made Price an impossible challenge in the modern NBA. What about Thomas? Would he have been as dominant today as he was in the 1980s and early 1990s?
How would Isiah Thomas fare in today's NBA?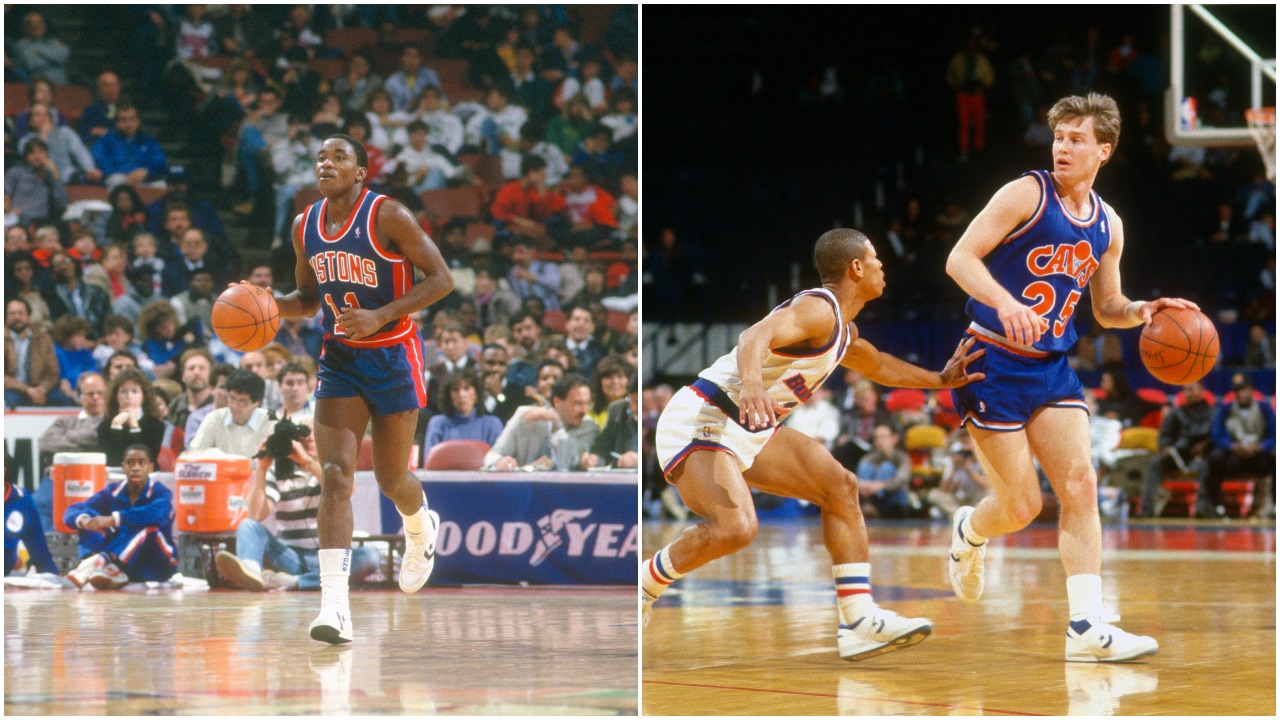 Unlike Mark Price, Isiah Thomas never had much success shooting from the perimeter during his 13-year career with the Pistons. He shot 29% from beyond the arc on 1.4 attempts per game for his career. Yet it's still reasonable to believe Zeke would thrive in today's game.
For starters, it's impossible to imagine Thomas wouldn't work on his jumper. Moreover, Thomas' ball-handling and slashing ability would certainly translate today, probably even more so without hand-checking. To that point, Thomas likely could excel in isolation sets, which typically dominate the modern NBA.
Basketball fans will never know the answer to these hypotheticals. But they can be fun to consider, and it's interesting to see how a guy like Mark Price might have been even better if transplanted in a different era.
Stats courtesy of Basketball Reference.
RELATED: Isiah Thomas Begged to Guard a Top Scorer Instead of a Journeyman Player Because He Couldn't Defend a Move Called the 'Crooked Leg'