Isiah Thomas Gushes About Kyrie Irving and Boldly Declares Him the Key Piece to the Nets' Championship Puzzle
Isiah Thomas certainly has the credentials to assess the point guard talent in the NBA today. The Detroit Pistons legend and Hall of Famer is regarded by many as one of the best PGs in league history and, along with Magic Johnson and Larry Bird, helped to define an entire era. He seems to have a real affinity for Kyrie Irving's talents.
Thomas defended some of Irving's past comments about the media in a quote for Basketball News. He also suggested the supremely talented Brooklyn Nets can't win a title without Irving, even if Kevin Durant and James Harden are fully healthy.
Kyrie Irving has been the subject of strange trade rumors
Fox Sports commentator Nick Wright caused a bit of a stir last week when he reported Kyrie Irving could be the subject of trade rumors in the coming weeks and months, noting that the Nets star would rather retire than play for another organization.
The report was seemingly considered to be all smoke, but the buzz surrounding Irving's relationship with his co-stars — notably Durant — resurfaced. Wright's report also appeared to reinvigorate the idea that the media can occasionally be gun-ho in drumming up narratives about Kyrie.
There is no concrete indication that the Nets are open to trading Irving. In fact, general manager Sean Marks previously stated he still hopes both Kyrie and Harden will ink max extensions with the team before the start of the season.
Still, it wouldn't be a typical NBA offseason without Kyrie Irving. Former NBA stars are now coming to his aid.
Isiah Thomas praised Irving and said the Nets will not win a championship without him
Isiah Thomas does not mince words when it comes to Kyrie Irving. He thinks Uncle Drew deserves more respect as one of the best players in the NBA. He also feels the media are misrepresenting Irving.
"Just like one side can be wrong, so can the other side. So, don't jump on me when I'm wrong, but be quiet when you're wrong," Thomas said to Etan Thomas of Basketball News. "You received information about me, and what I am thinking and what my intentions are, and whoever told you that didn't tell you correctly. Now, this is what I meant, this is my voice. This isn't whatever source, this is my voice. So respect my voice, and that's what Kyrie has been saying. And he has been very authentic in his voice."
Zeke also gave some insight into the latest rumors surrounding Irving's status and what they could mean for the Nets if Brooklyn did dangle the seven-time All-Star in the trade market.
"Put me down on record," Thomas said to Basketball News. "The Brooklyn Nets with the team constructed the way it currently is, cannot, and will not, win the championship if he is not there. Period.
It might seem bold to suggest the Nets cannot win a championship with Kyrie Irving when Kevin Durant and James Harden are already on the roster. Yet, the former No. 1 pick is the kind of creator and scorer a relatively shallow Brooklyn roster will surely need come playoff time.
Are Kyrie Irving's talents undervalued?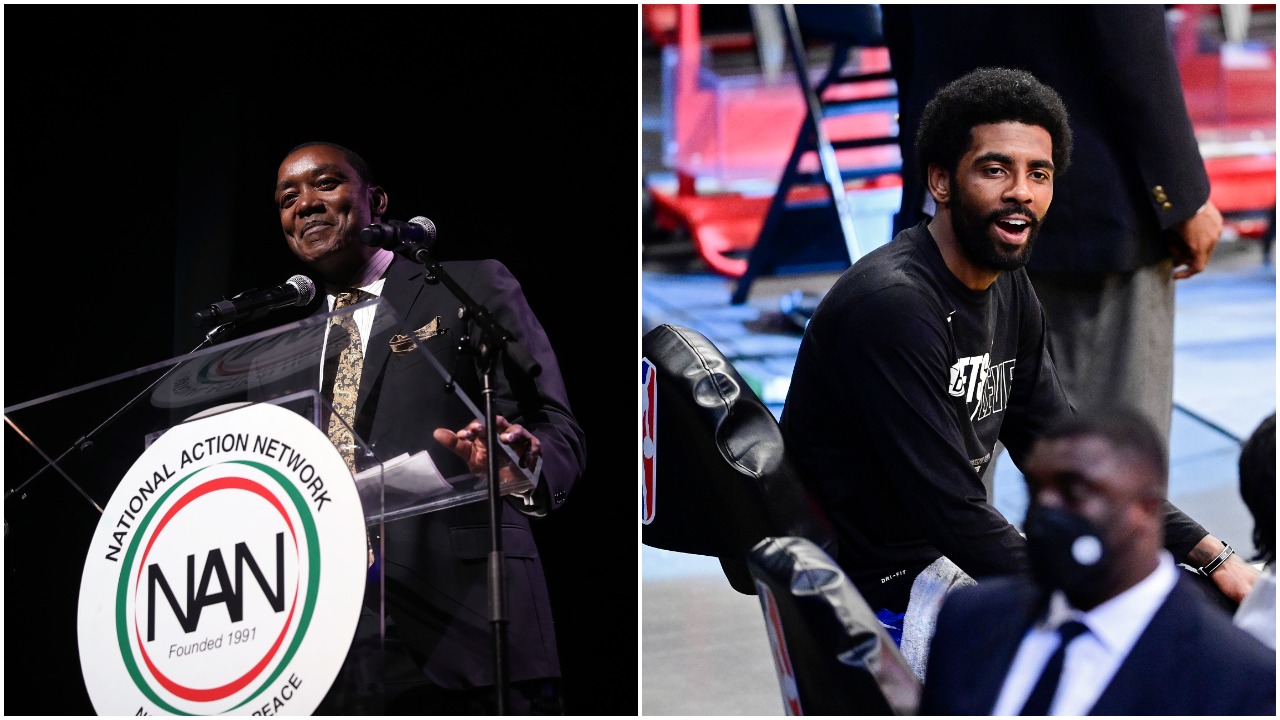 Isiah Thomas can separate on-floor talent from media constructs. That seems to be more difficult for casual basketball fans, which is a real shame.
Kyrie Irving's stats back up the idea that he is one of this generation's very best point guards. He is coming off a season where he averaged 26.9 points, 6.0 assists, and 4.8 rebounds on 50-40-90 splits.
Yes, Stephen Curry won the scoring title. Damian Lillard dazzles with his long-range exploits and late-game heroics. However, Irving's scoring efficiency, breathtaking handles, and immaculate body control around the rim make him a true wonder to behold. Those attributes also make him a practically irreplaceable player.
Irving marches to the beat of his own drum. But that's not a bad thing, and Isiah Thomas thinks the Nets cannot let public perception fool them into believing trading Kyrie would be a wise decision.
Stats courtesy of Basketball Reference.
RELATED: Kyrie Irving Can Maximize His Dollars by Following the Kawhi Leonard Blueprint