Isiah Thomas Is Worth a Ton of Money After Winning Titles With the Detroit Pistons
Isiah Thomas is an NBA legend. Thomas was one of the greatest players in the world when he played for the Detroit Pistons from 1981-82 through 1993-94. He led the Pistons, who were also known as "the Bad Boys" during that era, to two NBA championships. The Pistons also made five straight Eastern Conference Finals appearances with him and had Michael Jordan and the Chicago Bulls' number while doing it. Because of his success on the court, as well as some of his success off the court, Thomas is worth a ton of money.
Isiah Thomas is one of the greatest basketball players to ever play
Before coming into the NBA, Isiah Thomas was a star in college for the Indiana Hoosiers. After averaging 14.6 points and 5.5 assists during his freshman season, Thomas averaged 16 points per game and 5.8 assists in 1980-81. His play ultimately led the Hoosiers to a national championship win that season too.
The Detroit Pistons selected Thomas with the second overall pick in the 1981 NBA draft. He had instant success too. Thomas earned an All-Star appearance in his rookie season as he averaged 17 points per game and 7.8 assists. Thomas then never averaged under 17 points per game during a season in his career other than his final season. He also averaged over seven assists in every season but his last one. He even led the league in assists during 1984-85. Thomas averaged 13.9 assists that year to go with 21.2 points per game in probably his best season as a pro statistically. 
Thomas led the Detroit Pistons to the playoffs during his third season, and they then made nine straight playoff appearances. The Pistons went to the NBA Finals in 1987-88 before losing to the Lakers in seven games. The Pistons defeated Michael Jordan's Chicago Bulls during the Eastern Conference Semifinals that season. They then made two more consecutive appearances in the NBA Finals, and three in a row overall. They won back-to-back titles in the next two seasons too in 1988-89 and 1989-90.
Thomas and "the Bad Boys" Pistons defeated Jordan and the Bulls 4-2 in the Eastern Conference Finals in 1988-89 and then 4-3 in the Eastern Conference Finals in 1989-90. However, Jordan and the Bulls finally got revenge over the Pistons when they swept them in the Eastern Conference Finals during the 1990-91 season.
The Pistons then went to the playoffs one more time with Thomas in 1991-92, and Thomas' last season was in 1993-94. Thomas finished his career as a 12-time All-Star, two-time NBA champ, five-time All-NBA honoree, and he won the Finals MVP in 1989-90. Thomas averaged 19.2 points per game in his career and 9.3 assists. 
Staying busy in his post-playing career
Isiah Thomas has had continued success, but has also had some failures, since retiring from playing basketball. Thomas has coached the Indiana Pacers, been president and coach of the New York Knicks, was the head coach at Florida International University, and was the team president of the WNBA's New York Liberty.
None of those opportunities quite worked out, but Thomas has had some successful business ventures. In fact, he told Forbes that 15 to 20 business proposals come across his desk each month. He has ultimately found a lot of success in the Champagne business, specifically with Cheurlin Champagne. Thomas is the owner and importer for Cheurlin, according to his Twitter. He has ultimately helped get the champagne product into the US.
"I wanted to craft a low sugar, low sulfite Champagne because I want to enjoy more Champagne and less headache," Thomas said, according to Forbes. "And, the athlete in me wants to be able to work out the next day. But ultimately, I want to let people decide for themselves. You don't know what you don't know."

Isiah Thomas
Thomas also recently entered a partnership with the cannabis company, VESL Oils, according to the company's site. Isiah Thomas' successful business ventures like Cheurlin Champagne and VESL Oils have led to him being worth a ton of money.
Isiah Thomas is a wealthy man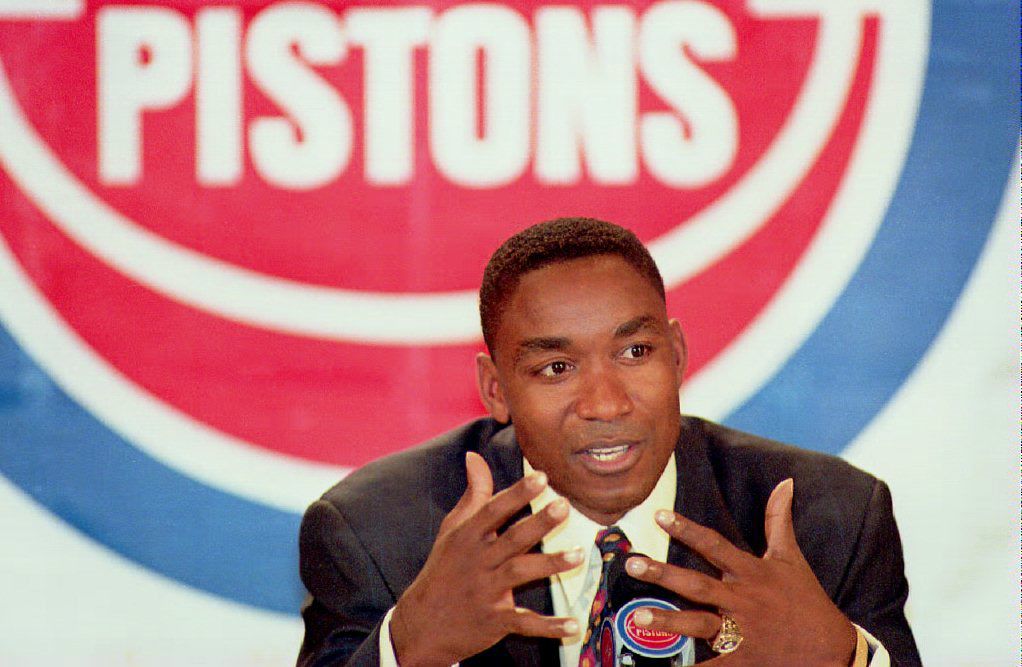 For almost 30 years, Isiah Thomas has been a big money-maker, starting with his NBA playing career. His off-the-court activities have earned him even more money throughout his life too. 
Because of all of the money he has made throughout his life, Isiah Thomas is worth $20 million, according to Celebrity Net Worth. Thomas is actually so rich that he worked for free during his first year at FIU as he donated his first-year salary back to the athletic department, according to ESPN. 
Isiah Thomas is one of the greatest basketball players to ever live. Now, even though he has not played in over 25 years, he is still making a ton of money. He will, most likely, continue to make a lot of money too.