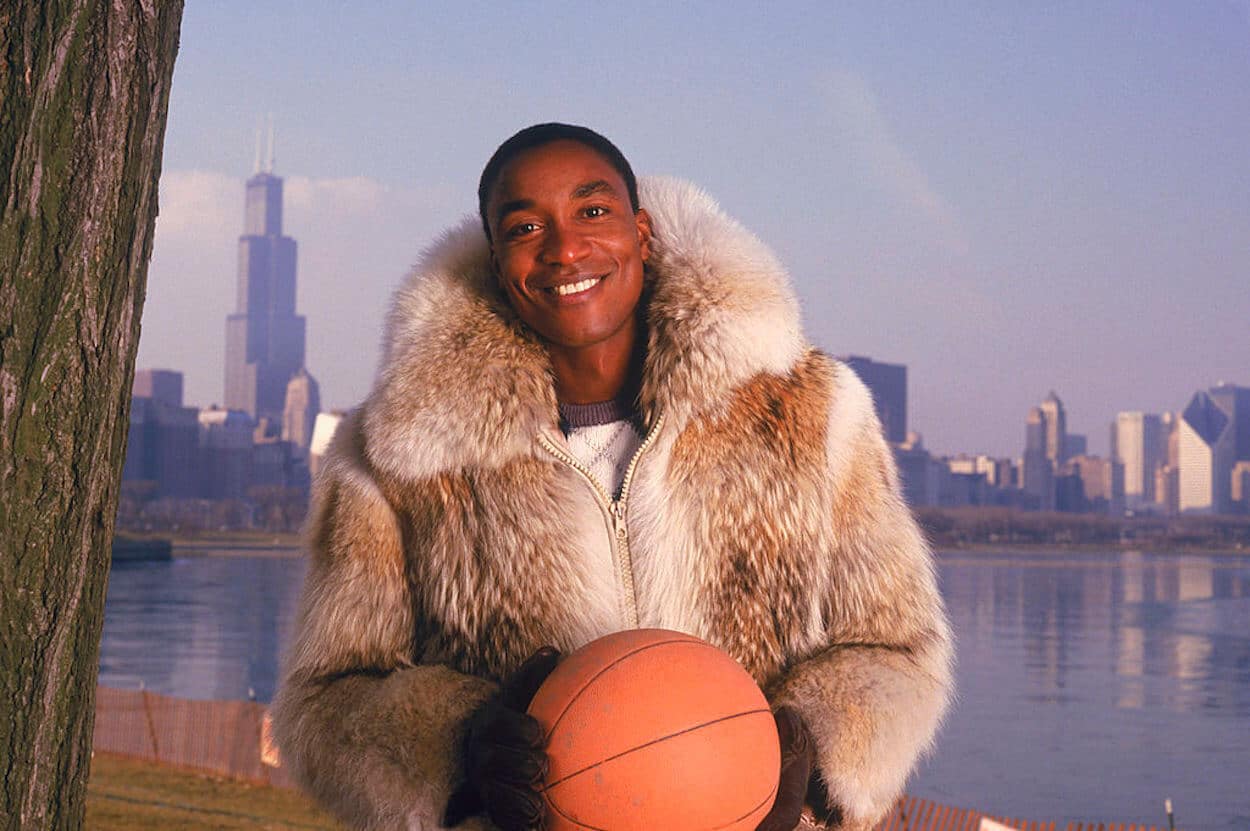 Isiah Thomas' List of the Top 5 Small Point Guards Only Contains 1 Man: Himself
During his time on the NBA hardwood, Isiah Thomas made quite the impact. And, based on his list of all-time small point guards, he remembers it fondly.
At the risk of painting with something of a broad brush, NBA players are a confident bunch. When your entire livelihood depends on outperforming the competition, there's no room for second thoughts. You have to believe that you have what it takes to defeat anyone and everyone who stands in your way. Even though he's retired, Isiah Thomas hasn't lost that swagger.
Just consider, for example, his list of the top five small point guards to ever play the game.
While most former pros would trot out a PR-friendly answer, giving flowers to their peers, Zeke largely went another route. If you want his genuine response, the top-five list only has one member: Isiah Thomas.
Isiah Thomas doesn't think that any small point guards can touch him
When retired athletes hit the podcast circuit, it's safe to assume that they'll be asked about some sort of historical ranking. Isiah Thomas is no exception to that norm.
During the second part of his All the Smoke interview, the former Detroit Piston was asked to name his top five point guards of all time. While that seems like a standard question — even if Zeke made some questionable choices, you had to assume he'd stay within a fairly standard sandbox — things quickly took a turn.
After sorting bigger point guards into their own category (we'll get to that shortly), Thomas addressed more diminutive players. In his mind, there's no debate there.
"When you get to small people my size," Isiah explained, "I'm one, two, three, four, and five."
While that might seem a bit egotistical, the Indiana Hoosier had an explanation ready to go.
"And why do I say that," he continued with a laugh. "Name me one guy my size who's done what I've done."
Although that's not the greatest way to support an argument — saying what I've done is vague and sets up an almost unreachable bar since no two careers will be exactly the same — Stephen Jackson and Matt Barnes seemed to agree. And from a statistical perspective, you can see Thomas' point. Not only did the guard average 19.2 points, 3.6 rebounds, 9.3 assists, and 1.9 steals across his career, but he has a nice trophy case, too. Isiah, of course, won two NBA titles, earned 12 All-Star nods, appeared on five All-NBA teams, and claimed the 1990 NBA Finals MVP crown. He was also more than capable in college, winning a national title and 1981 Final Four Most Outstanding Player.
With all of that being said, though, Thomas did give some other players their flowers
Based on some of the other comments he's made — Zeke has claimed, for example, that the Bad Boy Pistons helped the NBA take off — you'd be excused for thinking that Isiah Thomas' point guard ranking is a bit egotistical. And while naming yourself to all five positions in a top-five list is certainly a choice, he did acknowledge some other players.
Remember how I mentioned that the former Piston separated bigger and smaller point guards? Well, he paid two men in the other category a rather high compliment.
"I gotta go size in terms of category," Isiah began. "Because when you look at, you know, Magic and Oscar Robertson, right … I put them in a different category. So, we're gonna say they're the best. And why are they the best? Because their size and their weight gives them an advantage over all of us 6'1″ dudes, right?"
It's also worth noting that Thomas acknowledged those two greats before unveiling his list of smaller point guards, which seems to suggest there's plenty of respect there.
Additionally, Jackson and Barnes eventually pressed Zeke to provide four additional small guards he'd hypothetically place on the list. While that exercise was framed as a way to see the living legend's thought process, it did result in some other players receiving well-deserved recognition.
On the real, right? So, I'mma go, if you're listing Steph Curry as a point guard, then Steph. Right? Then Steph, because no one's done what he's done from a championship-winning standpoint. Now, we've done it differently, but people our size, right, you know, it's one and two, right?. And, if I was picking, right, depending on what day, he may be one. … He's got the intellect, he's got the smartness, he's got the toughness, he's got the, he's got the character, he's got the pedigree, he's got the leadership. He's got, he's got all of that, right? There's no flaws there.

Isiah Thomas
After that, things moved rather quickly, with Zeke naming John Stockton, Chris Paul, and Jason Kidd to the list.
Say what you will about Isiah Thomas, but he's certainly not shy about putting all of his cards on the table. And, whether you agree or not, you do have to respect that conviction and candor.
Do you think Zeke's point guard rankings are right on the money? Or did he shoot a metaphorical airball? Let us know in the comments below.