Isiah Thomas Might Have Pulled a Hamstring With the Stretch On His Latest Giannis Antetokounmpo Comparison
Isiah Thomas debuted a new segment called Run It Back for Turner Sports, and his first installment was a doozy. He talked about Milwaukee Bucks superstar Giannis Antetokounmpo and nearly twisted himself into a knot with the comparison. The two-time NBA MVP and reigning NBA Finals MVP reminded Thomas of a star who shined ever so briefly in the 1980s.
Antetokounmpo is a rare talent, an almost unimaginable combination of size, speed, ball handling, and playmaking. He's a 6-foot-11, 242-pound unicorn who credibly played the small forward, shooting guard, and point guard positions in his first three seasons before settling in as a force of nature as a playmaking power forward.
Giannis Antetokounmpo has a rare blend of talent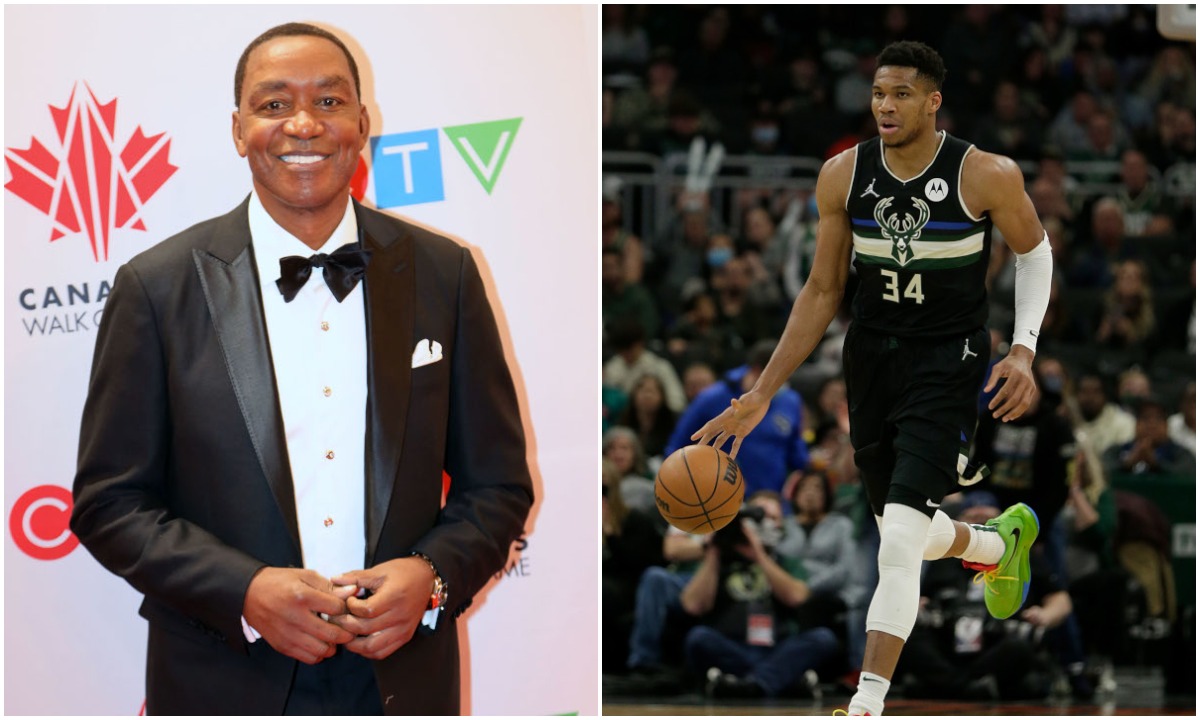 Giannis Antetokounmpo is in his ninth NBA season but won't turn 27 until early December. As wild as it is to consider, he might not yet be at his ceiling. He's one of the most potent finishers the NBA has ever seen, converting 83.7% of his attempts in the restricted area last season despite every defense he faced collapsing on him.
While he's never developed a consistent 3-point shot, Antetokounmpo manages to dominate in the modern NBA with his handles, speed, and brute force.
As for the rare combination of skills? Four players in NBA history have averaged at least 21 points, nine rebounds, and four assists in their careers. Three of them are all-time legends: Elgin Baylor, Larry Bird, and Wilt Chamberlain. The fourth is Antetokounmpo, who earned a well-deserved spot on the NBA 75 team.
Over the last four seasons, those averages are 28.0 points, 11.7 boards, and 5.5 assists. Only Wilt Chamberlain put up those numbers or better over four years.
Sometimes, a player defies comparison, and that's OK. But that didn't stop Isiah Thomas from attempting it.
Isiah Thomas likens Giannis Antetokounmpo to collegiate legend Ralph Sampson
On his first Run It Back segment, Isiah Thomas ran it back to his era to compare Giannis Antetokounmpo. He cited former Houston Rockets star Ralph Sampson.
Sampson was a legend while at the University of Virginia, a three-time National Player of the Year who led the Cavaliers to their first Final Four in 1981.
In his day, Sampson was unique. He was a 7-foot-4 center who could run the floor, handle the ball, and shoot from midrange.
Drafted first overall in 1983, he ran away with Rookie of the Year honors before making a position switch in his second season that was unthinkable. When the Rockets for the No. 1 pick again and chose Hakeem Olajuwon, Sampson shifted to power forward and formed the original Twin Towers.
How good was he? Good enough to earn All-NBA honors in 1984–85. But a knee injury during his fourth season brought his rising stardom to a halt. While Sampson played another five seasons after the injury, his effectiveness waned steadily, and he was a seldom-used reserve by the end.
Thomas is correct in a very narrow sense: Antetokounmpo and Sampson were rare combinations of size and athletic ability. But Giannis Antetokounmpo has sustained his career acceleration curve, while Sampson's was stopped in its tracks by injuries.
There's another enormous difference to consider, as well.
Isiah Thomas forgot something about the careers of Sampson and Antetokounmpo
When Sampson arrived in Charlottesville for his freshman year at Virginia, he was destined to be a star. He was a high school All-American with huge expectations. It wasn't a question if Sampson would go No. 1 in the NBA draft, but rather merely a matter of when. Teams offered gigantic stacks of cash to get Sampson to come out early, but he stayed in school for four years.
Compare that to Giannis Antetokounmpo. When he became draft-eligible, the media didn't even handle how to spell his name correctly. There was the spelling we've come to know since he arrived in the NBA. But there was also Adetokoubo, Antetokubo, and more.
The next big star? The draft experts couldn't even agree on the guy's name.
He came out of Greece's second division as an athletic curiosity, but one who had never seen elite competition. The Milwaukee Bucks rolled the dice at No. 15 overall in probably the best decision former general manager John Hammond ever made in his career.
When he exploded to stardom, it wasn't because he was supposed to do so. Instead, Antetokounmpo came out of virtually nowhere and fulfilled potential only a few people could have imagined.
It's easy to look back nine years into the career of Antetokounmpo and see what he's done. But unlike Sampson, Giannis Antetokounmpo was not the next big thing when he arrived in the NBA. It's hard to be all that when the people charged with evaluating you aren't even sure what to call you.
Statistics courtesy of Basketball Reference and Stathead.
RELATED: The Milwaukee Bucks Hype Train Has Been Derailed by Injuries, but There's One Player in Particular Giannis Antetokounpo Is Begging to Rebound: 'Please Come Back'