Isiah Thomas Found a Subtle Way to Dig at Michael Jordan While Describing Allen Iverson's Crossover: 'I'm Glad It Was on Jordan and It Wasn't on Me'
The dislike between Chicago Bulls legend Michael Jordan and Detroit Pistons icon Isiah Thomas has been palpable for years. Both NBA legends have traded public jabs. They also have a knack for subtle digs.
Thomas found a way to weave MJ into the conversation while describing what makes Allen Iverson's so lethal, recalling one of the few times Jordan was on the other end of a highlight.
Isiah Thomas and Allen Iverson were masters of the crossover
Modern NBA fans no doubt understand how skilled Allen Iverson was with the ball in his hands. They might not know just how smooth Isiah Thomas was with his handle.
Thomas had one of the shiftier crossovers in NBA history. He kept the ball on a string and could change directions with ease. Zeke also tended to go between his legs to set up drives to the basket. He was one of the more notable isolation players of the 1980s.
Iverson had Thomas' speed and added perhaps some more flair. The Answer's crossovers were sometimes more elaborate and accentuated in terms of setup. Whereas Thomas typically excelled going forward, Iverson was terrific at using stepback crossovers. Tyronn Lue and Antonio Daniels know all about it.
Thomas had a more thorough breakdown of the differences between him and Iverson during an episode of NBA TV's Open Court. He also used the segment to remind viewers about one of the most famous crossovers of AI's career.
Thomas took a slight dig at Michael Jordan while dissecting Iverson's crossover
A rookie Allen Iverson nearly sent former Bulls great Michael Jordan flying with a vicious one-two crossover. It's one of the few times in Jordan's career that he was made to look foolish in his NBA career. Thomas clearly relishes the highlight.
Thomas described Allen Iverson's crossover as "outside of the box" during the "Signature Moves" episode of Open Court. The Answer made it appear as though he would drive to the rim with a hesitation dribble out wide, only to cross the ball back over. As Thomas noted, Iverson would also throw defenders — including Jordan — for a loop by shaking with the rock.
Thomas retired in 1994, two years before Iverson came into the NBA. Naturally, he never had the chance to guard Iverson. Jordan was not quite as fortunate to avoid such ankle-breaking crossovers.
Still, it's not as though Zeke never got shook in his career, either.
Zeke can sleep peacefully knowing he never had to man up against AI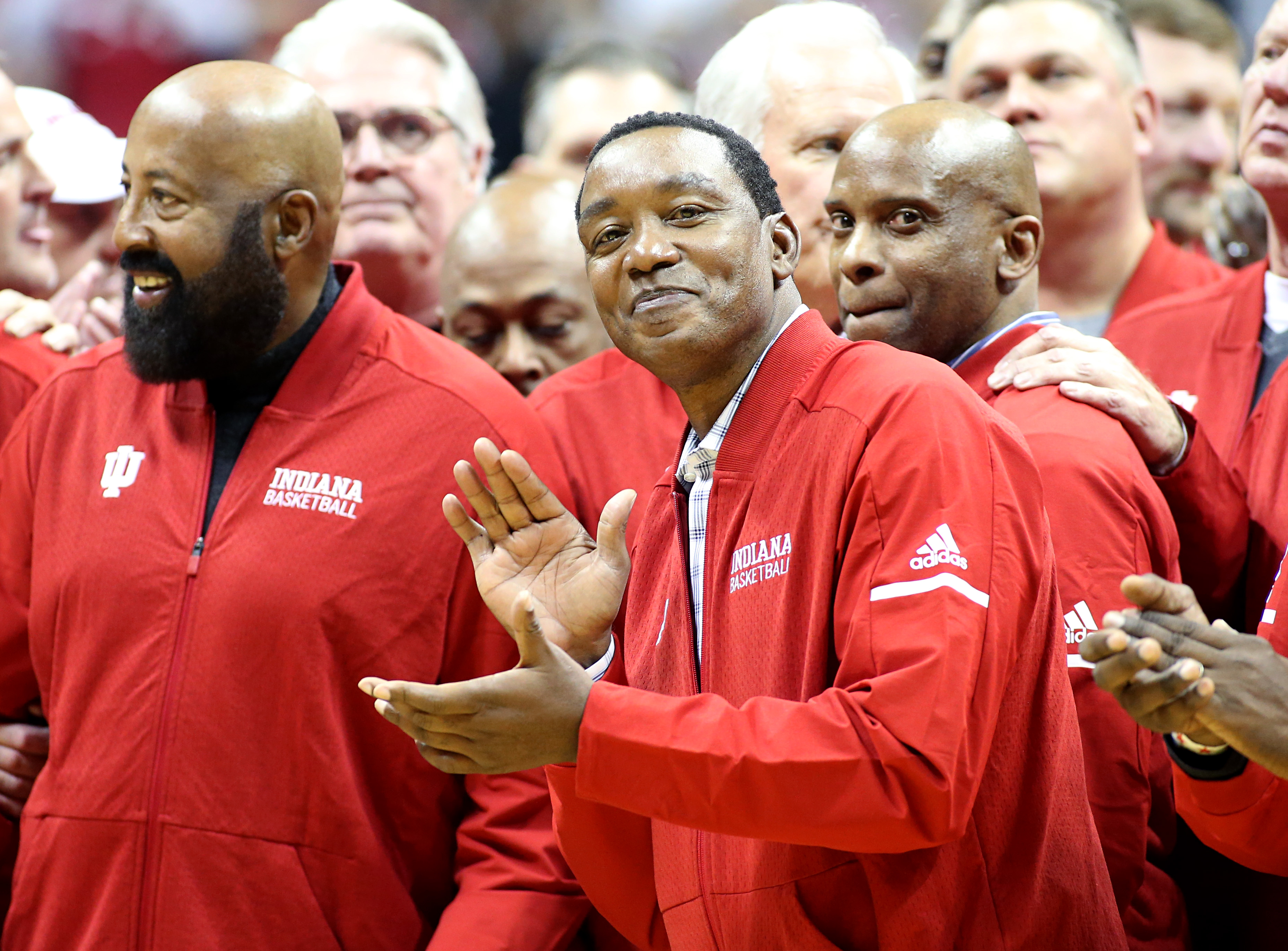 Isiah Thomas had trouble defending a guy with far less star power than Allen Iverson.
On the same "Signature Moves" episode, Thomas explained he frequently fell victim to a journeyman guard named Steve Colter because of a move called the "Crooked Leg." Colter would plant hard in the ground before totally shifting directions, and his ability to do it at full speed had Thomas lost.
Thomas appears to acknowledge he would have struggled to guard someone like Iverson, who changed how the crossover looked in practice. That's probably fair game, considering Michael Jordan was one of the greatest perimeter defenders ever, and AI still found a way to shake him out of his shoes.
RELATED: Isiah Thomas and the Pistons Needed a Man Nicknamed 'Microwave' to win the 1990 NBA Championship and Cement Their Dynasty Status