Isiah Thomas Savagely Trolls Charles Oakley, Defends Giannis Antetokounmpo
It seems that almost every past NBA star has taken on the same hobby. They love discrediting today's players.
Former All-Star big man Charles Oakley recently continued that trend by downplaying Giannis Antetokounmpo's greatness. He said the two-time league MVP would have been a bench player during his era in the 1980s and 1990s.
However, Hall of Fame point guard Isiah Thomas has frequently stood up for the current generation (maybe because he has beef with everyone he played against during his career). And he recently defended Antetokounmpo while also clowning his former foe, Oakley.
Charles Oakley said Giannis Antetokounmpo would have 'come off the bench' in his era
Giannis Antetokounmpo is one of the greatest players of this generation. He's earned two league MVPs, a Defensive Players of the Year Award, and a Finals MVP.
In a recent podcast appearance, Charles Oakley (who earned just one All-Star selection during his career) initially had praise for the Greek Freak.
"He's doing his thing. I was skeptical because he couldn't make a jump shot (or) free throw. After what he did last year, he done won me over," Oakley said on SLAM's No Pump Fakes podcast, per USA Today.
However, his comments then took a quick turn in the other direction.
"He wouldn't have been a force back in the day. … He would have struggled, they would make him shoot jump shots," Oakley said, per USA Today. "He wouldn't be doing a euro step to the basket, somebody gonna knock his head off."
Oakley added: "He'd come off the bench back in the day."
Those are certainly some bold claims, but not all older players think that.
Isiah Thomas defended Giannis and trolled Charles Oakley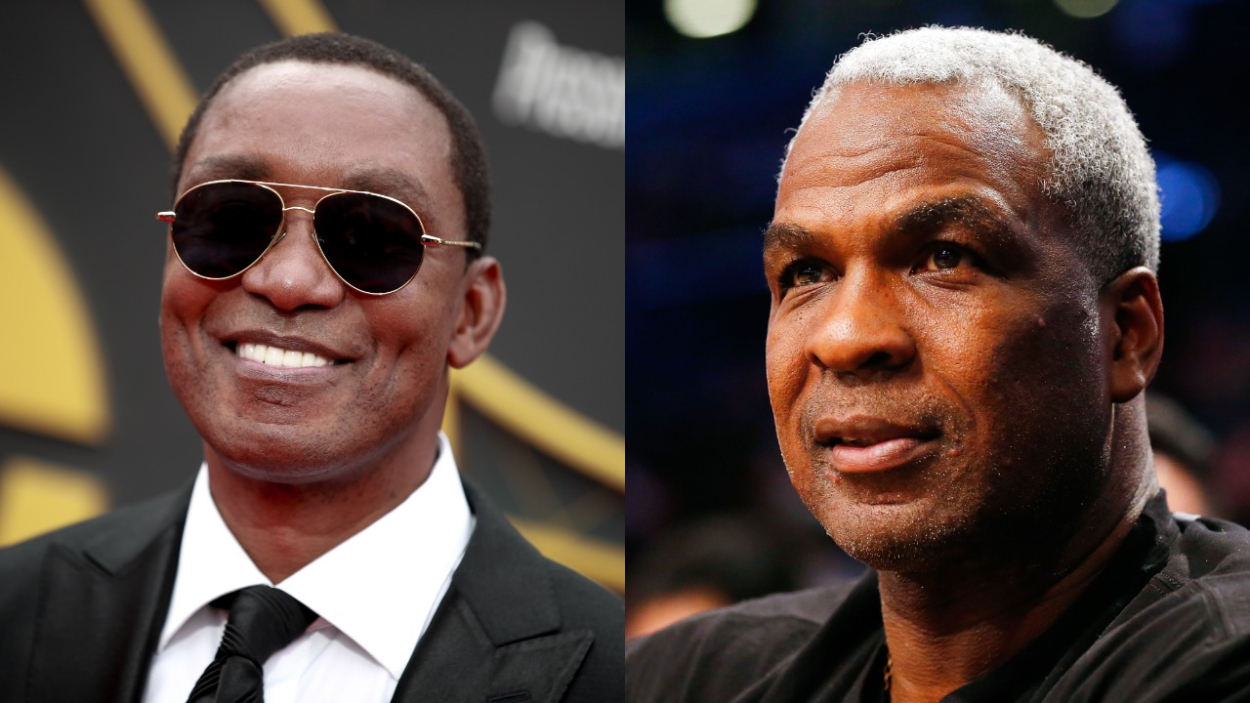 Likely in response to Charles Oakley's comments, NBA TV recently discussed whether Giannis Antetokounmpo could have been an MVP in the 1980s and 1990s. And Isiah Thomas not only stood up for the Milwaukee Bucks star, but he took some shots at Charles Oakley.
"Before Ralph Sampson got hurt … I remember Bill Russell saying, 'Ralph Sampson can be the greatest player ever because of his skill set," Thomas said on Feb. 28. "…Giannis is today's Ralph Sampson. And all these guys talking about 'Well, Giannis couldn't play' and all this. Dude. Giannis going around Oakley; Giannis going around all them. He's dunking on them. He's bigger, he's faster, he's stronger."
Thomas then continued and got in a couple of more digs at Oakley.
"You can talk all that stuff because you don't play no more; you can talk all that stuff because you got gray hair, and you sitting on the sidelines smoking cigars, [talking] about what you used to do," Thomas said. "That dude would dog you every single time y'all stepped on the court. You may hit him hard. OK, alright. After you hit him hard, you ain't got no game. … All you all stop it with 'He wouldn't dominate in the 80s.' We ain't ever seen no dude like this come into our league."
Zeke didn't hold back. And his comments just further proved two things.
Isiah Thomas loves today's players and will never let any past beef die
Isiah Thomas proved two things with his comments: He enjoys continuing beef he still has from yesteryear, and he loves today's players.
Charles Oakley is friends with Michael Jordan and has clowned Thomas in the past. Jordan and Thomas have a well-documented history that goes back to the Chicago Bulls-Detroit Pistons rivalry. Some even think Jordan is why Thomas didn't play on the Dream Team.
The Pistons legend has continued his clash with MJ since the airing of The Last Dance, and he now seems to be continuing any beef he has with Oakley.
However, Thomas also seems to respect today's players and even uses them to throw shade at guys like MJ and Oakley. Isiah has called LeBron James the GOAT (yes, over Jordan) numerous times, and he's now saying Giannis Antetokounmpo would have dunked on Oak. He's essentially killing two birds with one stone, as he's showing younger guys love while also trolling older players who he doesn't necessarily like or who don't like him.
And he has a point. The disrespect the greats show toward players in today's game is ridiculous. Yes, the sport is different. Rule changes have made it more difficult to play defense, allowing offensive threats to score more points than they maybe would have back in the day. But today's players are faster and stronger, and it's time for the old men to recognize that.
Isiah Thomas may have been using that moment on NBA TV to blast his old foe, but he just further proved that many past stars from his generation seem to be biased. They think their era was far superior, and they're simply wrong. Current players could have dominated in their game and vice versa.
RELATED: Charles Oakley's LeBron James Story Potentially Gives Insight Into LBJ's 2023 Free Agency