Isiah Thomas Uses 1 Tweet to Further Argue That LeBron James (Not Michael Jordan) Is the GOAT
LeBron James versus Michael Jordan will likely get debated by basketball fans and various NBA experts until the end of time. Both stars solidified themselves as the GOATs of their eras and are (in the eyes of many) the top two players to ever play the game.
But when it comes to who deserves to be No. 1, that's an argument that can end the longest of partnerships, friendships, and even marriages. Luckily for Naismith Memorial Basketball Hall of Famer Isiah Thomas, he doesn't have a relationship with MJ to worry about. So, he has said LeBron is the GOAT in the past and recently continued making that argument on Twitter.
Isiah Thomas has called LeBron James the GOAT in the past
Most players from Michael Jordan's era believe he's basketball's GOAT, but Isiah Thomas has shared his reasoning for thinking LeBron James is No. 1 in the past.
"The best and most 'complete' player I have seen in my lifetime is [LeBron James] on and off the floor," he tweeted in October 2020. "He passed the eye test and the numbers confirm what my eyes have seen in every statistical category. #Goat let it be known!"
Obviously, Thomas could be a little biased given that he and MJ have had a heated rivalry for years. They were key players in the intense Detroit Pistons-Chicago Bulls playoff matchups, and many believe Jordan played a role in keeping Thomas off the Dream Team.
But the Indiana Hoosiers legend later explained himself on Shannon Sharpe's Club Shay Shay podcast.
"We have never seen in the NBA a player like LeBron James," he said on a November 2020 episode. "He breaks a record every single night just to remind you that you've never seen this before. … When it's all said and done, it's going to be hard for people to look back 10 years from now and say he wasn't the best."
Now, Thomas is continuing to remind people who the GOAT is.
Isiah Thomas used 1 tweet to further remind people that he believes The King is the GOAT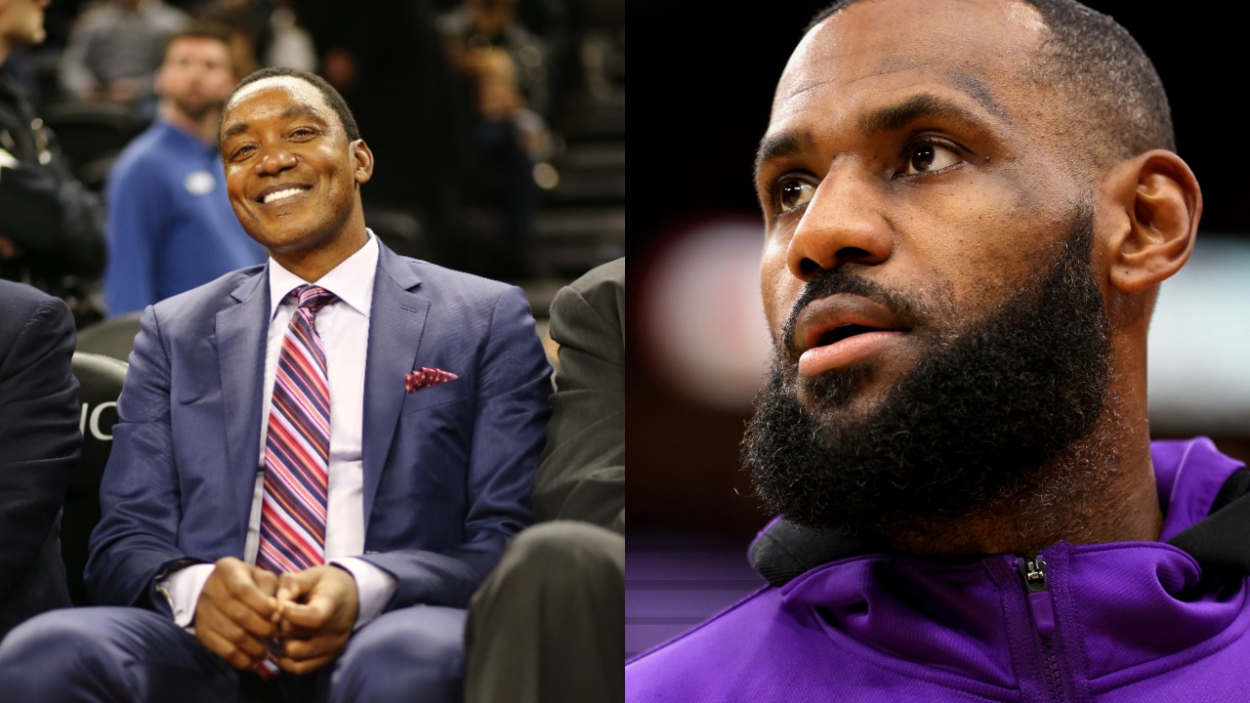 LeBron James has been on a remarkable run for the Los Angeles Lakers lately, and SportsCenter recently added some context.
The show's Twitter account posted a comparison of James at 17, 27, and 37 years old. The younger version of The King (who must have still been in high school since he didn't enter the NBA until age 18) averaged 28.0 points, 8.9 rebounds, and 6.0 assists, while 27-year-old LeBron recorded 27.1 points, 7.9 rebounds, and 6.2 assists per game. At 37, James is averaging 28.6 points, 7.4 rebounds, and 6.5 assists.
Thomas then quote-tweeted the post and shared his thoughts about the former Cleveland Cavaliers star.
"The greatest all around player ever let it be known," he posted while also tagging James, ESPN's NBA account, First Take, the NBA, and NBA TV.
Saying LeBron is the GOAT will always be a bold take and will likely result in some backlash. But LeBron has certainly added to his legacy lately.
LeBron James is adding to his GOAT argument with his recent play
LeBron James has been adding to his incredible resume with his play of late and has been making it a little easier for his fans to argue why he is the GOAT.
James is showing that age is just a number, as the 37-year-old is averaging 28.7 points, 7.4 rebounds, and 6.6 assists for the Lakers this season. He's also shooting 52.1% from the field, his highest percentage since 2017-18. 
James has also been unstoppable over the last month.
Earlier in January, he became the oldest player in NBA history to record 30 points in seven straight games. And since Nov. 24, the four-time NBA MVP has been averaging 31.1 points, 8.4 rebounds, and 6.8 assists.
It's truly remarkable to see what LeBron James is doing at his age, and he's further helping Isiah Thomas prove The King is the GOAT.
Stats courtesy of Basketball Reference