Israel Adesanya Continues To Refute His Steroid Allegations
Israel Adesanya is one of the most dominant UFC champs right now, and recently, he put on another show. He faced off against Paulo Costa, who was also undefeated and easily defeated him.
That said, some UFC fans think that it was such an easy fight for Israel Adesanya, that he must've been cheating. 
What happened during Israel Adesanya's fight against Paulo Costa
While the fight was a dominant, one-sided affair that saw Adesanya completely dismantling everything Costa had to offer, fans and analysts also noticed something else.
Both before and during the fight, some fans noticed that Adesanya's right pectoral muscle looked different from his left pectoral muscle, according to MMAjunkie. 
His right pectoral muscle looked like it had some saggy tissue, and this made it look bigger than his left pectoral muscle. Like MMAjunkie wrote, this could be gynecomastia, which is more commonly known as gyno.
Gyno is a potential side effect of steroids use, and this of course led some fans to accuse Adesanya of using steroids. Other UFC fans, including some fighters, such as Jon Jones, started making fun of Adesanya for having "breasts," 
What Israel Adesanya and his team had to say about this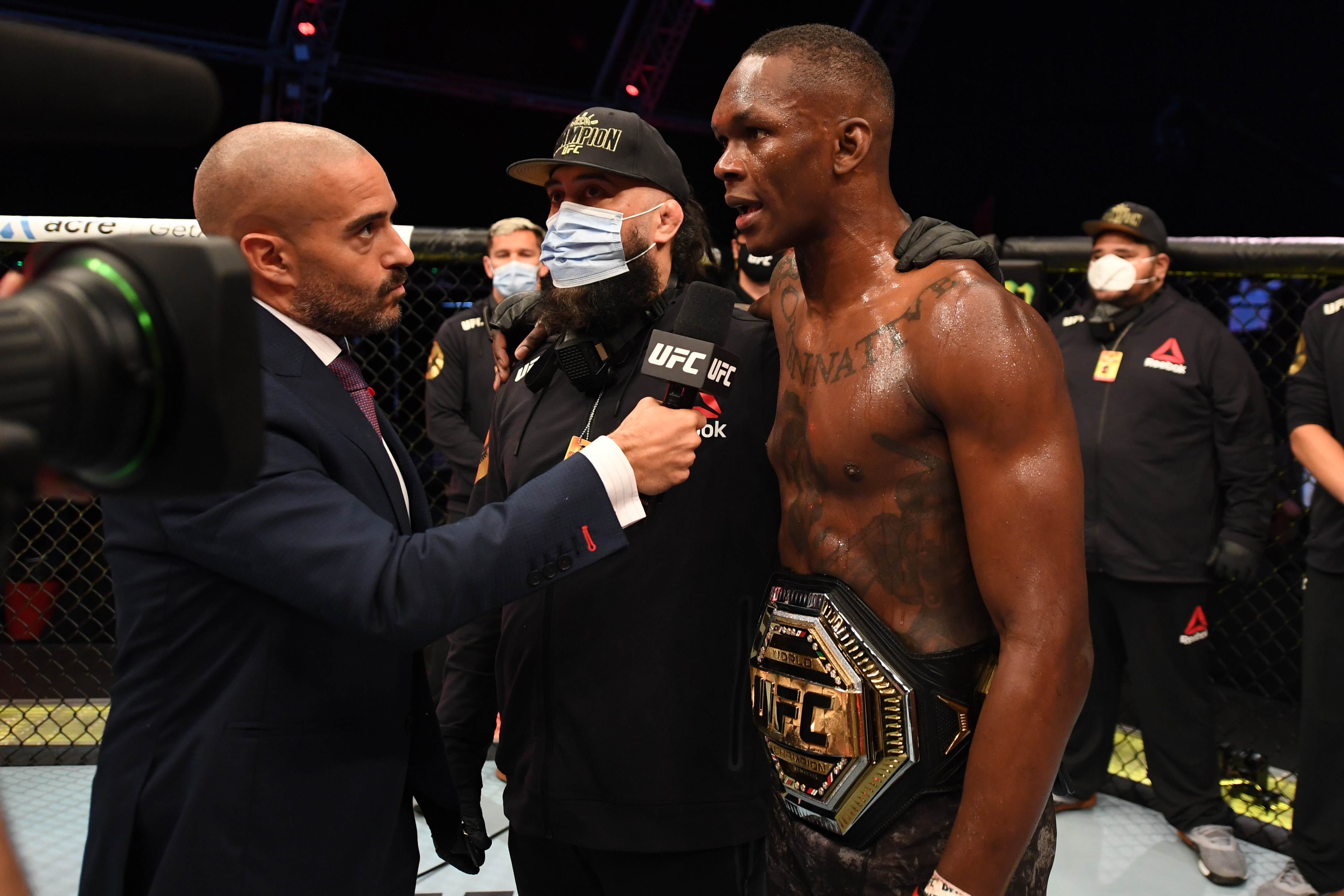 That said, these were just accusations and rumors. One of his coaches, Eugene Bareman, just laughed about this accusation, according to MMAjunkie. Bareman said, "We know that nothing could be further from the truth. So, like, when something is so outlandish, it kind of becomes funny."
Bareman said that he's confident that Adesanya isn't using steroids or other performance-enhancing drugs because he said that his gym has a strict code of ethics. Furthermore, Bareman said that it's also unlikely that Adesanya unknowingly took any performance-enhancing drugs since their gym uses "The right approved supplements and stuff." 
Adesanya also denied using performance-enhancing drugs, but at the same time, nobody is denying what everyone saw. Adesanya clearly had something going on with his right pectoral muscle, and MMAjunkie wrote that he has done some scans to see what's going on with it.
Currently, he and his team are awaiting the results of those scans, but in the meanwhile, they're just laughing at the steroids accusations.
At the end of the day, the UFC cooperates with USADA for drug tests, and USADA has tested Adesanya many times before. As far as anyone knows, Adesanya hasn't tested positive yet, so it doesn't make sense to assume he's guilty off the bat. 
Presumed to be innocent
As the Mayo Clinic said, there are many reasons why men can get gyno. It's true that steroid abuse can cause gyno, but there are also many natural causes, including several substances that are perfectly legal in the UFC. For example, the Mayo Clinic wrote that marijuana and alcohol can cause gyno, and obviously, many people use marijuana and alcohol on a daily basis.
Furthermore, while the UFC isn't the court of law, people should still be presumed innocent until they're proven guilty. UFC fans are notably bad at doing this, as many UFC fighters have been accused of abusing steroids just because they had big muscles.
Regardless, it's still a good rule of thumb to have, as it not only ensures that guilty fighters get punished, but it also makes sure that innocent fighters are free from abuse and harassment. 
On top of that, like MMAjunkie said, the UFC and USADA have still been testing UFC fighters during the pandemic, and Israel Adesanya's latest blood samples are available for testing if anybody suspects he's cheating. Due to that, if he were cheating, USADA would probably find out eventually, but as it stands now, it appears that he's not cheating.