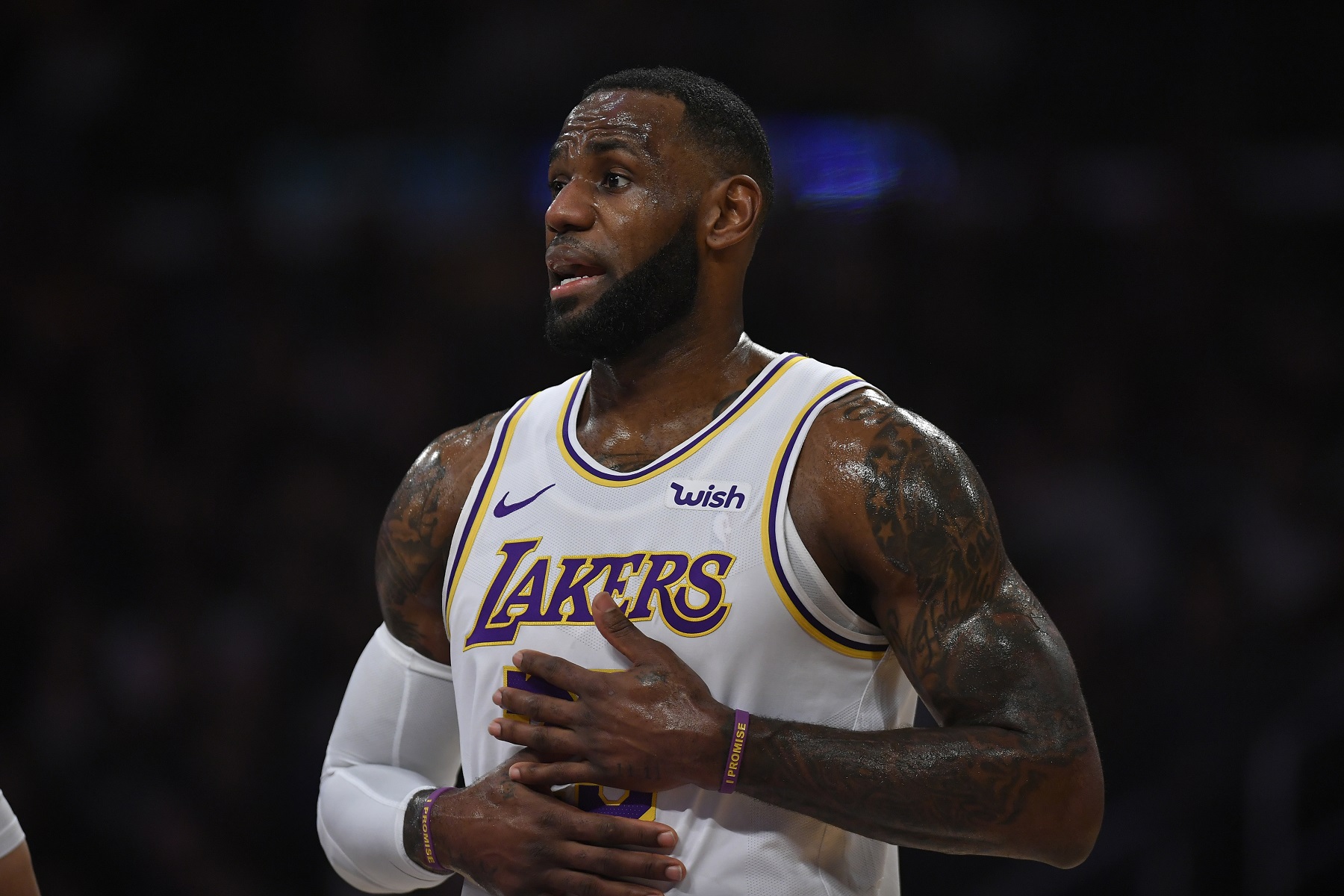 Lebron James Says He'll Share With Friends if His New Business Takes Off
LeBron James has hinted on social media that his friends could profit from his generosity if a new business venture takes off. He got the idea from actor George Clooney.
Los Angeles Lakers star LeBron James will have banked nearly $350 million for his career just in salary by the time the next NBA season wraps up. Deals he's done on top of that with Nike, Coca-Cola, McDonald's, Beats by Dr. Dre, the owners of the Boston Red Sox, and a rising-star pizza chain in his 17 seasons as a pro are likely worth even more than that.
So, what's a man to do with all that money? If his latest venture pans out as nicely for James as it did for a huge Hollywood name, then King James is thinking of spreading that wealth around roughly 110 pounds at a time.
LeBron James has gone into the tequila business
LeBron James does not just sit back and count the millions of dollars he earns playing basketball and making commercials. Instead, the 16-time NBA all-star plows money into a variety of business investments.
James' best-known deal might be his decision in 2011 to take a minority stake in the Liverpool soccer club through Fenway Sports Group, FSG is the umbrella entity that also owns the Boston Red Sox and Roush Fenway Racing, whose stable of NASCAR drivers is led by Ryan Newman. The conglomerate was valued at $6.6 billion late last year by Forbes..
His other investments include a production company that has teamed up with Tom Brady and Michael Strahan to sell a documentary series to Apple+ and a stake in Blaze Pizza, a rapidly growing chain that is expected to issue an IPO by 2023.
Now, James and some partners have gone into business backing Lobos 1707, a brand of tequila that the basketball star discovered during a Mediterranean vacation. It's that investment that indirectly ties James to actor George Clooney and potentially could lead to a payday for some of the basketball player's friends.
The George Clooney connection to King James
LeBron James is hardly the first celebrity to invest in the tequila business. In fact, fellow basketball legend Michael Jordan previously went into business with four fellow NBA team owners, including the Los Angeles Lakers' Jeanie Buss.
Actor Dwayne "The Rock" Johnson, rockers Adam Levine of Maroon 5 and Sammy Hagar, and music mogul Sean "Puffy" Combs have also gotten in the game in recent years.
The godfather of the tequila glitterati, however, is actor George Clooney.
Clooney launched the Casamigos brand with the husband of model Cindy Crawford and another associate in 2013. Diageo, now a $92 billion giant in the beverage industry, bought out Clooney and his partners for a reported $1 billion in 2017.
Clooney was a highly bankable Hollywood star for years, but it's believed that his haul from the sale of the tequila company dwarfed what he made from movies, which was itself sizeable. Clooney found himself with more money than he could imagine ever spending even before his success with the tequila venture. So, he gave away $14 million.
In the December/January 2021 issue of GQ, Clooney confirmed the rumor that he gave 14 friends $1 million apiece in 2013. It was his way of saying thanks to people who helped him in his days before achieving stardom.
"I just thought basically if I get hit by a bus, they're all in the will," he said. "So why the f–-k am I waiting to get hit by a bus?"
Fourteen of LeBron James' friends could be lucky someday
As one might imagine, doling out $14 million in cash is not a simple endeavor. Actor George Clooney had to make arrangements to pick up that much cash in $20 bills at a bank and then move it without attracting attention.
Clooney said he used a non-descript van and only clued in an assistant and "a couple of security guys that were s-–ting themselves."
LeBron James saw a tweet about Clooney's generous act toward his friends and responded on social media by saying that he could see himself doing the same thing if his tequila venture takes off like Clooney's did.
"Let me build Lobos1707 to a (billion)," he wrote, "and my close friends may be getting the same."
In case you're curious, a $20 bill weighs approximately one gram. A bag containing 50,000 of them — $1 million in all – weighs a little over 110 pounds.
Like Sportscasting on Facebook. Follow us on Twitter @sportscasting19.