It's Time for Paul George To Prove He's the Star People Think He Is
Being one of the best NBA players hasn't kept Paul George from being the subject of jokes about his playoff troubles. He's come up short on several occasions, making some of his proclamations in the media even more out of touch. George has never been under more pressure than this season. Can he finally play at his best when a title is on the line? 
Ironically, Paul George burst onto the scene during a playoff series
Sometimes all it takes is the right moment at the right time to change your life. Paul George went from an anonymous NBA wing to a future star in the span of five seconds. This took place in the third quarter of Game 1 of the 2013 Eastern Conference Finals against the Heat. To say his rise was meteoric would be unfair.
George earned the NBA's Most Improved Player and made his first All-Star game after averaging 17 points, eight rebounds, and four assists. But playing for a small-market team like the Pacers means players must do something extra to get noticed. Crossing over LeBron James and sending Chris 'Birdman' Andersen into an early grave qualifies as something extra:
Indiana lost the game and the series. But that game — and the dap James gave him after the play — made him way more famous. But the rest of George's tenure with the Pacers was signified by frustration and missed chances. (And this is without mentioning the horrific leg injury that basically wiped out his 2014-15 season.) They were never able to get over the hump and make it to the Finals. George's final postseason with the team was particularly humiliating.
The Cleveland Cavaliers swept the Pacers. The last two games featured a grade-A choke job on their own floor after letting go of a 25-point lead at halftime, and a 5-21 dud of a performance from George. His plight was all the funnier because of a Gatorade commercial built around George's alleged clutch mentality. (He had literally never hit a game-winning shot in the NBA at that point.)
The lack of signature wins in Indiana was placed more on George's supporting cast than George himself. The rest of his career suggests that he's more complicit in his failures than many realized back then, details Sports Illustrated. 
'Playoff P' is born and memed
Nicknames are a powerful thing. They say a lot about a person's self-perception and how they want to present themselves to the world. That's all fine and good, but when you talk about yourself as a big-name player and you get punked by Joe Ingles, people are going to make fun of you. 
You have to be a hell of a player to both give yourself a nickname and talk about yourself in the third person. To be fair, George had good reason to be confident when he called himself Playoff P. He forced a trade to the Oklahoma City Thunder, forming a hyped partnership with Russell Westbrook. 
The team finished as the fourth seed in the West, and had a favorable first-round matchup against a Utah Jazz team led by a rookie Donovan Mitchell. But the Thunder lost the series in six games, in part because George went missing in multiple games. 
It would be unfair to put all the blame on him. Westbrook's hyperactive style is less effective in the playoffs, and Carmelo Anthony was terrible. But George also had two games where he shot under 30%, including in game six, where he scored five points on 16 shots. 
George became an MVP candidate the following year, but the season still ended early when Damian Lillard hit one of the coldest shots in NBA history. George was good in the series, but his insistence that Lillard simply hit a bad shot made him look like a sore loser. And as good as some of his stats were, the Thunder still lost in five games. The world was very much ready for Playoff P. 
George's mentality may be the difference between glory and failure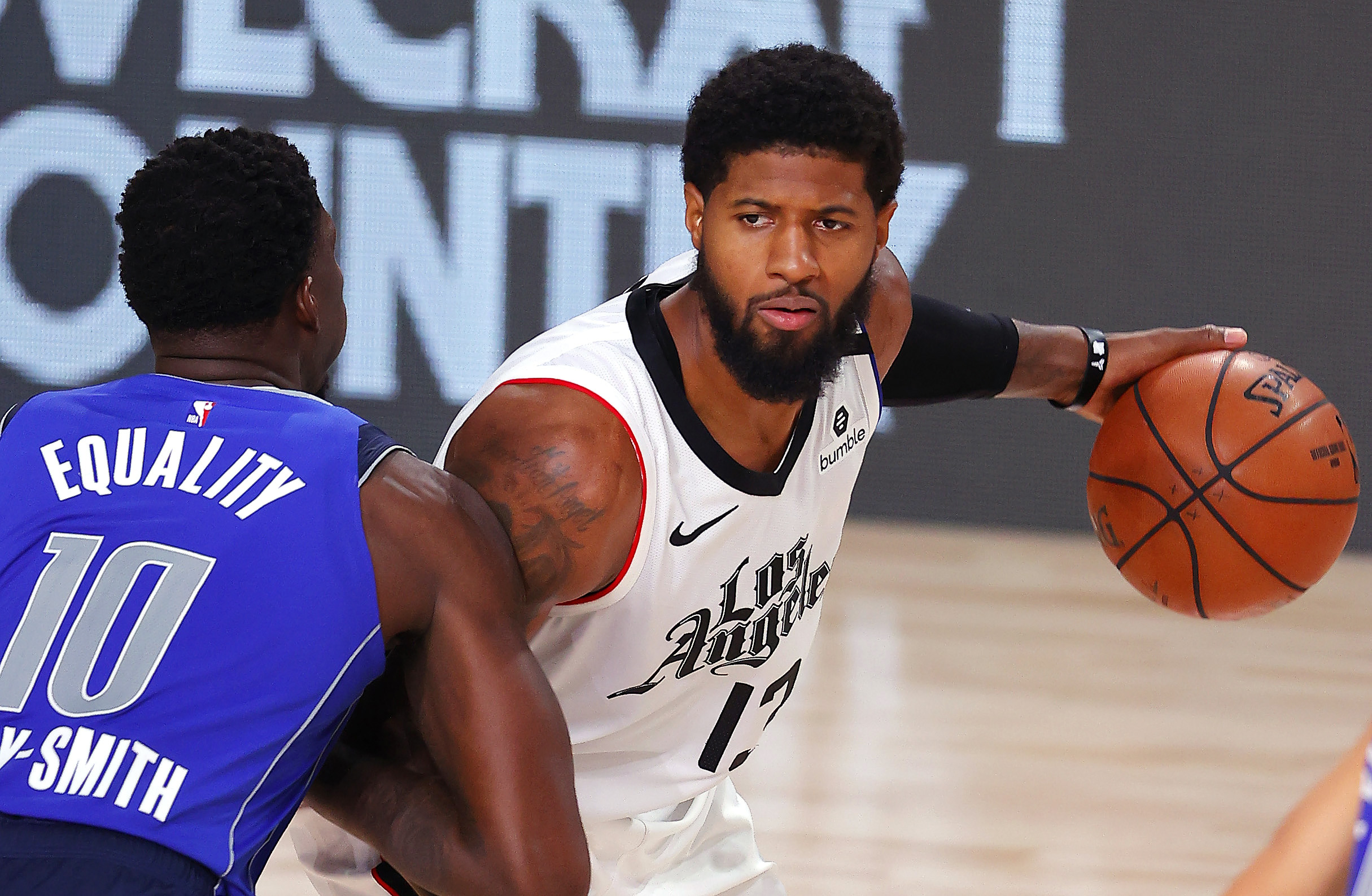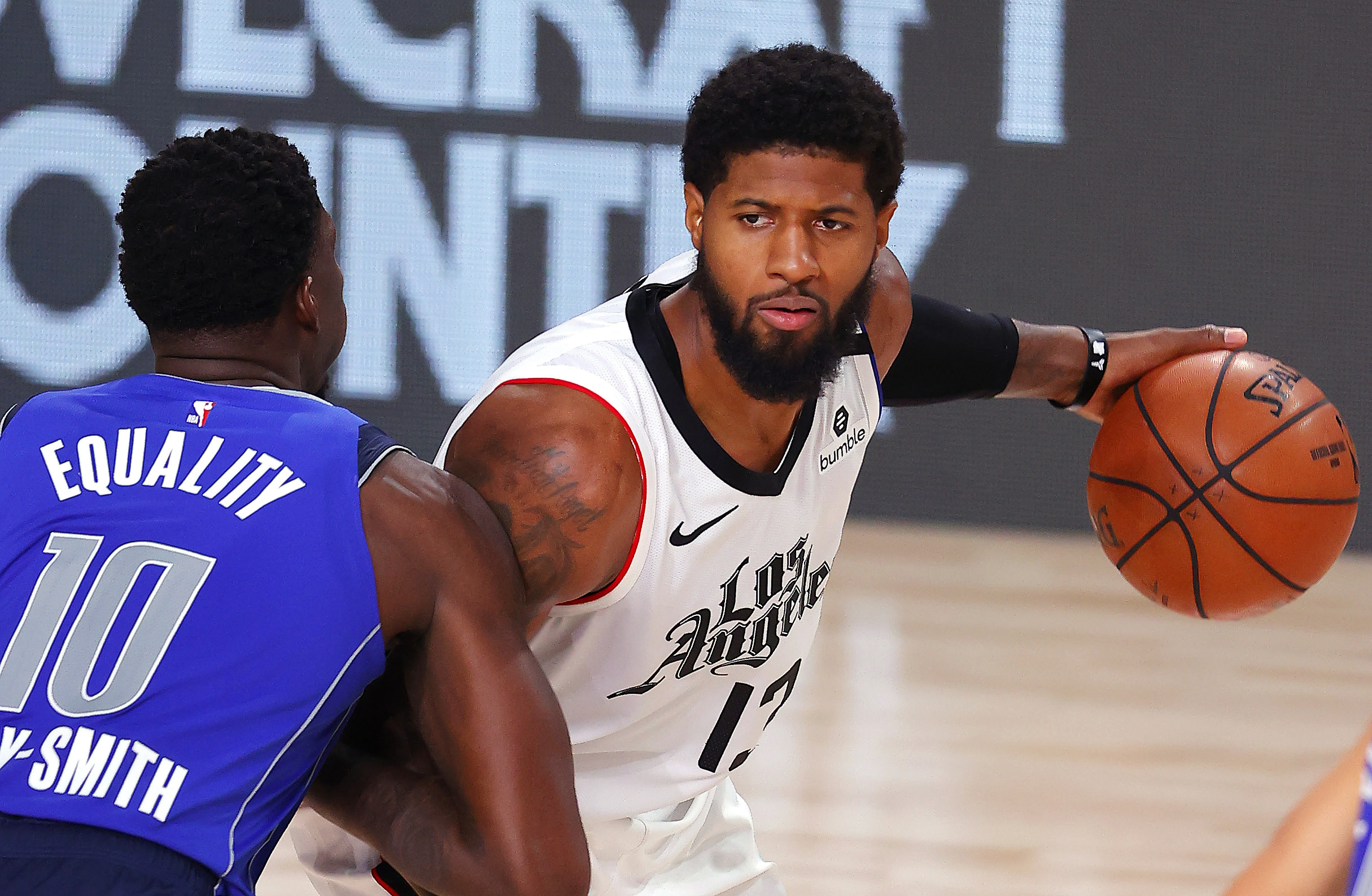 This has been a year full of chaos and terror. So it's nice that George provided stability by once again looking small on the big stage. The playoffs hadn't even started when he got involved in a controversy that made him look worse. After a feisty seeding game against the Trailblazers, George was one of several players who got in a short-lived beef with Lillard.
The Portland point guard won the war of words both in the press conference and on social media. He pointed out that he basically forced George out of Oklahoma City on his own and that George has ring-chasing tendencies. 
It's a harsh, but fair assessment. George engineered a trade to join Kawhi Leonard after it became clear that LA had a better chance of winning. Doing so doesn't make George any worse than the other stars who move teams in search of the Finals. But it seems clear at this point that George can't be the best player on a championship team. 
Things got even worse for him once the playoffs started. In games two, three, and four of the first-round series against the Mavericks, George shot a combined 10-47 (21%) while doing little to stop Luka Doncic defensively. "Pandemic P" was a laughing-stock. Then, he explained his poor play in a way that made it less fun to make jokes about how badly he was playing.
George admitted that being stuck in a bubble is having a severe impact on his mental health. It's been a tough year for everybody who isn't a billionaire and has any empathy for other people. George deserves credit for speaking about his troubles. But that doesn't change the fact that he needs to improve if the Clippers are going to make good on their ambitions.