It's Time to Finally Detonate the Sacramento Kings, and a 3-Way Trade Involving Ben Simmons Should Light the Fuse
The Sacramento Kings have had a brutal few decades. That's a hard way to end a sentence when talking about a franchise — if things haven't improved in decades, it's time for a change. Sacramento needs a significant one, and acquiring disgruntled Philadelphia 76ers point guard Ben Simmons via trade could be just the change it needs.
The Kings have tried to rebuild a handful of times. But even with lottery pick after lottery pick, the franchise hasn't been able to acquire an organization-altering star of Simmons' caliber.
So it's time to try something new and think outside the draft, so to speak. And there's one deal out there in particular that makes a lot of sense.
The Kings have been mired in an epic slump
Sacramento hasn't made the playoffs since the 2005-06 season. That's so long ago the Oklahoma City Thunder were still the Seattle SuperSonics.
The last time the Kings actually won a postseason series was 2003-04 when Mike Bibby, Chris Webber, Doug Christie, Peja Stojakovic, and Vlade Divac still ran things.
Since then, Sacramento has had 13 lottery picks. Twelve of those were in consecutive seasons from '07-19, all of those were inside the top 10, and five were in the top five.
Even with a treasure trove of enviable draft selections, every rebuild the Kings have tried to undertake has failed. So maybe it's time to try a different strategy.
The Sacramento Kings have an ideal Ben Simmons trade waiting for them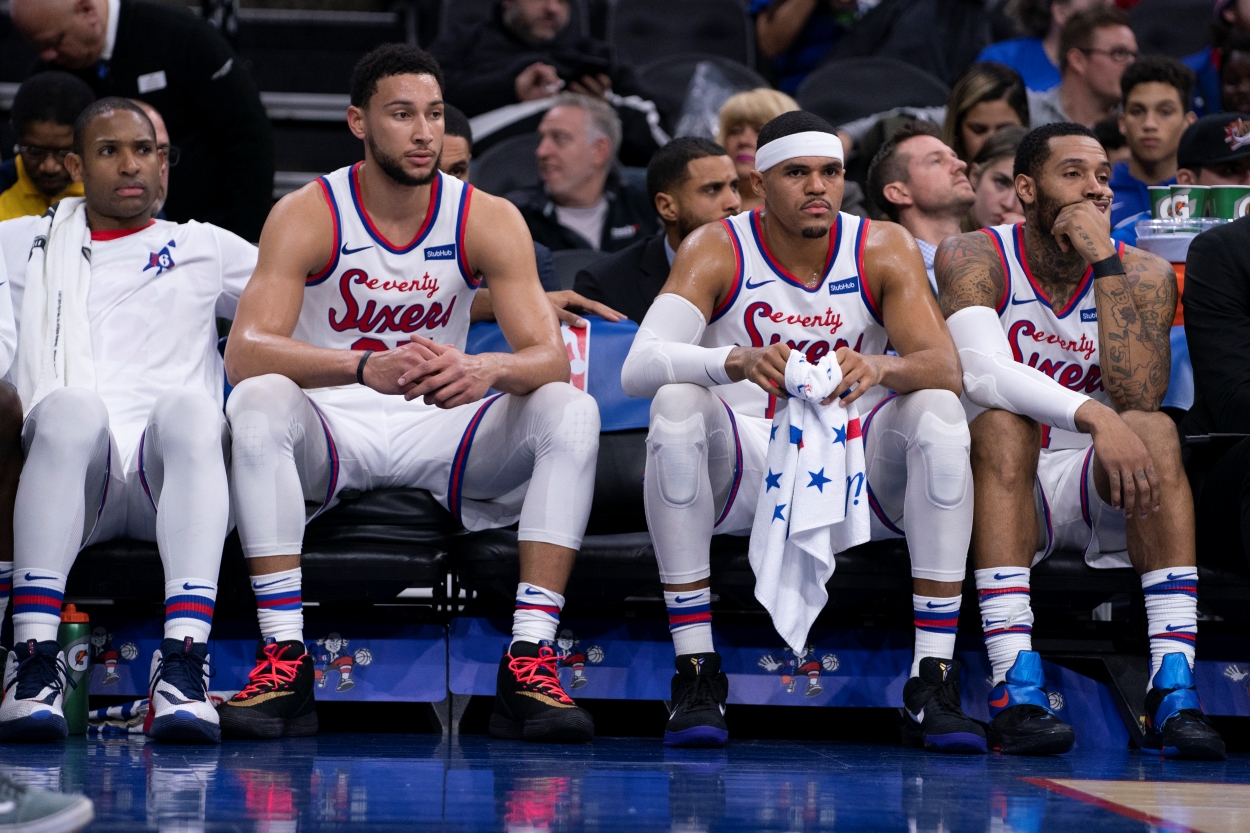 Free agents are understandably reluctant to join a franchise that's been such a mess, and clearly, the draft hasn't worked either.
Making a splash via trade(s) is the last option left. A three-way trade for Ben Simmons is out there, and it's time for the Kings to pull the trigger.
The deal:
Sacramento receives: Ben Simmons, a 2023 lottery-protected first-round pick via Portland, a 2023 lottery-protected first-round pick via Philadelphia
Philadelphia receives: De'Aaron Fox, CJ McCollum
Portland receives: Tobias Harris, Tyrese Maxey, and a 2026 top-five-protected first-round pick via Philadelphia
Lost in all the drama is that Simmons is an All-Defensive player at 6-foot-11. He's also a top-level facilitator and rebounder at the point guard spot. The Kings aren't getting anyone better in the draft or free agency.
The former LSU standout could be the centerpiece of a roster that would still have Tyrese Haliburton, Davion Mitchell, Harrison Barnes, and Richaun Holmes and would also have three first-round picks (including its own) in what's been touted as one of the best drafts in recent memory.
Meanwhile, Philly would shed Simmons and get a brand new backcourt in return to add playmaking and scoring around Joel Embiid.
Portland would get two players who could contribute immediately and enhance the roster alongside Damian Lillard, which is exactly what the Blazers said they want.
A three-team blockbuster, to be sure, but one that seems fair for all parties involved.
A Simmons trade may be the shakeup the Kings' organization needs
Sacramento would receive a brand-new building block with already-established role players around him. The picks the Kings also land would give them flexibility in a talent-rich draft — they could stand pat with their three first-round selections or package the Sixers and Blazers picks to move up.
Using them in 2023 would give the franchise the ability to bring in talent before Simmons' contract is up and before it has to shell out for players like Haliburton and Mitchell after their rookie deals expire.
The organization also still has Buddy Hield to dangle in a separate trade. If it wants to go full tank mode, Barnes would be a hot commodity for a contender. Ditto for Holmes.
Simmons would also get a fresh start. He wouldn't be under much pressure to produce immediately, either, which would be a nice break for the 25-year-old.
It's time to blow everything up in Sacramento, and Simmons should be the first domino to fall.
All statistics courtesy of Basketball Reference.