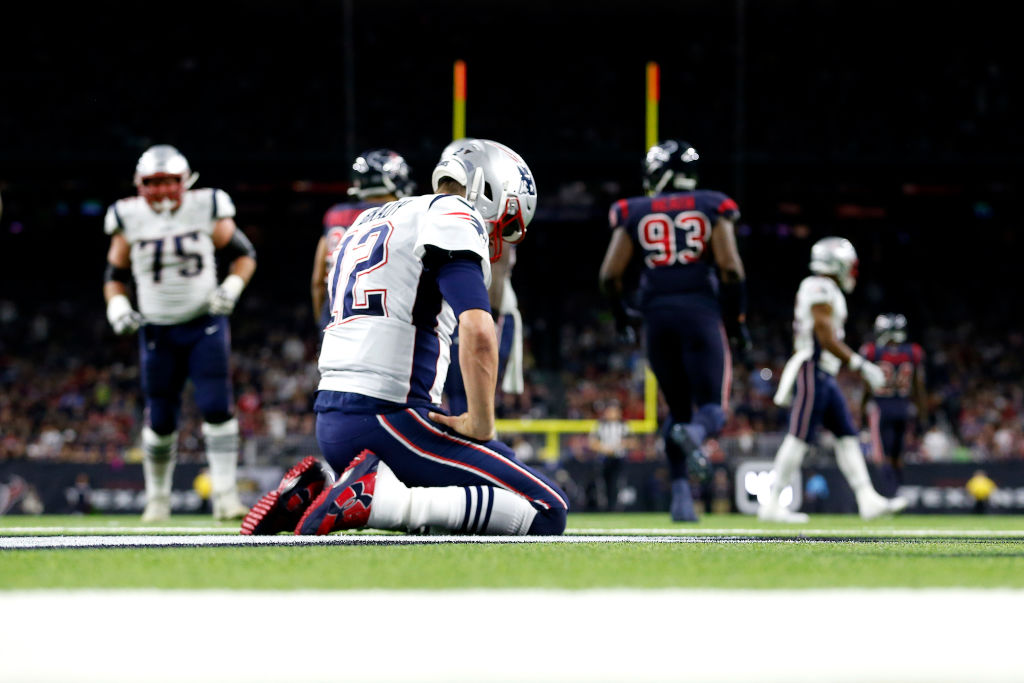 It's Time to Hit the Panic Button on Tom Brady in New England
Tom Brady is on the decline, and the New England Patriots should be concerned about it as the playoffs rapidly approach.
It's understandable to give Tom Brady the benefit of the doubt. Throughout his incredible career, Brady has always bounced back from adversity and had the last laugh over those that doubted him. As proof of his declining play in 2019 continued to mount, most fans and journalists proceeded with caution, careful not to jump the gun on declaring the fall of the legendary Tom Brady.
But as the score went final on a 28-22 Houston Texans win over the New England Patriots on Sunday Night Football, it felt different than it has in previous years. As Deshaun Watson thoroughly outplayed Brady with four total touchdowns in the game, it started to sink in that this year might really be different. That the days of Tom Brady flipping the switch and dominating the opposition might finally be over.
Tom Brady's final line in Houston doesn't tell the story
There is no way to sugar coat it. Over New England's last three games, Tom Brady hasn't looked like a game-manager or an average quarterback. He's just looked flat out bad.
Brady's final line against the Houston Texans doesn't tell the story of his game at all. Houston scored on a neat trick play as DeAndre Hopkins pitched the ball forward to Deshaun Watson for a touchdown with 9:58 left in the fourth quarter. Up 28-9 with under 10 minutes to go, the Texans started playing prevent defense. Brady picked this apart on two straight touchdown drives, going 9-for-14 for 125 yards and two touchdowns.
Before these two drives in garbage time, Brady was 15-for-33 (45.5%) with 201 passing yards, one touchdown, and one interception. At the half, the Patriots trailed the Texans 14-3; Tom Brady was a dismal 7-for-20 (35%) for 82 yards with an interception in the first half.
This is far from Brady's first bad game in 2019
Tom Brady kicked off the 2019 campaign looking like his ordinary self through New England's first five games. The 42-year-old completed 63.1% of his passes, averaged 281.8 yards per game, and had a 10-to-2 touchdown-to-interception ratio. Brady looked terrible the Patriots' 16-10 win against the Buffalo Bills, going 18-for-39 for only 150 passing yards with no touchdown passes and an interception. But everyone has a bad game from time to time.
Alas, that game was more of a sign of things to come than the other four games in that five-game stint were. The Pittsburgh Steelers, Miami Dolphins, New York Jets, and Washington Redskins all got off to awful starts in 2019, and Brady taking advantage of the weakest part of New England's schedule clouded our judgment.
Since New England's 33-7 win over Washington in Week 5, Tom Brady's completion percentage has dipped to below 60% over the team's last seven games down to 59.9% (179-for-299. He has averaged only 265.6 yards per game and produced a touchdown-to-interception ratio of 8-to-4.
And that stretch includes games against the lowly New York Giants, New York Jets, and Cleveland Browns. In his three games prior to Sunday night against Houston against the Baltimore Ravens, Philadelphia Eagles, and Dallas Cowboys, Brady went 73-for-130 (56.2%), averaged only 230.3 passing yards per game, and threw only two total touchdown passes.
This regression is a legitimate concern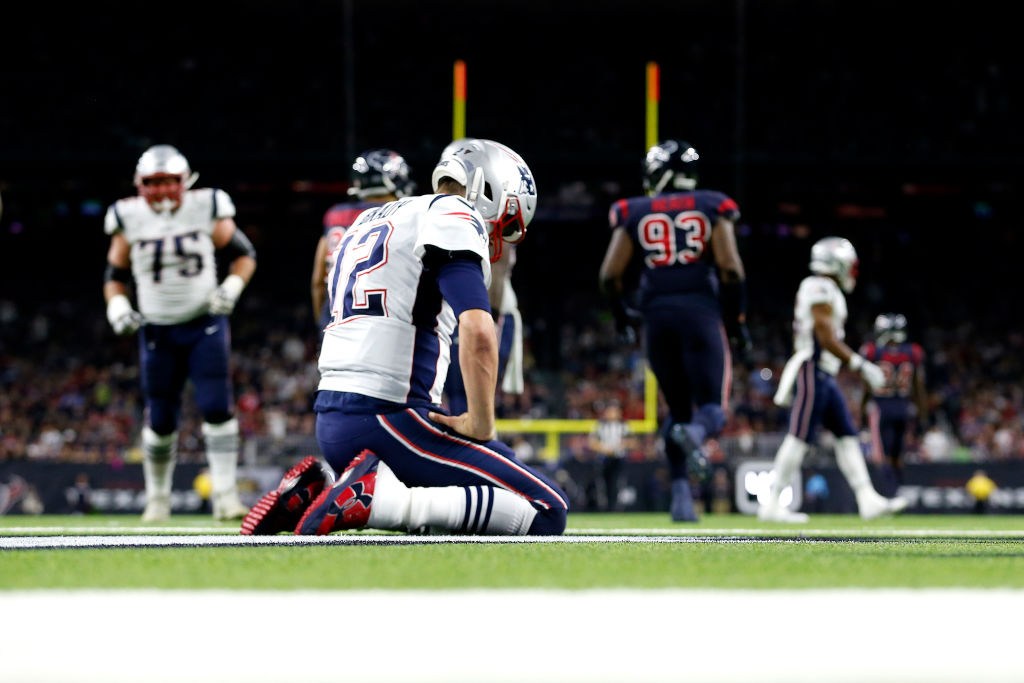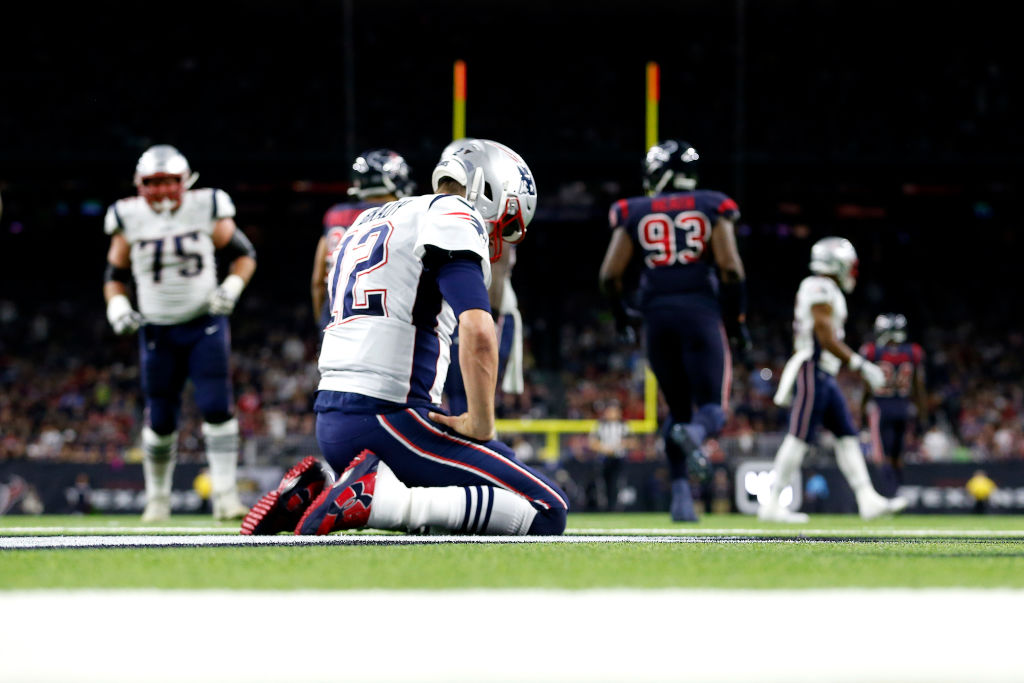 The New England Patriots have an elite defense, and that's why they are still 10-2 despite Brady's recent struggles. That defense will keep New England in the hunt for a Super Bowl this season.
But that defense has also now allowed 28 points against Deshaun Watson and 37 points against Lamar Jackson and the Baltimore Ravens. At some point this postseason, New England is probably going to need Tom Brady to be his old self. And if the last half of the season is any indication, that may not be in the cards this year.
Needless to say, the Patriots will stick with Tom Brady for the duration of 2019. They'll probably stick with him beyond this season, too; but that's starting to look like a dicey proposition.