J.C. Jackson Pressures Bill Belichick and the Patriots to Pay Him
The New England Patriots have a lot of questions to answer this offseason. Thankfully, the quarterback position isn't one of them.
Last offseason, New England invested heavily into both sides of the ball. They brought in Nelson Agholor, Hunter Henry, Jonnu Smith, Kendrick Bourne, and Matthew Judon to revamp the roster and made the playoffs in the first year with Mac Jones under center.
Going into the 2022 offseason, the team's biggest question mark is the future of star cornerback J.C. Jackson. After making the Pro Bowl and posting eight interceptions, he will command a heavy paycheck — and he knows that. Jackson recently made known his desire to get paid and put some pressure on Bill Belichick and the organization to get a deal done before it's too late.
J.C. Jackson puts all the pressure on Bill Belichick and the Patriots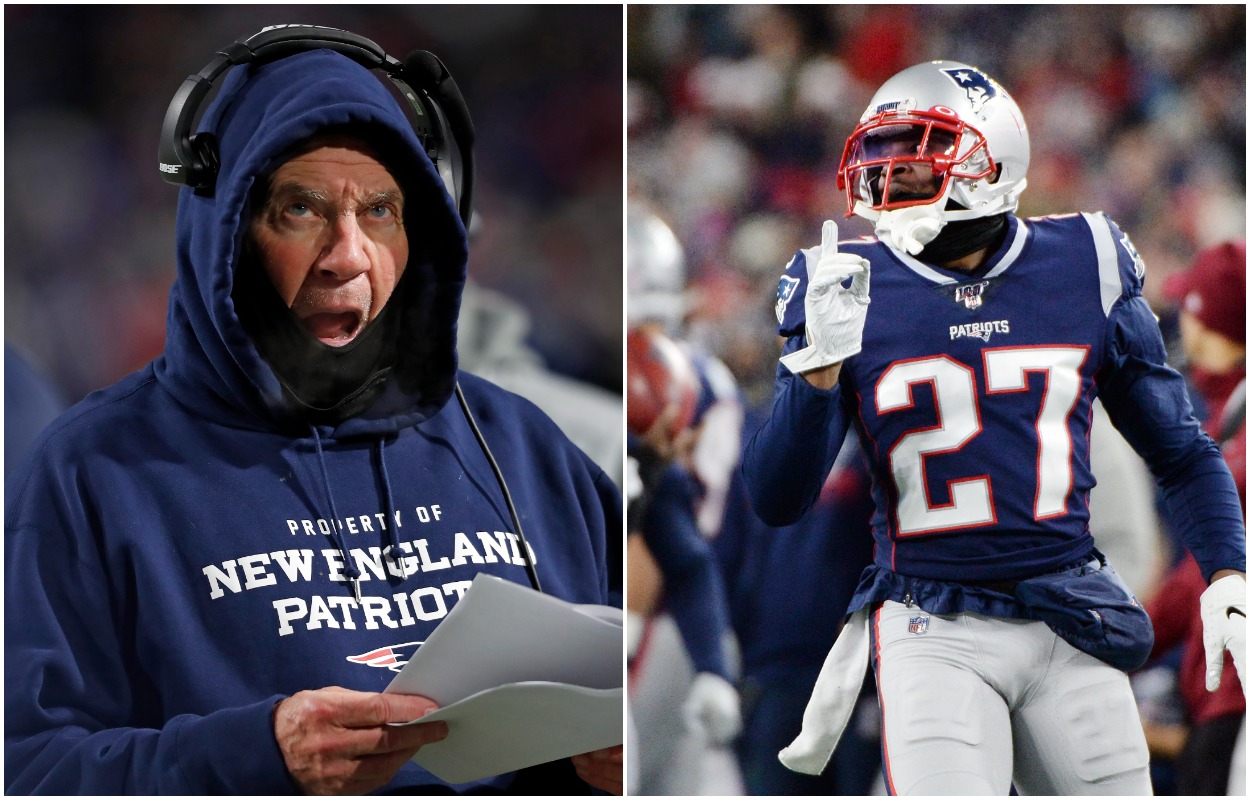 The Patriots go into another offseason with some big questions. If Jackson leaves, the Patriots defense will take a massive hit.
After a long, frustrating situation with Stephon Gilmore, he eventually got traded to the Carolina Panthers. Jackson answered the call, and he totaled 17 interceptions across the past two seasons to lead the way for New England.
Jackson wants to get paid, and he made that clear recently (h/t Phil Perry of NBC Sports).
"I'm taking it day by day. But it's time for me to get paid. It's time to get Mr. INT paid."

J.C. Jackson
It sure is time for him to get some more cash. After all, Jackson played on his second-round tender this past season and made just north of $3 million. He made the Pro Bowl and clearly showed how important he is to the Patriots. If they don't see that, somebody will.
As it stands right now, Jackson isn't so sure the Patriots realize how important he is.
"I guess they feel like they don't need me. I guess I can't be that important to them. I know I am, but they're not showing me."

J.C. Jackson on impending free agency
The radio silence in New England can't be encouraging for its hopes of bringing back Jackson. If he heads to free agency, he should be one of the top names available on the market and easily command top-5 CB money.
Yet, for some reason, the Patriots are standing pat for now.
Why are they playing hardball with Jackson?
The Patriots are one of the most successful sports franchises in recent memory. They know what they are doing. And, as Jeff Howe reports, this sequence of events lines up with how they normally do things.
Still, Jackson's recent comments have to concern the New England brass. The two sides have not had any traction on a new deal — and that should be a massive red flag.
Mike Giardi of NFL Network also reported that things aren't looking very promising for a potential return to New England for Jackson.
Now, they could give him the franchise tag and Jackson would play on it — he said so himself (h/t Phil Perry).
"I love the game. If they tag me, I'm gonna go out there and play."

J.C. Jackson on playing on the franchise tag
But, still, that would be a temporary solution. He would get a nice one-year paycheck estimated at around $17 million. Nonetheless, Jackson wants that long-term deal, and he knows he would get it in free agency.
The ball is in the Patriots' court until free agency kicks off in March. They must get something done with Jackson before it's too late.
The Patriots have no choice but to bring back J.C. Jackson
The votes are in, and it isn't close.
Jackson flexed his muscles and proved time and time again how much the Patriots needed him. At this rate, it's either tag him and work on a long-term deal or let him walk.
If he walks, he isn't coming back. The market would be robust for Jackson, and his contract would be a massive one. After all, teams would come running quickly for a top-tier cornerback who doesn't turn 27 until November.
Jackson just put pressure on the Patriots big time, and the clock is ticking for them to get a deal done. Is he important to them or not?
Only time will tell.
Stats Courtesy of Pro Football Reference
RELATED: 2022 NFL Free Agency: 4 Best Destinations for J.C. Jackson