J.J. Watt Explicitly Details Why the Arizona Cardinals Are Undefeated So Far in 2021: 'No Excuses. No Bull****'
The Arizona Cardinals find themselves as the only undefeated team left in the NFL halfway through October. The Cardinals are 6-0 and the talk of the town, featuring an explosive quarterback led by Kyler Murray and a defense bolstered by star players like J.J. Watt and Budda Baker.
Arizona is the real deal, and that says something considering that head coach Kliff Kingsbury is only in his third season ever as an NFL head coach.
The season is still young and anything can change, but the Cards definitely look like contenders in the NFC.
Their play on the field has been resounding, but Watt pulled back the curtain after their most recent win against the Cleveland Browns.
Arizona's success is as much mental as it is dominating on the field.
The Arizona Cardinals had to deal with a COVID-19 outbreak that threw their gameplan into chaos
On paper, the Cardinals' win over the Browns seemed like an easy affair. They went to Cleveland and came away with a 37-14 win. Murray completed 20-of-30 passes for 229 and four touchdowns. The defense notched six sacks, five tackles for loss, and an interception.
It appeared to be a complete drubbing of Cleveland, but behind the scenes, Arizona had a lot to deal with in the leadup to the game.
Kingsbury received a positive COVID-19 test just two days before the game, which meant he couldn't be on the sideline or with the team. That news was really the pinnacle of an already terrible week in that regard, though. Linebacker Chandler Jones was already on the reserve/COVID-19 list from earlier in the week, and ultimately, multiple people were sidelined by positive tests.
Kingsbury, Jones, quarterback coach Cam Turner, and defensive lineman Zach Allen all knew heading into the weekend that they couldn't go to Cleveland. On Sunday afternoon before the game, defensive tackle Corey Peters was also ruled out due to a positive test.
The Cardinals found a way to adapt quickly with their undefeated streak on the line
Kingsbury is not only the head coach in Arizona, but he calls the plays on offense. Down multiple players and key coaches, Arizona had to adapt quickly.
Defensive coordinator Vance Joseph was put in charge in Kingsbury's stead, which was a fitting move because Joseph does have head coaching experience in the NFL. The Cardinals also "promoted" assistant wide receivers coach Spencer Whipple to call the passing plays, which is a vital part of Arizona's offense.
In the end, the Cardinals faced off against a strong Browns team on the road and came away with a resounding win. Given all that they had to deal with, some may be surprised with that outcome. After the game, Watt seemed anything but.
"It's what we do, it's all business. We know the task at hand. We know how to accomplish a task and we go out there and do it," Watt told Tom Pelissero. "No excuses, no bull***. We just find a way to win."
Arizona's talent plus a winning mindset will be tough to beat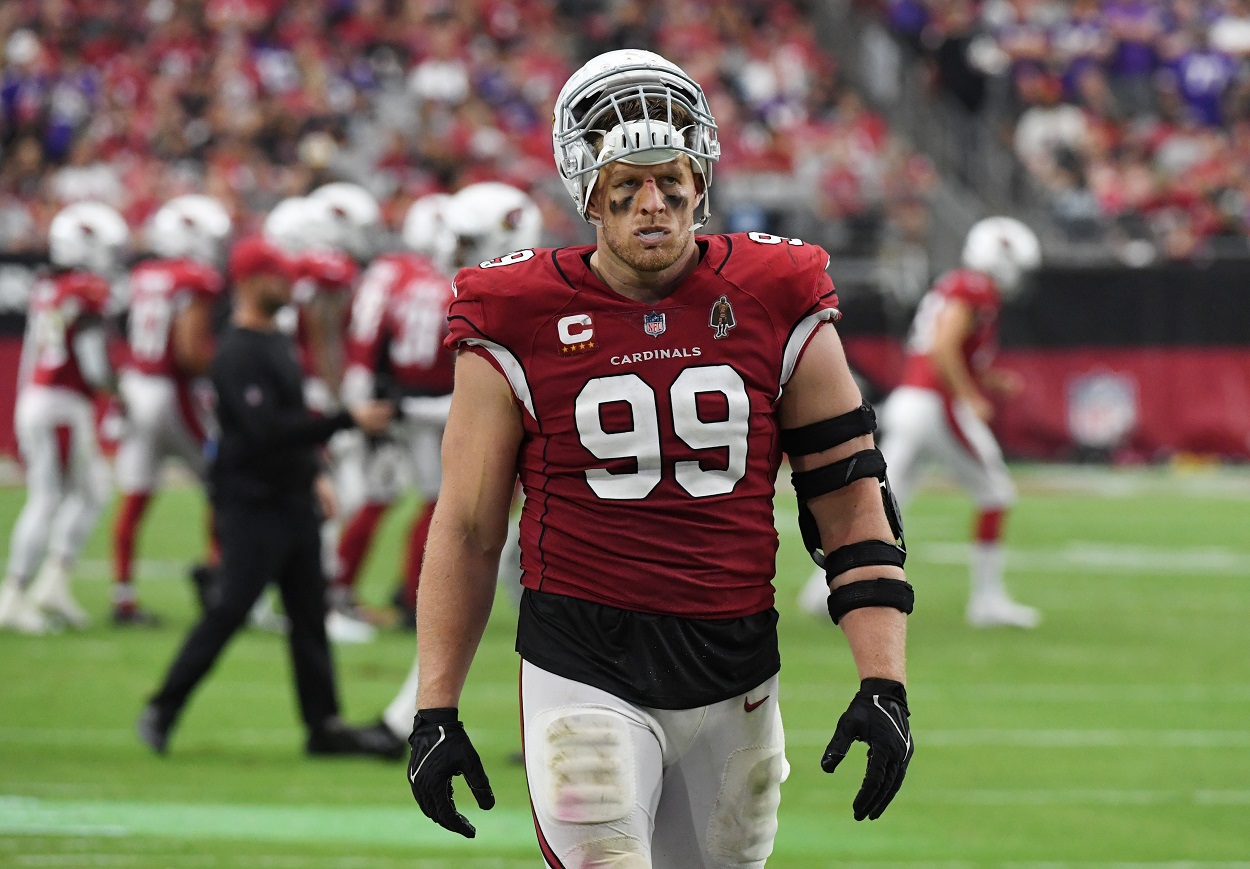 Coaches who have been around the block for a while will say that you can't teach effort. There's an old saying in football circles that states that what matters isn't the size of the dog in the fight, but rather the size of the fight in the dog. These are all cliches that you'll hear buzzing around early morning practices on high school football fields around the country, but that doesn't mean those truths don't apply in the big-money world of the NFL.
Watt has always been known as a team leader and "try-hard" guy, but what makes him a future Hall of Fame player is that he's found a way to match his talent with his heart. That's rare to see even at the highest levels of football, but it's what makes the generational players truly elite, and that mindset is clearly rubbing off on the Cardinals.
Watt was the long-time face of the Houston Texans before signing in Arizona this offseason. He was a superstar for the Texans despite playing for many horrible teams. The thing that made him such a fan favorite wasn't his talent, though. That sure helped, of course, but what made him special for Houston was that he brought a winning attitude to every play and every interaction. It never mattered what the score was or what kind of chaos was going on around him. He came to play every single day. He's clearly in a different situation with the Cardinals now, but now that he's surrounded by a plethora of talent, his mindset is starting to pay off.
"It's why I'm here, to win football games," he said when asked how it felt to be a part of an undefeated team. "I'm having a lot of fun with these guys. We've got great chemistry and great camaraderie. We're having a lot of fun, but the best part about it is I know that when we go back to work this week it's going to be 'turn the page and go back to work'. And that's why we're doing what we're doing."
Attitude is everything, even in the NFL.
Stats courtesy of ESPN and Pro Football Reference.
RELATED: Even if Baker Mayfield's Shoulder Doesn't Require Surgery, the Browns Would Be Wise To Let Case Keenum Take On the Broncos