J.J. Watt's Net Worth: How Much Is the Cardinals DE Worth Today?
Widely considered one of the greatest defensive linemen, J.J. Watt rose to fame with the Houston Texans. Watt, who spent much of his early life in Texas, has made waves since transitioning to the Arizona Cardinals in 2021. The NFL star is a vital presence on the football field and a pop culture icon, appearing in numerous commercials, comedy bits, and sponsored ads. Partly thanks to his versatility, J.J. Watt's net worth has grown to staggering proportions.
J.J. Watt is an award-winning defensive lineman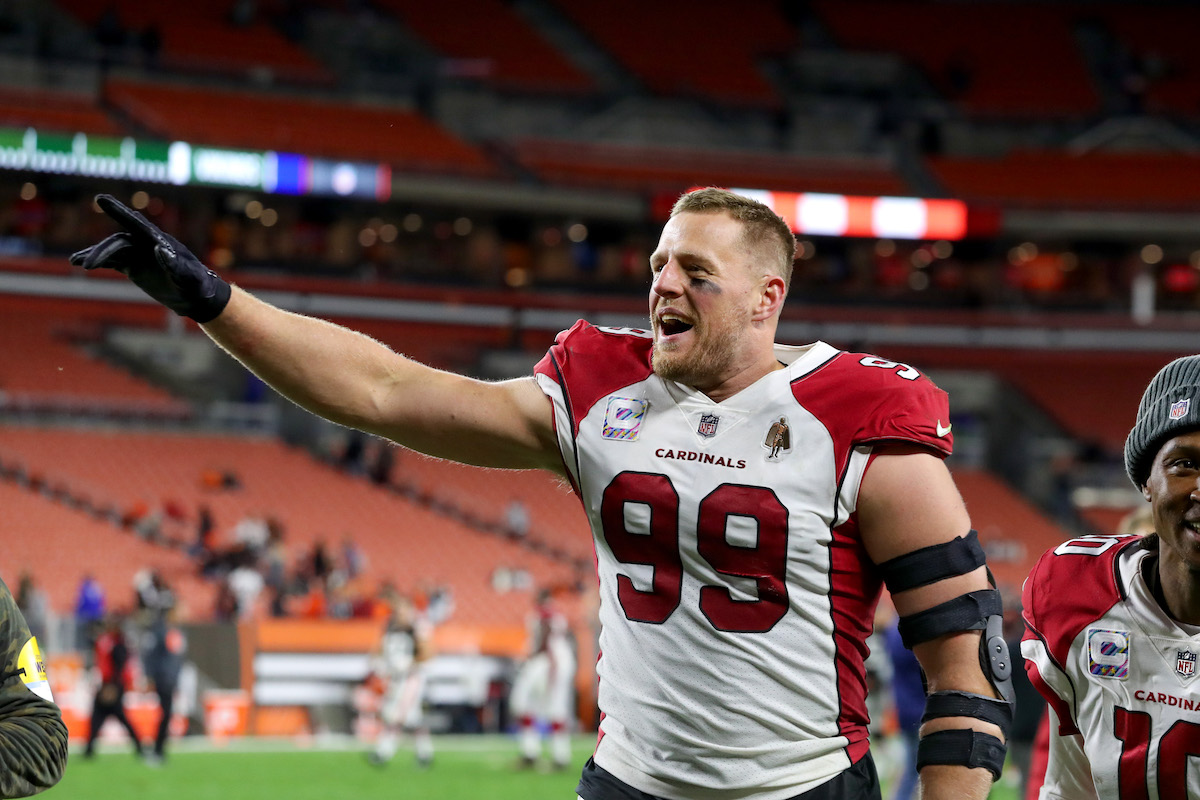 J.J. Watt was born in Wisconsin in 1989. He was athletic even as a child and showed early promise in ice hockey. Watt played that sport until age 13 but eventually quit when it conflicted with his scholastic pursuits. Eventually, football won Watt's heart, and he became active in the sport in high school.
After playing college football at the University of Wisconsin, Watt went to the Houston Texans in the first round of the 2011 NFL Draft. He shone early, earning the AP NFL Defensive Player of the Year Award three times in his first five seasons with the Texans. In 2017, Sports Illustrated named him Sportsperson of the Year.
With his star on the rise, it seemed Watt could do no wrong.
However, in 2021, after a lackluster few seasons with the Texans, he signed a two-year contract with the Arizona Cardinals. 
What is J.J. Watt's net worth?
J.J. Watt isn't the only member of his family to make a living in the NFL. Both of his younger brothers play for the Pittsburgh Steelers. Derek Watt is a fullback for the team, while T.J. Watt plays outside linebacker.
Still, it seems likely their big brother is the wealthiest family member. Celebrity Net Worth estimates that with an annual salary of around $16 million, J.J. Watt's net worth is $50 million.
The Arizona Cardinals' star DE has done numerous brand endorsements
His lucrative new contract with the Cardinals likely helped boost J.J. Watt's net worth. But the contract has a base value of $35.2 million over five years, FanNation reports. Watt's overall net worth includes not only his NFL earnings but also his brand endorsements. 
The star is widely recognizable to pop culture followers, not just football fans. Watt has made several high-profile appearances in movies and TV series, including a Saturday Night Live hosting gig and a role as himself in a New Girl episode. He also boasts numerous brand endorsement deals with companies including Reebok, Gatorade, Verizon, and Ford.
For several years, Watt was a regular presence in TV commercials for the Texas-based supermarket chain H-E-B. But with his new status as an Arizona Cardinal, that endorsement deal is firmly dead.
Regardless, Watt will likely remain an in-demand media personality and football star.
RELATED: J.J. Watt May Have to Make a Major Change With the Arizona Cardinals Thanks to a Forgotten Football Player From the 1940s