J.J. Watt Used Draft Day Boos to Become an NFL Great
J.J. Watt had everything to look forward to when the 2011 NFL draft began. An All-American defensive lineman at Wisconsin, Watt was viewed as a consensus first-round pick who could sneak into the top 10 of that year's draft. Watt — a former tight end at Central Michigan — appealed to teams as a 6-foot-5, 288-pound dynamic pass-rusher who thrived after transferring to the Badgers as a walk-on defensive end.
Houston Texans fans didn't share the same optimism that scouts and draft analysts did about J.J. Watt. When Texans fans attending the NFL draft showered their new first-round pick with boos, Watt used that negative feedback to become an NFL great.
J.J. Watt took the negative feedback personally
It wasn't just Texans fans in New York City who spewed venom about J.J. Watt's arrival in Texas. Social media pages, especially Facebook, were flooded with comments about how the Texans drafted a bust in Watt or wasted a pick when they had other holes to fill. Notably, Houston already had former No. 1 overall pick Mario Williams at defensive end, although Williams moved to outside linebacker in defensive coordinator Wade Phillips' 3-4 scheme.
The Houston Texans were projected by several sites to select Missouri defensive end/outside linebacker Aldon Smith. When the San Francisco 49ers took Smith with the No. 7 pick, the Texans waited to get their man in J.J. Watt. Little did Texans fans know how lucky the team was to wind up with Watt at No. 11.
J.J. Watt recalled the boos and negative feedback in a 2016 interview on In Depth with Graham Bensinger. Watt admitted he saved the video of fans booing him to his phone and computer.
"I always remember the fans booing me. I always remember people wondering if I would be good. My whole goal when I saw that for the first time was I'm gonna change this city's mind. I'm gonna do everything I can to take this city from hating the draft pick to hopefully loving it."
Initial reactions to the Watt pick were positive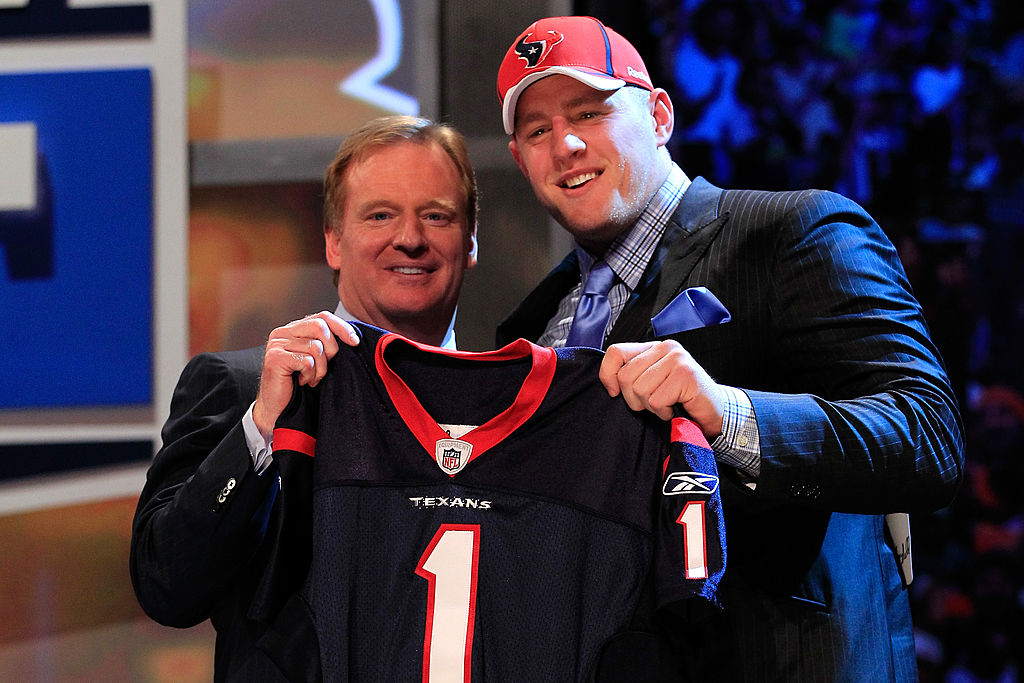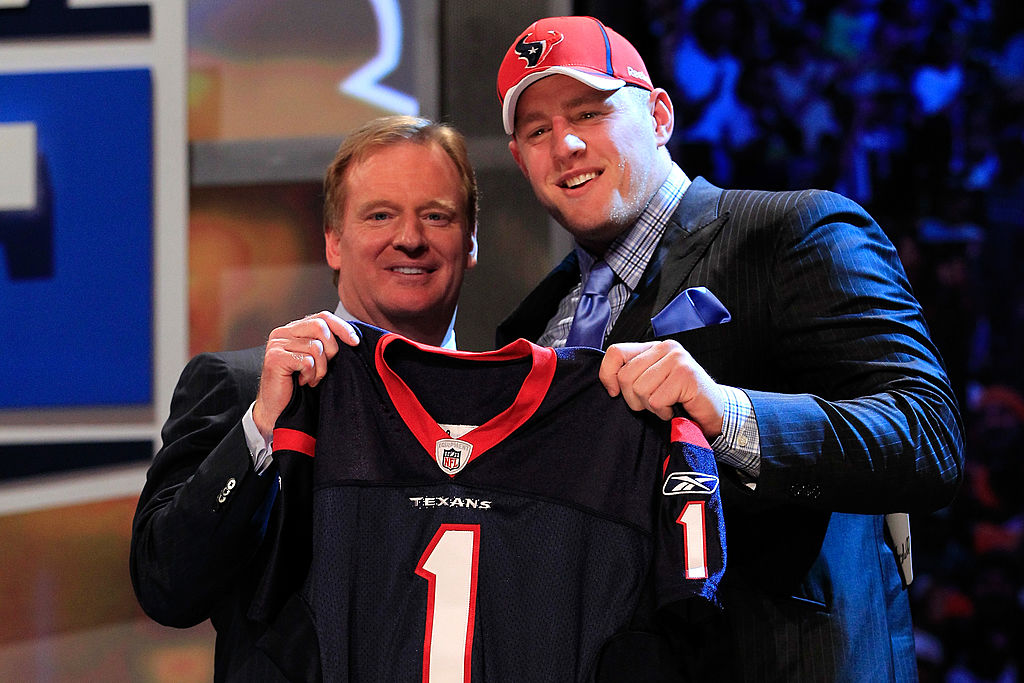 Houston Texans fans may have been upset at the draft pick, but media members loved the idea of J.J. Watt in Houston. Watt was the perfect fit for Wade Phillips' defense and the Texans needed defensive line help, especially because Mario Williams only had one year left on his contract.
Bleacher Report graded the Texans' draft an A+ partly because they drafted a "great player and a high-effort, high-character guy" in Watt. Fox Sports took a similar approach and gave the Texans an 'A' grade. SB Nation only graded the Texans' draft a 'B+,' but they praised the addition of Watt and outside linebacker Brooks Reed.
J.J. Watt has developed a Hall of Fame resume
When J.J. Watt has been healthy, he's been one of the NFL's best defensive linemen over the last decade and it hasn't been close. Watt is a three-time Defensive Player of the Year and five-time All-Pro. Watt's 96 sacks are tied for 41st place since the NFL began recording sacks in 1982.
J.J. Watt can potentially climb into the top-25 all-time in sacks if he avoids injuries. Former Bears and Dolphins defensive end Trace Armstrong and Broncos star Von Miller each have 106 sacks to their name, though Miller is still playing. Watt has only played double-digit games once in the last four years, a 16-sack, seven-forced fumble campaign in 2018.