J.T. O'Sullivan Has Gone From a Journeyman Quarterback to Youtube Star
If you looked up the definition of a journeyman quarterback, they may find a picture of J.T. O'Sullivan. Although he appeared in just 17 games during his NFL career, he traveled around on practice squads and even went overseas during his playing days. Now retired, O'Sullivan has found the spotlight he never got as a player — on YouTube. 
J.T. O'Sullivan's NFL career 
J.T. O'Sullivan didn't go to a football powerhouse for school. Instead, he went to UC Davis, a school more known for its academics than its athleticism. There, O'Sullivan attended from 1997 to 1998. After redshirting his first year, he was the team's starter. He set Division II records as a starter during his final three years at the school.
Going to a smaller school, O'Sullivan wasn't on ever radar. That didn't stop him from getting drafted, however. He was selected in the sixth round of the 2002 NFL Draft. As the third-string quarterback, however, he remained on the bench for most of his time there. After spending his first two seasons on the bench, O'Sullivan went overseas to play for the Frankfurt Galaxy of NFL Europe. There, he made a name for himself thanks to an accurate arm and winning mentality.
From then until 2012, O'Sullivan played all over the NFL and other leagues. His rights were traded to and released by the Packers and signed with the Chicago Bears' practice squad, where he played until being signed by the Minnesota Vikings. The Patriots, the Panthers, returns to the Bears and Galaxy, a year with the Detroit Lions, and later years with the Cincinnati Bengals, San Diego Chargers, Oakland Raiders, and the CFL's Saskatchewan Roughriders.
O'Sullivan rarely saw the field during his career. Despite playing for 11 different NFL teams in practice, he only appeared on the field for four of them. Outside a 2008 season when the San Francisco 49ers used him as injury relief for 9 games, O'Sullivan never played in more than four games off the bench. This helped impart some knowledge that he now passes on to subscribers of his YouTube channel.
Life after football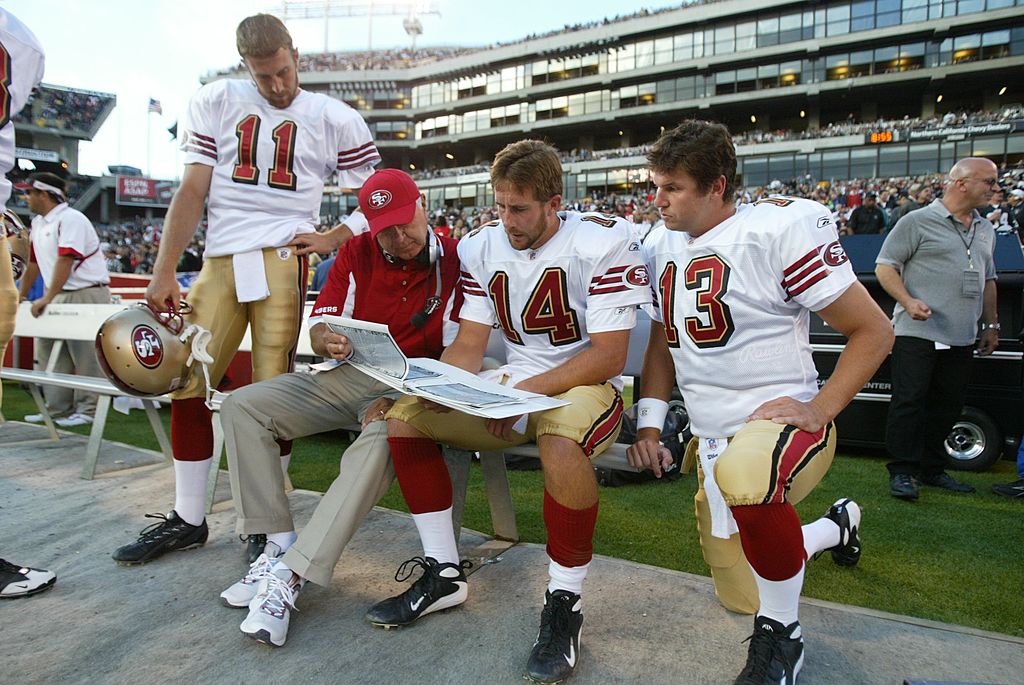 Just because somebody doesn't get to see the field it doesn't mean they didn't work hard. There's a reason that teams always called for J.T. O'Sullivan, even if it was just on practice fields. He knew what he was doing and could get the ball down the field in practice. By backing up so many quarterbacks, he also got to learn from some of the best. 
Brett Favre, Tom Brady, Phillip Rivers, and several other quarterbacks were on the field while O'Sullivan watched from either the sidelines or at home, and he learned to view the game as a student. Now long retired and in his early-forties, O'Sullivan has found a way to parlay his experience on the field to a new endeavor.
The QB School with J.T. O'Sullivan
O'Sullivan now uses his football knowledge to educate others on the game. While some former players use ESPN and other platforms to show off their knowledge, the athlete started his own YouTube channel to get the job done. Football fans and newcomers alike have grown fond of The QB School, which currently boasts nearly 70,000 subscribers. 
O'Sullivan uses fan-submitted questions in order to explain the basics of the game — specifically in regard to quarterback. He has the charisma and the knowledge to break down the terminology, strategy, and mindset of an NFL quarterback. O'Sullivan might not be a household name, but to many, he is an educator for a complicated sport.
O'Sullivan is still relatively new to this game, but look for his YouTube channel to grow more popular as more fans of football discover his channel. It just goes to show that one doesn't have to be Peyton Manning or Tony Romo to find a career like this after football. Sometimes, it just takes the right combination of screen presence, knowledge, and a little bit of ingenuity.
While several NFL players have taken to the internet to expand their brands, O'Sullivan is providing fans with shows that are equally entertaining and informative.