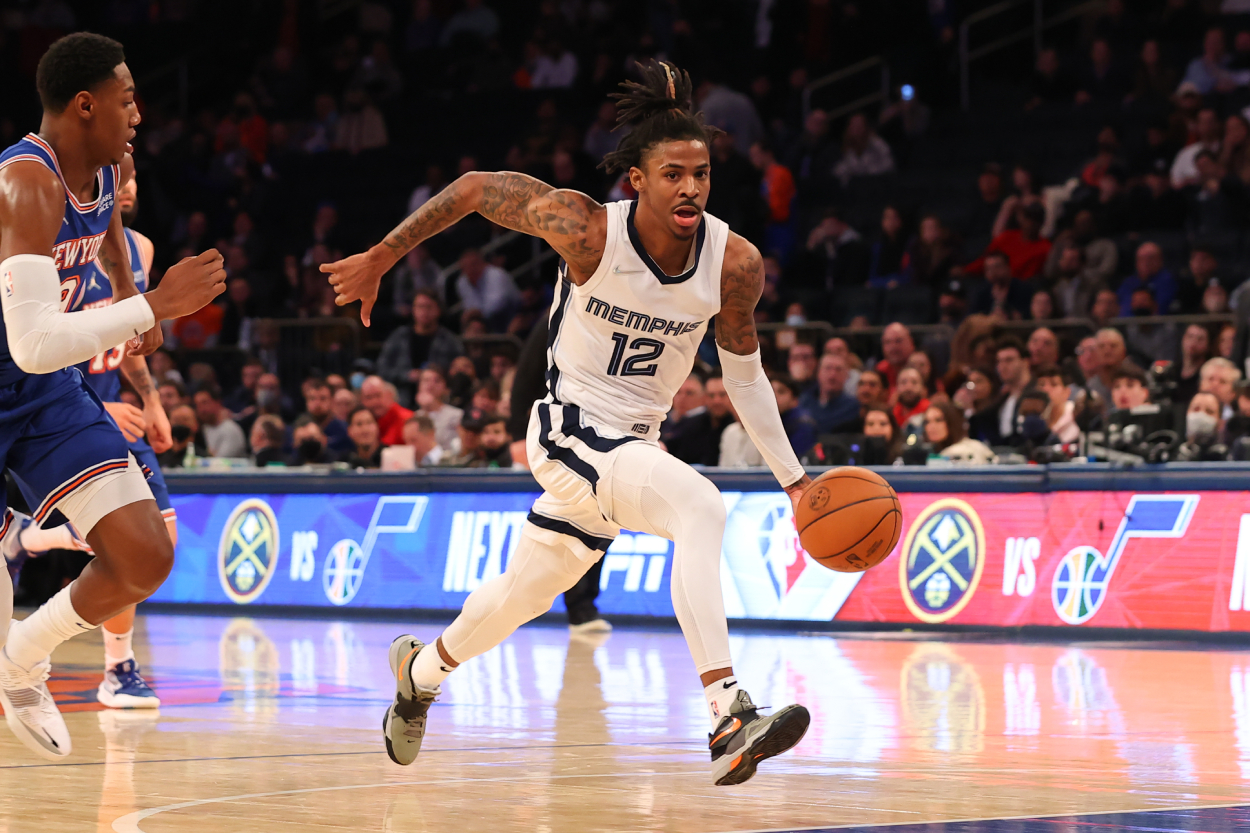 The Ja Morant-led Memphis Grizzlies Are so Loaded and Athletic They Might Stand Pat at the NBA Trade Deadline
Superstar guard Ja Morant is fueling the Memphis Grizzlies by relentlessly attacking the rim and scoring a NBA-best 16.1 points in the paint per game.
ORLANDO, Fla. — We interrupt all the rumors, hype, and hysteria surrounding this week's NBA Trade Deadline to bring you the Memphis Grizzlies, the NBA's most fun, brash, and relentlessly aggressive team. These Grizzlies are so young, talented, and dynamic that they might sit out this season's trade deadline and instead stand pat with a roster full of fast and jumping-jack athletes looking to do damage.
Their leader, of course, is point guard Ja Morant, who plays at a speed that no other team or foe in the NBA can match. He is a Ferrari in a league of Corvettes, and there's not a player in the NBA who can consistently keep him from assaulting the rim.
The Grizzlies have become one of the NBA's surprise teams by restlessly attacking the paint, flying up and down the court on the fast break, and smothering foes defensively. They don't just beat opponents; they tend to break their will with their in-your-face aggression and brashness.
Take it from Morant, whose summation of his team's style serves as something of a warning to teams who try to get in Memphis' way. "Killing their spirits — that's something we try and do with every team we play by going out and sending a message,'' Morant said. "We keep our foot on the gas, we have a little fun, and then we're going to let you hear about it."
In a world of three-point shooting, the Grizzlies beat foes into submission by attacking inside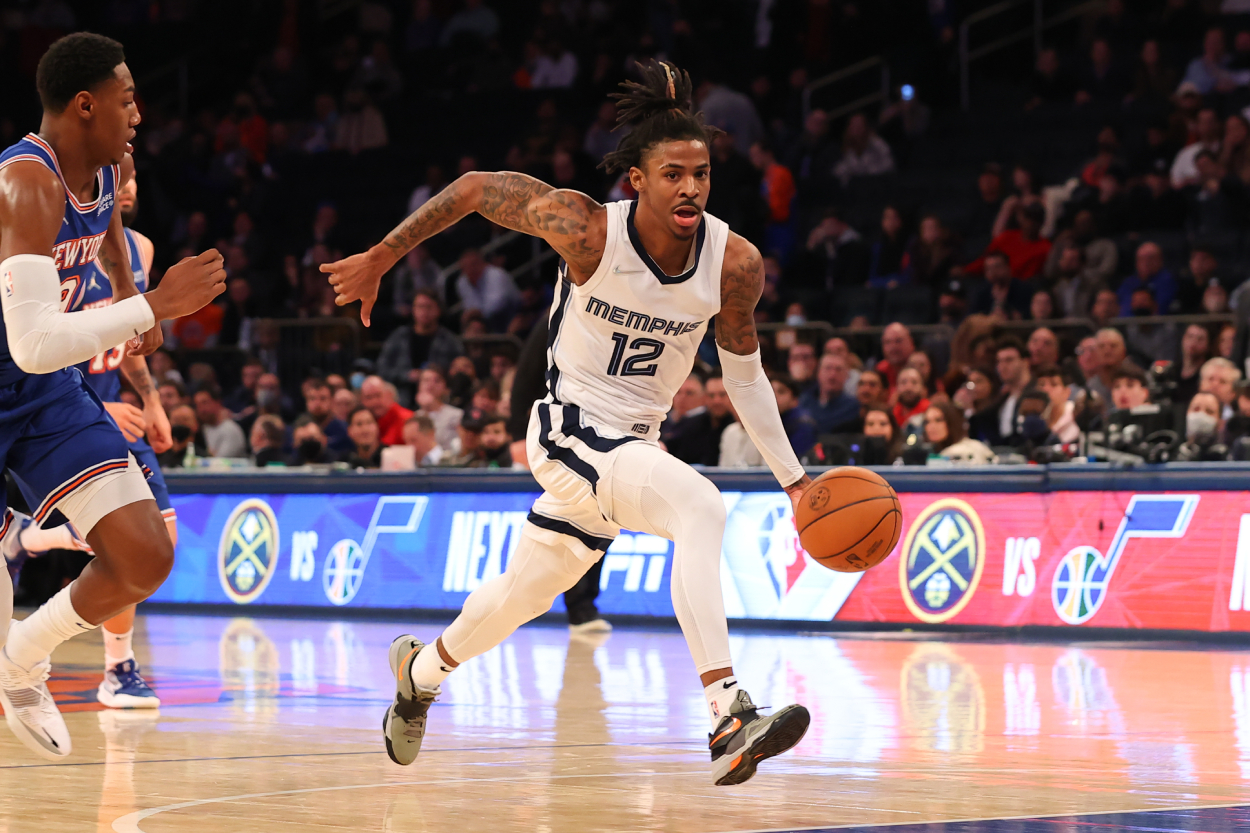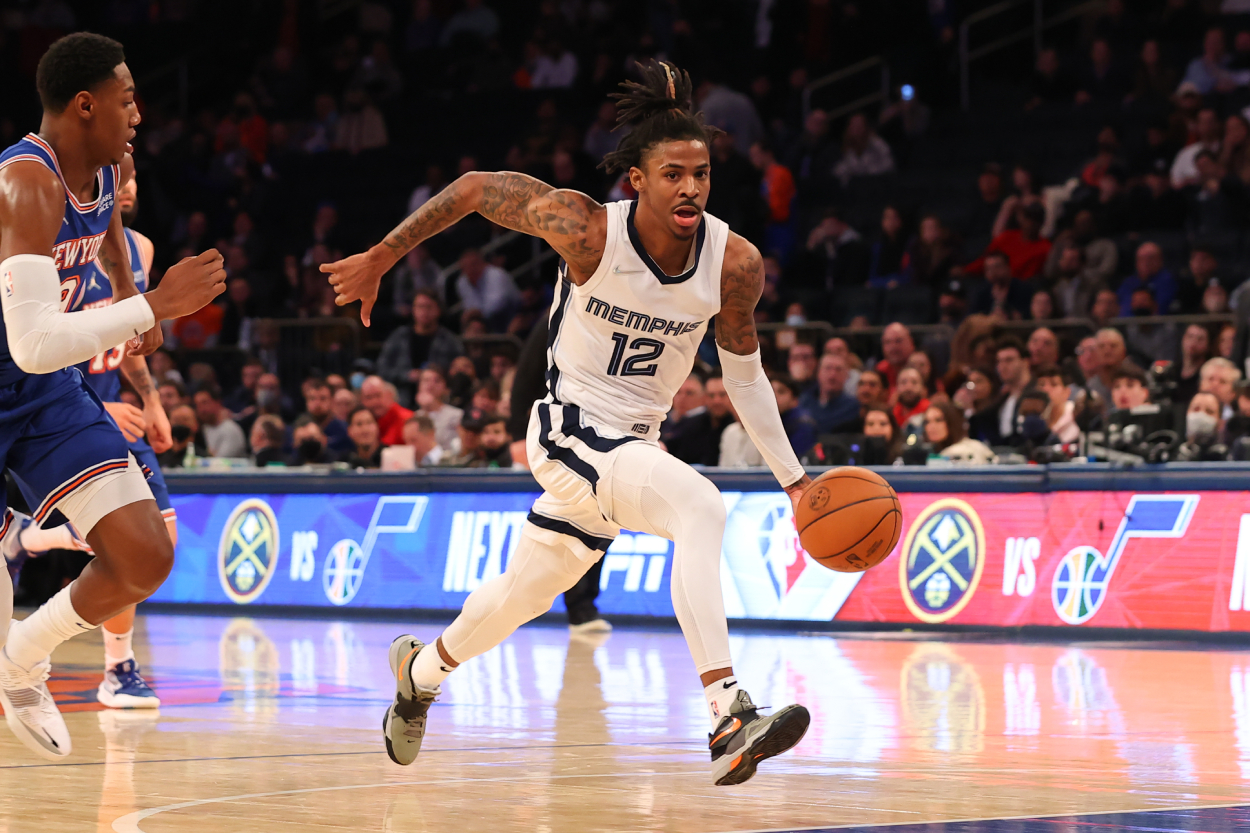 Unlike most NBA teams, who are willing to take 35-to-45 three-point shots a game, the Memphis Grizzlies are constantly in attack mode and trying to get to the rim. For a third straight season, they lead the NBA in paint points. Last week in a win in New York, they saw their NBA-best 17-game streak with at least 50 paint points come to an end when they mustered just 48 in a win over the Knicks. Three nights later, they back to assaulting the rim and hanging 68 paint points on the Orlando Magic.
"We're always in attack mode, and we don't care who's down there (as a shot-blocker) — the biggest dude or the smallest dude — because we're going to keep attacking that paint," high-flying guard De'Anthony Melton said. "It's a high-percentage shot, and we've got dudes who can get to the rim, easy, and finish. So, why not keep going down there?"  
Memphis' attacking style is all set up by the relentless rim assaults of superstar Ja Morant
Wisely, the Grizzlies tailor their style of play to their personnel, namely superstar guard Ja Morant. No defender — or defense, for that matter — has been able to keep Morant away from the rim in what is becoming an MVP-caliber season for him.
How good is Morant at getting to the rim and finishing with his right or left hand? Not only does the exhilarating guard lead the NBA in points in the paint (16.1 PPG), the following 12 players in the statistical category are centers or power forwards. The next closest guard on the list is Luka Doncic, who averages 11.2 points in the paint, but it's nowhere the ferocity that Morant brings while getting into the heart of the defense.
Take, for example, what Morant did to the steamrolled Orlando Magic on Saturday. Morant had 14 field goals — 12 of which came in the paint, and 10 were from point-blank range of the rim. The final one came when he soared over a helpless Robin Lopez for a dunk and playfully patted his head afterward to signify the posterization of a big man.
Throughout his dazzling 33-point effort that required just three quarters of work, Morant kept hearing chants of "M-V-P! M-V-P!" It wouldn't be that big of a deal if they came out of Memphis, but this was some 500 miles away in Orlando. Increasingly, Morant is winning over fans in opposing arenas, and he's been blown away by the love he's getting from opposing fans.
"I'm thankful for it, but it's not something I'm used to, this being my first year of having it happen," Morant said. "To come to another team's arena and get M-V-P chants, that's definitely big time. But, if I don't play like (an MVP), then I won't get (an M-V-P award)." 
With the trade deadline approaching, should the Grizzlies seek upgrades or stand pat?
With the Memphis Grizzlies winning 16 of their last 20 road games and compiling an impressive 37-18 record, it might make sense for them not to tinker with their roster. But gritty, grind-it-out playoff series in May and June are drastically different than the marathon-like regular season. 
With that in mind, the Grizzlies have to think big picture of challenges that could be looming. Does Memphis have enough shooting to match what Stephen Curry, Klay Thompson, and Golden State could bring in the playoffs? Do they have enough tough-minded veteran defenders to throw at Devin Booker and Chris Paul in a seven-game playoff series?
For now, Morant hopes the Grizzlies sit the trade deadline out and keep together the group they have assembled. The superstar said a big part of his team's success is its tight chemistry and its stable of high-flying wing players who are all looking to get to the rim and dunk over an opposing big man.  
"We have so many unselfish, fun and, athletic guys," Morant said. "In regards to the questions about the vibes, it's great right now. We're having a lot of fun, and you can see it with how we're playing. You can see how 'turnt' the bench be when guys on the floor are having success. We've just got to keep playing with this confidence and playing hard. Then, we can keep having fun at the end of the day."
Sportscasting Senior NBA Writer John Denton obtained all quotes in the story firsthand.
Statistics are courtesy of NBA.com.