Ja Morant Just Proved He's Already the Best Player in Grizzlies History at Age 22
Ja Morant has put up some wild stats this year with the Memphis Grizzlies. He's upped his individual production almost across the board in his age-22 season while also vaulting his team toward the top of the Western Conference.
Just when Ja does something else impossibly electric — an emphatic dunk, a whirlwind finish near the rim, a bomb from three in the clutch — he finds a way to top it.
He most recently one-upped himself with a 52-point pounding of the San Antonio Spurs, which officially solidified his status as the best player in franchise history.
Ja Morant just added another highlight(s) to his reel in a Grizzlies win over the Spurs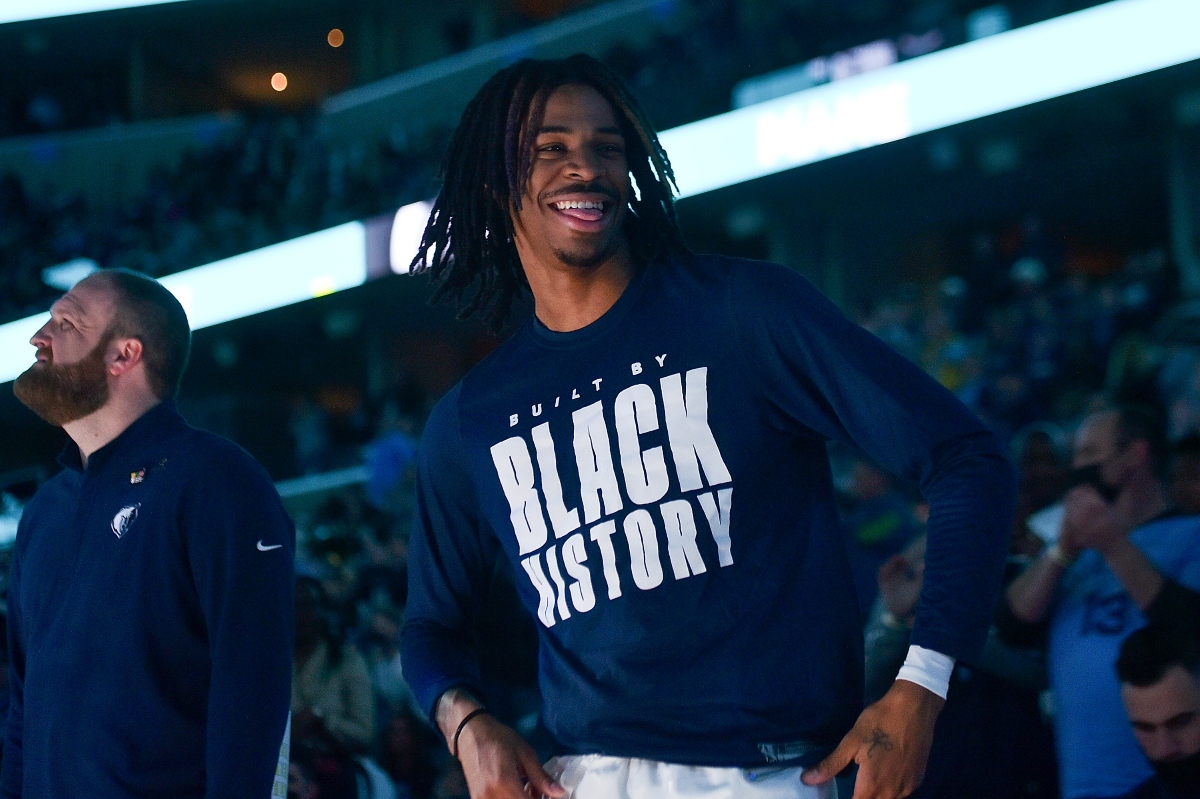 The most-talked about Ja Moment (that has to be a thing now, right?) from Memphis's Feb. 28 win over San Antonio will be his dunk over 7-foot Jakob Poeltl. It was Vince Carter-over-Fredric Weis-esque.
He also added a half-time buzzer-beater and a logo three-pointer, though, if the dunk wasn't enough for you.
But Morant also dropped a career-high 52 points on almost 74% shooting (22-of-30) and was a perfect 4-of-4 from three.
In another night filled with highlights, it was the 52 points that were most memorable for Ja.
"It's got to be the 50 (points)," Morant said via NBA.com. "I'm thankful for my teammates, my coaches. They believe in me and have all the confidence in the world that I'll make the right plays."
It wasn't only a career-high in scoring for the former Murray State Racer; it was also a franchise-high. And it's not the first explosion he's had in the points column.
Ja already has five of the seven highest-scoring games in Grizzlies franchise history, per CBSSports.
Ja's stats this year are wild as he becomes the best player in franchise history
Memphis became an NBA franchise in 1995. The team didn't make the postseason until the 2003-04 season, but from 2010 through 2015, the Grit-N-Grind Grizzlies were one of the best squads in the league.
Mike Conley, Marc Gasol, Zach Randolph, and Tony Allen made up one of the toughest groups of the past two decades.
They lost in seven games to the Oklahoma City Thunder in the conference semifinals 2010-11 and advanced to the Western Conference Finals in 2012-13.
The 2014-15 iteration was also a tough out for the eventual-champion Golden State Warriors.
Morant has now lifted the Grizzlies back to prominence and, in the process, has already become the best player in franchise history. He's yet to turn 23 years old.
Conley and Gasol are the only two Memphis players ever to reach 10,000 career regular-season points. They racked up 11,733 and 11,684, respectively.
After his outburst against the Spurs, Ja has 3,748 — which he's amassed in only 179 games. He sits atop the franchise leaderboard in points per game.
Morant is also second to Gasol in triple-doubles. Ja has four, and Marc finished his Grizzlies career with five.
The 2019-20 Rookie of the Year is already seventh in total assists and second in assists per game. He's also sixth in franchise PER.
Ja is the most electric, mesmerizing player ever to wear a Grizzlies uniform. He's quickly climbing up the leaderboard in nearly every statistical category.
Conley, Gasol, and Randolph led a defensively dominant team in the early 2010s. But none of them ever had the talent, charmingly captivating personality — and the skills and production to back it up — that Morant has developed at such a young age.
The next step is leading Memphis to its first NBA Title
Morant has ferociously stamped his place on the Grizzlies — and the NBA's — map. But he doesn't want it to be for highlights or 50-point performances.
"I just try to do whatever I can do to help my team win basketball games," Morant said via MemphisFlyer.
"If you ask my coach, he will tell you that the main focus is winning. When you (win), all the other stuff comes with it, which is why I'm here in this seat right now."
Clearly, stats will never be enough for Ja Morant. It's championships he's after.
All statistics courtesy of Basketball Reference.
RELATED: Why Was Zion Williamson the Consensus No. 1 Pick in the 2019 NBA Draft over Ja Morant?