Ja Morant Can't Tell His Draft Story Without Kevin Durant
Ja Morant is in the midst of a breakout season that has him squarely in the NBA MVP conversation and his Memphis Grizzlies in title contention. Kevin Durant has gone from a tall and skinny rookie to one of the best scorers in league history.
But neither player was chosen with the No. 1 pick in his respective draft — they both went No. 2. In hindsight, each of them clearly should have been the first player selected, but both fell behind more — at the time anyway — promising big men.
The current Ja-Zion Williamson debate is eerily similar to the one that took place 13 seasons ago after Greg Oden was chosen over KD.
Morant's draft story is impossible to tell without going back in time to 2007 when the then-Seattle Supersonics picked Durant behind Oden.
Ja Morant and Kevin Durant were almost unanimously No. 2 on their respective year's draft boards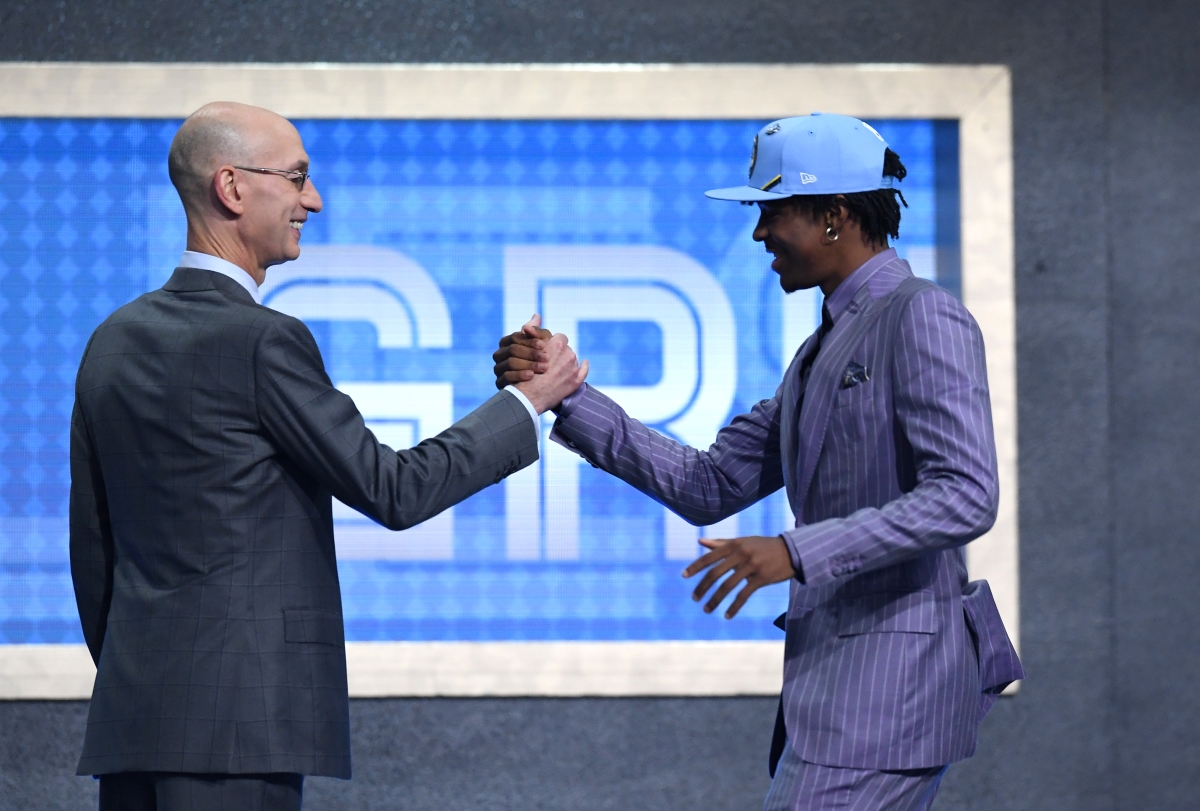 Zion was the obvious No. 1 pick in the 2019 NBA draft. Via Kevin O'Connor of The Ringer, the Duke big man had the athleticism, versatility, and pure star power to become a generational player, even in a market like New Orleans.
It's not like Ja was undervalued by any means, but Williamson spearheaded the draft class.
In a "Grading the 2019 Draft" piece, also on The Ringer, Jonathan Tjarks explained that the Pelicans chose the player with the most superstar upside. "Zion has the combination of size, athleticism, skill, basketball IQ, and work ethic that all of the all-time greats have," he said.
Of Morant, Tjarks wrote in part, "The big question for Morant is how much he'll be able to improve as an outside shooter, because a player his size (6-foot-3, 175 pounds) can't live at the rim in the NBA."
He wasn't alone on that thought, but that was a pretty big miss by draft evaluators. Ja has developed as a jump shooter, but it sure seems like he can live at the NBA rim if he wants.
In 2007, despite Durant absolutely destroying college basketball at Texas and averaging a 25.8-point, 11.1-rebound double-double, he was pegged by almost everyone as the second-best prospect behind Oden.
The Ohio State center — also a one-and-done — averaged nearly 16 points and 10 rebounds a game, but his calling card was his seemingly-unbreakable defense. Oden averaged 3.3 blocks and helped his team advance to the National Championship game.
The allure of an athletic, 7-foot rim protector with projectable offensive ability was too good to pass up for the Portland Trail Blazers.
The 2019 NBA Draft class is playing out exactly like 2007 did
As alluded to, Ja has become an A-list, bonafide NBA superstar who's in the running for the 2021-22 MVP and is already the best player in Memphis franchise history at age 22.
Zion, meanwhile, has played a total of 85 career games. He only played 24 during his rookie season (When Morant won Rookie of the Year) and has yet to take the floor this year.
Williamson has been everything evaluators expected him to be when he has played — an explosive, otherworldly athlete. But the health concerns have become far too concerning, and many of the high-character traits he possessed with the Blue Devils have not translated to New Orleans.
Oden had similar issues with injuries that eventually knocked him out of the league.
Portland's assumed franchise center missed the entirety of his rookie season with a knee injury (while Durant won Rookie of the Year). He played in 61 games the following season, averaging 8.9 points, 7.0 rebounds, and 1.1 blocks.
But the next year, he only played 21 games and then missed each of the following three seasons with more knee injuries. He had a brief comeback with the Miami Heat in 2013-14, but he played less than 10 minutes a night over 23 games. By that point, Oden's career was already over.
Here's hoping Zion has better injury luck than Greg did, but at the moment, the similarities between Ja in 2019 and KD in 2007 are rather unbelievable.
Ja and Durant have gone on to become two of the NBA's best
NBA.com's Feb. 25 edition of the MVP ladder has Morant ranked No. 7 behind Devin Booker and ahead of Luka Doncic.
Ja is averaging 27.6 points, 5.9 rebounds, and 6.6 assists on a career-high 49.8% shooting and a career-high 34.4% shooting from three. His highlight reel hasn't been too bad either.
Williamson is averaging zeros across the board.
Durant has become a 12-time All-Star, has been named to nine All-NBA teams, has won two NBA Championships (was named Finals MVP in both), and has won four scoring titles.
Oden played 32 games in one season at Ohio State and 105 across seven seasons in the NBA.
Morant and KD have become two of the best basketball players in the world, while Williamson (at least to this point) and Oden struggled to stay on the floor. In each draft, the No. 2 overall pick vaulted past the No. 1 pick rapidly.
It becomes abundantly clear when facing the facts: The Ja-Zion draft story simply can't be told without comparing it to Durant and Oden's.
All statistics courtesy of Basketball Reference and Sports Reference.
RELATED: Giannis Antetokounmpo's Recent Comments Suggest Ja Morant Could Be a Future MVP