Ja Morant Proves His Confidence Is Just as High and Flashy as His Vertical When He Says He's Shooting to Be This Generation's LeBron or Michael: 'I'm Taking Me and Doubling Down Every Time'
Ja Morant is headed for NBA superstardom. He won Rookie of the Year in 2019-20 after being picked second overall by the Memphis Grizzlies behind Zion Williamson.
Morant's stats got better across the board in year two as he led the Grizz to and through a play-in game before Memphis eventually lost to the No. 1-seeded Utah Jazz.
To develop into a player of Morant's caliber — or any superstar, really — a certain level of confidence, even cockiness, is required. Ja has that in spades as he aims to be the league's next generational superstar in the line of LeBron James and Michael Jordan.
Ja Morant's confidence heading into this season was sky high and he's shown why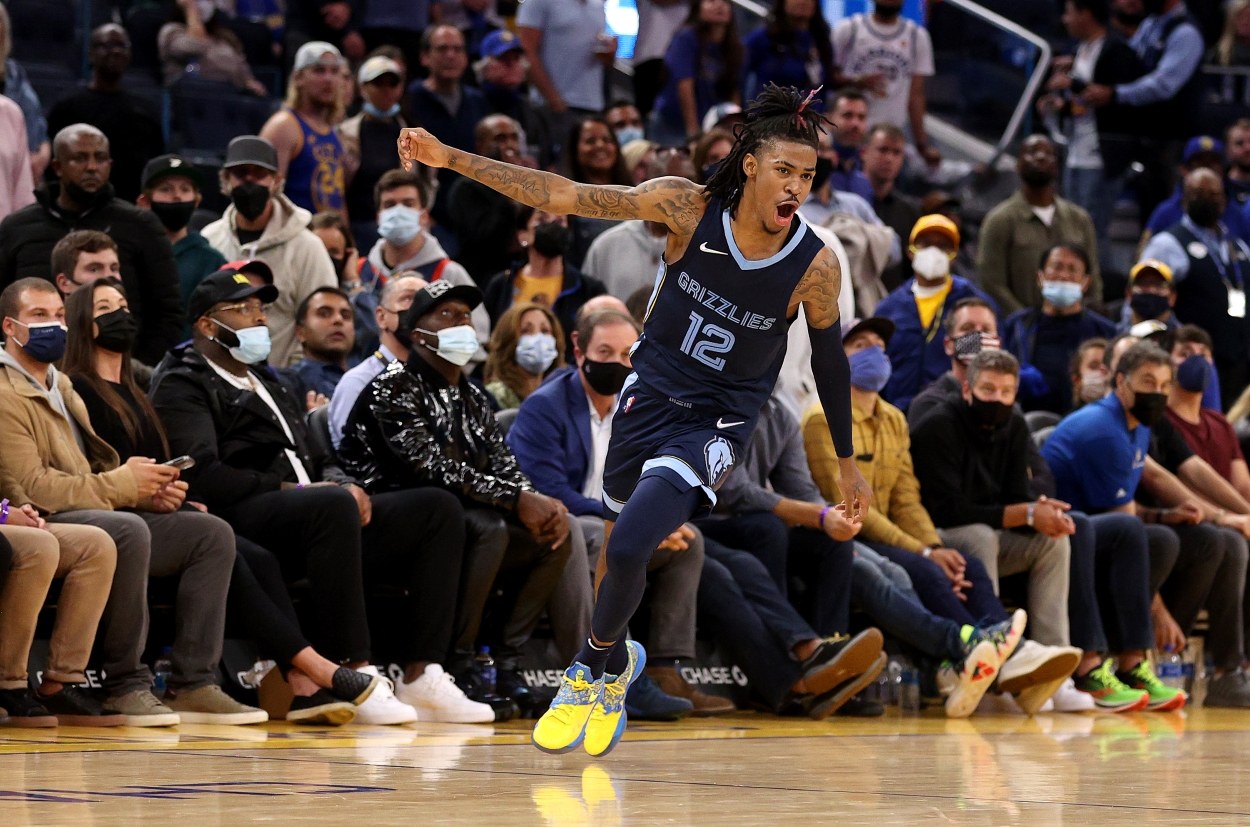 The wiry 6-foot-3 guard increased his scoring from 17.8 points per game during his rookie year to 19.1 last season. His assist numbers went up as well.
But the start to his 2021-22 season has been astronomical. Morant is tied with Los Angeles Clippers star Paul George for second in the league in scoring at 28.3 points per game. He's just 0.4 points behind Stephen Curry, according to NBA.com.
He's second in the league in field goal percentage for any guard who attempts more than 10 shots per game. Ja's also averaging career highs in effective field-goal percentage and free-throw percentage.
He's a career 32.2% shooter from 3-point range, but he's connecting on 38.5% of his attempts from deep on a career-high 5.6 tries per game this season.
Ja is also tied for the league lead in paint points per game with Anthony Davis. The rest of the top five are all at least six inches taller — in order, Giannis Antetokounmpo, Nikola Jokic, and Montrezl Harrell.
Morant's stats show he's an aggressive, gutsy guard in the mold of Allen Iverson.
Morant's fearless style on the court translates off it as well
The Grizzlies' franchise point guard was all in before the start of this season.
He and Bleacher Report's Taylor Rooks sat down and discussed a number of topics, including who would be the superstar of this generation; before this crop of young players, it was James. Before him, it was Kobe Bryant. Before Bryant, it was MJ.
"Who do you think of this wave is gonna be that guy, where people talk about him almost as the standard?" Rooks asked the Murray State product during their interview on Bleacher Report. Ja's answer came without hesitation:
"I'mma say me. I just have that confidence in myself.

"Me personally, I'll never say nobody in this world can beat me 1-on-1. Like, it's just that confidence I have in myself. And no matter who I'm going up against, I'mma always take myself. Like I don't fear nobody.

"There's no point in, you know, being scared of somebody out there. I'm taking me and doubling down every time."

Ja Morant on his self-confidence
That self-assuredness is spurring the third-year guard to new heights. Not only is Morant making a case for the NBA's Most Improved Player Award (which is significant in itself as he's already won Rookie of the Year), but he also lands fourth in NBA.com's MVP ladder behind Antetokounmpo, Curry, and Kevin Durant as of Oct. 29.
It's been a breakout season for one of the league's bright young stars
To this point in their respective careers, it's inarguable that Ja has been a better player than Zion. While Williamson can't stay on the floor (or this season, get on it in the first place), Morant has been tearing defenses apart.
The only comparison to Ja in terms of players 22 or younger — part of that "new generation" — is Luka Doncic. And this season, Morant is outperforming the two-time All-NBA guard in points, field goal percentage, 3-point percentage, free-throw percentage, effective field-goal percentage, and box plus-minus.
The former zero-star recruit, according to 247Sports, has to be mentioned alongside Trae Young, Jayson Tatum, Devin Booker, Doncic, and Donovan Mitchell in terms of the current crop of up-and-comers. And this season, he's playing better than all of them.
It may sound arrogant for Ja to throw himself in a conversation alongside LeBron and Michael. But that confidence is what's putting him on a similar career trajectory to the two greatest players of all time.
All stats, unless otherwise noted, courtesy of Basketball Reference.
RELATED: The Memphis Grizzlies Are Stocking Up for Long-Term Success after the Jarrett Culver-Patrick Beverley Trade