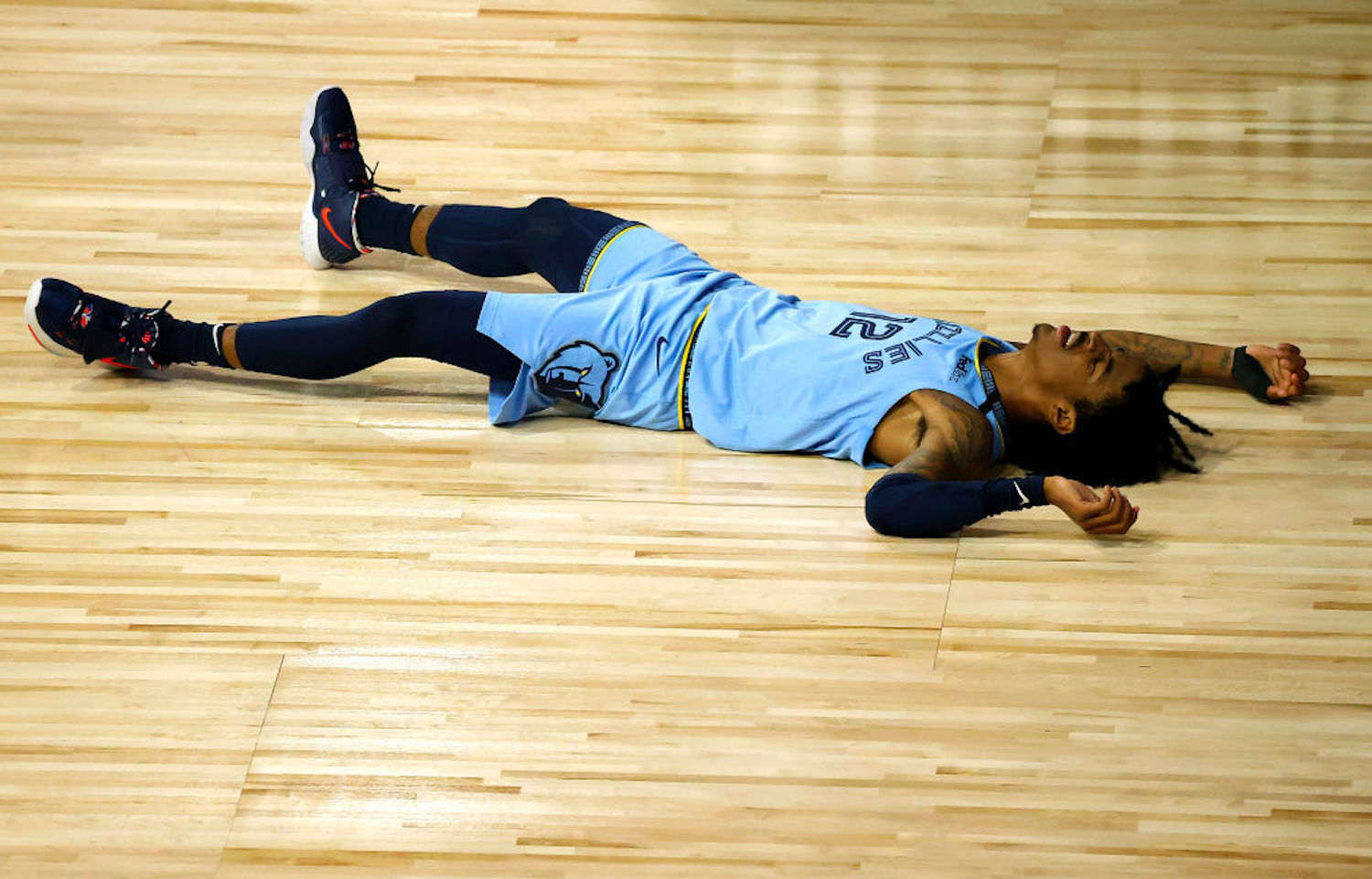 Ja Morant Just Dodged a Frightening Injury Bullet
Ja Morant was wheeled off the court Monday after suffering an ankle sprain, but the X-ray made Grizzlies fans breathe a sigh of relief.
Memphis Grizzlies fans watched in horror as star point guard Ja Morant landed awkwardly on his left ankle and hopped off the court in severe pain Monday night. A few moments later, Morant was taken off the floor in a wheelchair, and he later returned to the bench with a boot on his left foot.
The Grizzlies thought they might've lost their young superstar for the rest of the season, but the X-Rays on Morant's ankle made the city of Memphis breathe a collective sigh of relief.
Ja Morant injures ankle after a brilliant start to the 2020 season
As if Ja Morant wasn't impressive enough as a rookie, he's been even more spectacular in the early stages of year two. In two full games in 2020, Morant averaged 36 points and eight assists per game for the Grizzlies. That included a 44-point, nine-assist explosion in the season opener against the San Antonio Spurs.
Morant was cruising along with seven points and three assists late in the second quarter against the Brooklyn Nets on Monday, but a scary moment ended his night and sent the city of Memphis into a panic. With just over two minutes to play in the half, Morant jumped up to block a shot and landed awkwardly on an opponent's foot. Morant's left ankle twisted sideways on impact.
The point guard hopped off the court in pain and fell to the ground behind the Grizzlies bench. Team doctors examined Morant before taking him to the locker room in a wheelchair.
It was a frightening moment for Morant and Grizzlies fans everywhere.
Ja Morant receives encouraging news about his injury
At first look, Morant's injury looked as if it could be season-ending. The way his ankle twisted reminded fans of Dak Prescott's devastating injury earlier this year.
But thankfully for Morant, he received some encouraging news in the locker room Monday night. According to Adrian Wojnarowski of ESPN, X-Rays on Morant's ankle showed no fracture.
"So tough to see Ja go down," Grizzlies head coach Taylor Jenkins said after the game. "I know he's going to bounce back and be fine. We'll have more updates as we're going through, but so far so good."
Morant even felt good enough to return to the bench in the fourth quarter with his left foot in a boot.
"What a great display for him to be out there," Jenkins said. "He was fully involved on the bench, in the timeouts. Being fully integrated with the guys, help push us to this victory. … A moment like that can really test you, but our guys just kept fighting."
Morant isn't out of danger yet
The initial tests on Morant's ankle were overwhelmingly positive. If X-Rays revealed a fracture in his ankle, the reigning Rookie of the Year would most likely be done for the 2020 season.
The Grizzlies officially diagnosed Morant with a sprained ankle after the game, but an MRI this week will determine the full extent of the injury. Grizzlies fans are crossing their fingers hoping it's just a minor sprain, which would sideline Morant for two or three weeks.