Ja Morant and the Memphis Grizzlies Must Be Taken Seriously as Contenders After Statement Win Over Golden State Warriors
When the Memphis Grizzlies last lost a game, kids were still waiting for Santa Claus to deliver the goods, and Ja Morant had just come back from a sprained knee. Memphis opened a three-game road trip on Dec. 23 with a 113–104 loss to the Golden State Warriors. With a 116–108 victory over the same Warriors at FedExForum on Jan. 11, Memphis extended its winning streak to 10 games, the first time the franchise has run off at least 10 wins in a row during a single season.
The Grizzlies host the Minnesota Timberwolves on Jan. 13, looking to tie the franchise record of 11 consecutive victories, a streak set across the end of 2013–14 and the beginning of 2014–15. But it goes deeper than a few weeks' worth of wins. Memphis is 20–4 since Nov. 28, the best record in the NBA in that span. The Grizzlies are brash, but they're also very much in the mix in the Western Conference.
Nothing slows down the Memphis Grizzlies
The Memphis Grizzlies are nothing if not resilient. Ja Morant missed 12 games with a sprained knee, and the Grizzlies responded by going 10–2. Against the Warriors on Jan. 11, starters Dillon Brooks (ankle) and Steven Adams (health and safety protocols) were out. Memphis didn't miss a beat.
Brooks is a significant loss. He's expected to miss three to five weeks with a severe ankle sprain. He also sat out the first 10 games of the season recovering from a broken left hand. In between, the 45th overall pick in the 2017 NBA Draft continued to defy his draft position, averaging 18.4 points.
The Grizzlies have used 11 starting lineups, none for more than 12 games. But they're a top-10 team offensively (fifth) and defensively (10th) and have the seventh-best net rating (plus-4.1 points per 100 possessions) in the NBA.
Yes, that net rating got a boost from their record-setting 73-point blowout of the Oklahoma City Thunder on Dec. 2.
But during their 20–4 stretch, Memphis is fourth in offensive rating and leads the NBA in defense and net rating. The Grizzlies have outscored opponents by 12.9 points per 100 possessions in their last 24 games. That's not all because of a single game.
Ja Morant's third-year leap is astonishing
No one debated the wisdom of the New Orleans Pelicans taking Zion Williamson with the top pick in the 2019 NBA Draft. But the Memphis Grizzlies are glad Ja Morant was on the board when they made the following selection.
Morant was Rookie of the Year in 2019–20 and led Memphis to the playoffs last season.
But his leap in his third year has been extraordinary. Morant averaged 24.9 points, 6.7 assists, and 5.7 rebounds in 32.4 minutes per game. Last year, he put up 19.1 points, 7.4 helpers, and 4.0 boards in similar playing time.
What's changed?
For starters, he's a credible 3-point threat now. Last season, Morant shot 30.3% on 3.8 triple tries a night. This year, he's at 37.9% on 4.1 attempts a game. He's also shown an Improved touch from floater range and is more willing to take those shots.
Last season, he made 37.2% in the three- to 10-foot range, which made up 26.1% of his shots. This season, those numbers are 42.3% and 32.2%, respectively. Add improved efficiency at the rim (71.2% in the restricted area), and you have a much more efficient scoring threat.
Throw in the jaw-dropping athleticism that allows him to snatch layups out of midair, and you have an All-Star in the making.
Zack Kleiman is making all the right moves for the Memphis Grizzlies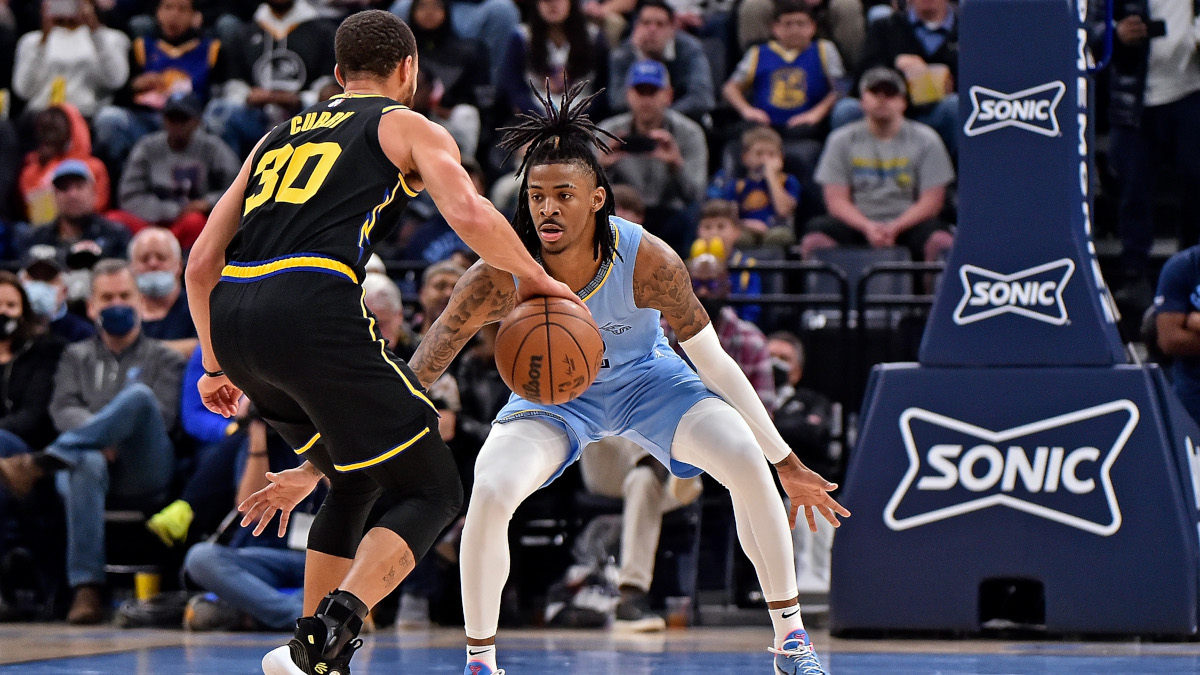 Since taking over as executive vice president of basketball operations for the Memphis Grizzlies in April 2019, Zack Kleiman has kept making good decisions.
His first move was to hire Milwaukee Bucks assistant coach Taylor Jenkins, who is 101–87 in what was supposed to be an extensive rebuilding project.
Kleiman's early personnel moves were drafting Ja Morant and using cap space to add assets. But what he has just two-plus years later is a roster full of young athletes complemented by veteran role players.
Besides Durant and Brooks, second-year wing Desmond Bane is breaking out this season. Moved into a full-time starting role, Bane has nearly doubled his scoring without losing any of the efficiency he showed as a rotation player as a rookie.
Replacing Jonas Valančiūnas with Adams appeared to be a downgrade. But Adams doesn't need the ball to be happy. Instead, he's glad to set brick-wall screens, rebound everything, make the right decisions defensively, and fit Memphis' old grit-and-grind mentality like a glove.
Over the last three weeks, the Grizzlies have run down the Utah Jazz in the Western Conference standings and are 3.5 games behind the Phoenix Suns for the best record in the NBA. With a 5.5-game edge over the fifth-place Dallas Mavericks, a top-four seed for Memphis appears to be almost a foregone conclusion.
It's been a rapid turnaround. Morant is the headliner, to be sure. But beyond that, the Memphis Grizzlies are for real. Overlook them at your peril and be prepared for Ja Morant and company to bark about it when you do.
Statistics courtesy of Basketball Reference, Stathead, and NBA.com.
Like Sportscasting on Facebook. Follow us on Twitter @sportscasting19.