Ja Morant is Proving Allen Iverson Prophetic by Playing His Way Into the NBA MVP Conversation After Making One Significant Offseason Improvement
Memphis Grizzlies point guard Ja Morant came out of his career gates guns blazing on the way to being named the 2019-20 NBA Rookie of the Year. He won the award as the No. 2 overall selection in the 2019 draft behind Zion Williamson, the basketball world's darling that season.
Morant showed the traits of an electric, athletic scorer coming out of college at Murray State. He was one of the best players in the NCAA in 2018-19, but there were doubts surrounding his level of competition and shooting ability heading into the draft.
It was that last question mark that held Ja back over the first two years of his career. Even NBA legend Allen Iverson admitted that Morant's jumper needed ironing out. But AI also said that if the wiry point guard ever did find a way to become a consistent shooter, he would be "trouble" for the NBA.
Iverson's take has proven to be prophetic.
Ja Morant is having a breakout 2021-22 campaign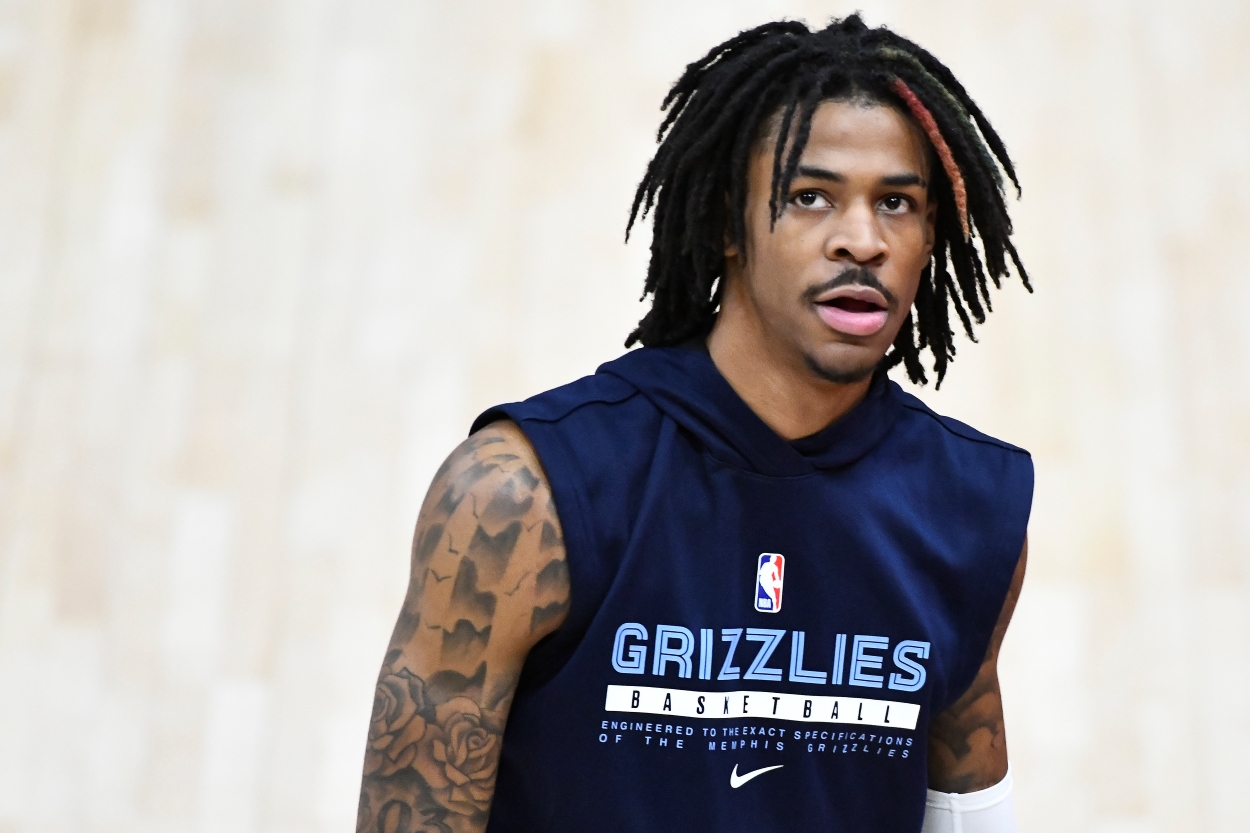 Morant wasn't necessarily an afterthought in his draft class, but Williamson certainly got all the attention. Even when Ja won his Rookie of the Year award, the thinking was that Zion had missed too many games to qualify, and Morant won by default.
While the NBA world continues to pay attention to the charismatic Duke product, his 2019 draft mate has been working and showing flashes of what could be.
The South Carolina native averaged 17.8 points, 3.9 rebounds, and 7.3 assists in his first NBA season. Those averages increased to 19.1, 4.0, and 7.4 in 2020-21.
Morant also led Memphis to the playoffs last year and faced the No. 1-seeded Utah Jazz in the opening round. The 6-foot-3 point guard averaged better than 30 points and eight assists in that series on 48.7% shooting.
Morant has been a revelation this year, though, scoring 35.0 points per game with an effective field goal percentage of 50.3. He's scoring more while also becoming more efficient.
No longer are those flashes things that might be. The Ghost of Christmases Yet to Come has been replaced by the Ghost of Christmas Present as Morant puts himself squarely in the discussion of best point guards in the NBA.
Morant is shooting himself into the NBA MVP conversation
In an interview with Bleacher Report, Iverson said of Morant:
"Only thing that might be anything less than a A, and I would say that probably a A- or B+ … the only thing you probably could say is his jumper.

"Just moving forward, once his jumper is basically automatic, trouble."

Allen Iverson on Ja Morant
If AI thought Ja's jumper was an A- or B+ before this season, what grade would he give it now?
Through three games, Morant is shooting 58.0% from the field and 44.4% from 3-point range on a career-high 6.0 attempts per game. It's a small sample size, to be sure, but digging deeper, there are reasons to think this shooting improvement is for real.
The stats show Morant is still the same aggressive offensive player he was his first two seasons in the league. According to NBA.com, 59.0% of Ja's points are coming in the paint and almost 70% of his made field goals are unassisted. He's also getting to the free-throw line a career-high 7.0 times per game.
And despite the leap in shooting percentage, only 22.9% of those 35.0 points per game are coming on threes.
This shows Morant isn't changing who he is. He's still an attack-minded scorer who wants to get to the rim first and foremost. That's evidenced by more than half his shots coming unassisted in the paint on drives to the rim. The difference this year is that Morant's improved shooting is forcing teams to respect him further away from the basket.
In Iverson's words, he's becoming "trouble."
The Grizzlies' point guard is on his way to superstardom
Morant left the Racers as an athletic marvel who could blow by, through, and over defenders. He also showed plenty of playmaking ability in college, even on a team that wasn't as talented as most others around the country.
He showed glimpses of both those skills during his rookie season and even more last year. But with the improvement in his shooting stroke, Morant is now playing at an MVP level.
Look out, NBA, because here comes trouble.
All statistics unless otherwise noted courtesy of Basketball Reference.
RELATED: The Memphis Grizzlies Are Stocking Up for Long-Term Success after the Jarrett Culver-Patrick Beverley Trade