Ja Morant Reminds Mavs Coach Rick Carlisle of Another NBA Superstar
Ever since the Memphis Grizzlies selected him with the second overall pick of the 2019 NBA draft, the expectations for Ja Morant have been sky high. So far, he has yet to disappoint. Morant has been one of the league's most electrifying rookies this season. He's playing so well that he's reminding many around the league of great players who have come before him.

One big Ja Morant admirer is Dallas Mavericks head coach Rick Carlisle. Carlisle recently made a flattering comparison of Morant to another player. But which superstar did he compare Morant to, and does the comparison hold any weight?

Ja Morant's unbelievable rookie season so far
Morant played his college basketball at Murray State, averaging 24.5 points per game during his outstanding final season in college. Despite Zion Williamson from Duke being the consensus No. 1 overall pick heading into last year's draft, Morant was just as much a sure thing for the second pick.
Through 48 games, Morant has been an absolute revelation for the Grizzlies. Here are his numbers so far:
17.6 points per game
3.5 rebounds per game
7.1 assists per game
Made 49.3% of his field goals, 35.8% of his 3-pointers, and 78.3% of his free throws
Player Efficiency Rating of 18.4
2.8 win shares
As good as Morant's been, it seems as if he's only scratching the surface of his potential. He likely will only continue to improve. But who is it that Carlisle sees in him right now?

The superstar that Rick Carlisle sees in Morant
Carlisle has obviously been very impressed by Ja Morant. According to a tweet from ESPN's Tim McMahon, he was so impressed as to compare Morant to another lightning-fast guard who can create his own shot — the Houston Rockets' Russell Westbrook:

"I haven't seen this kind of athleticism in a point guard since Westbrook when he came into the league. He's got an exhilarating vibe when he steps on to a basketball court. Dynamic is not even the word. He's beyond that."


Rick Carlisle
Carlisle has coached in the league for a long time and played in it before that. He's a solid evaluator of talent. He's also faced Westbrook plenty of times. Those words are high praise coming from a veteran coach such as Carlisle.

But while Morant clearly passes the eye test for Carlisle, how well does his Westbrook comparison hold up? Are Morant's statistics comparable to the legendary guard?

How do Russell Westbrook and Ja Morant compare?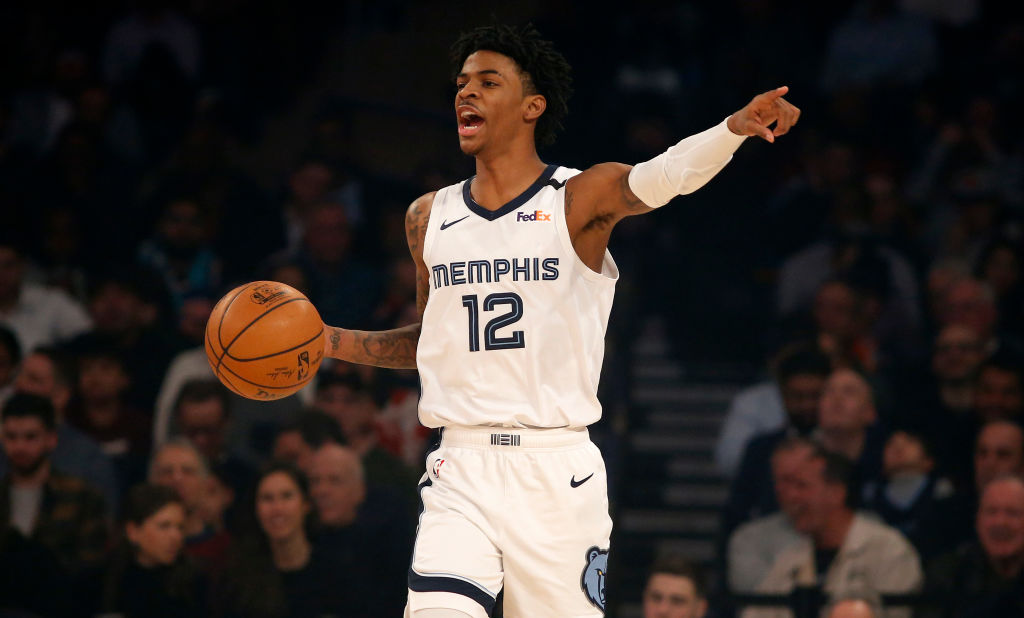 It wouldn't be fair to compare Morant and Westbrook right now, or even to any of Westbrook's previous few seasons. Westbrook is a seasoned pro at this point. With over a decade of NBA experience, he can get to the basket nearly at will. Westbrook has had multiple seasons in which he averaged a triple-double. It's clear that right now, at this moment, he's likely better than a first-year player still getting a feel for the league.

But it is fair to compare Westbrook and Morant's rookie seasons. After all, looking at Westbrook's production from his rookie year to compare to Morant is only fair. Here's how they stack up (all stats are per-game averages. Morant's are through 48 games, Westbrook's 82):
Points: Morant 17.6, Westbrook 15.3
Minutes played: Morant 29.9, Westbrook 32.5
Field goal percentage: Morant 49.3, Westbrook 39.8
3-point percentage: Morant 35.8, Westbrook 27.1
Assists: Morant 7.1, Westbrook 5.3
Rebounds: Morant 3.5, Westbrook 4.9
It's pretty clear that when it comes to the stats most important to guards, Ja Morant is actually better than Russell Westbrook was at the same stage of his career. To be fair, Morant's numbers are only for the first half of this season, and Westbrook's are for an entire year. Morant has yet to be hit by the fatigue long stretches of the season bring. But based on these figures, Carlisle's comparison is pretty strong.