Ja Morant Won't Be Signing an Endorsement Deal With Starbucks Anytime Soon
The Memphis Grizzlies are on the up and up. Led by 2019 second overall pick Ja Morant, the Grizzlies returned to the playoffs last season after three years of watching from home. They'll now look to rise up and continue to compete in a tough Western Conference.
In order for Memphis to succeed, Morant will need to be at his best throughout the season. It will undoubtedly require him to spend a lot of early mornings on the court or at the gym. But don't expect the 22-year-old to pick up a cup of joe on the way.
Ja Morant is on the cusp of stardom
The 2019 NBA Draft was deservingly dominated by Zion Williamson. But Morant was a heck of a consolation prize for the Grizzlies.
The former Murray State Racer showed his NBA readiness from day one. Morant dropped 30 points in his third career game, as well as a double-double in his tenth game. All in all, Ja finished his rookie season with 17.8 points and 7.3 assists per game, winning the Rookie of the Year award over Williamson.
Morant was able to avoid a sophomore slump in 2020-21. The 6-foot-3 point guard bumped his points-per-game average to 19.1 and dished out 7.4 assists. But fans also got their first taste of "Playoff Ja", where the 22-year-old averaged 30.2 points against the one-seed Utah Jazz. His best performance came in Game 2, where Morant was 15-for-26 from the field in a dazzling 47-point effort.
However, a 47-point game and a pair of double-doubles weren't enough for Morant and the Grizzlies to beat the Jazz. Memphis fell in five games, its third straight first-round playoff exit. But if Morant carries over some of his personal playoff success into the new season, an All-Star bid and potentially more should be in his future.
Morant doesn't need any coffee to get his day going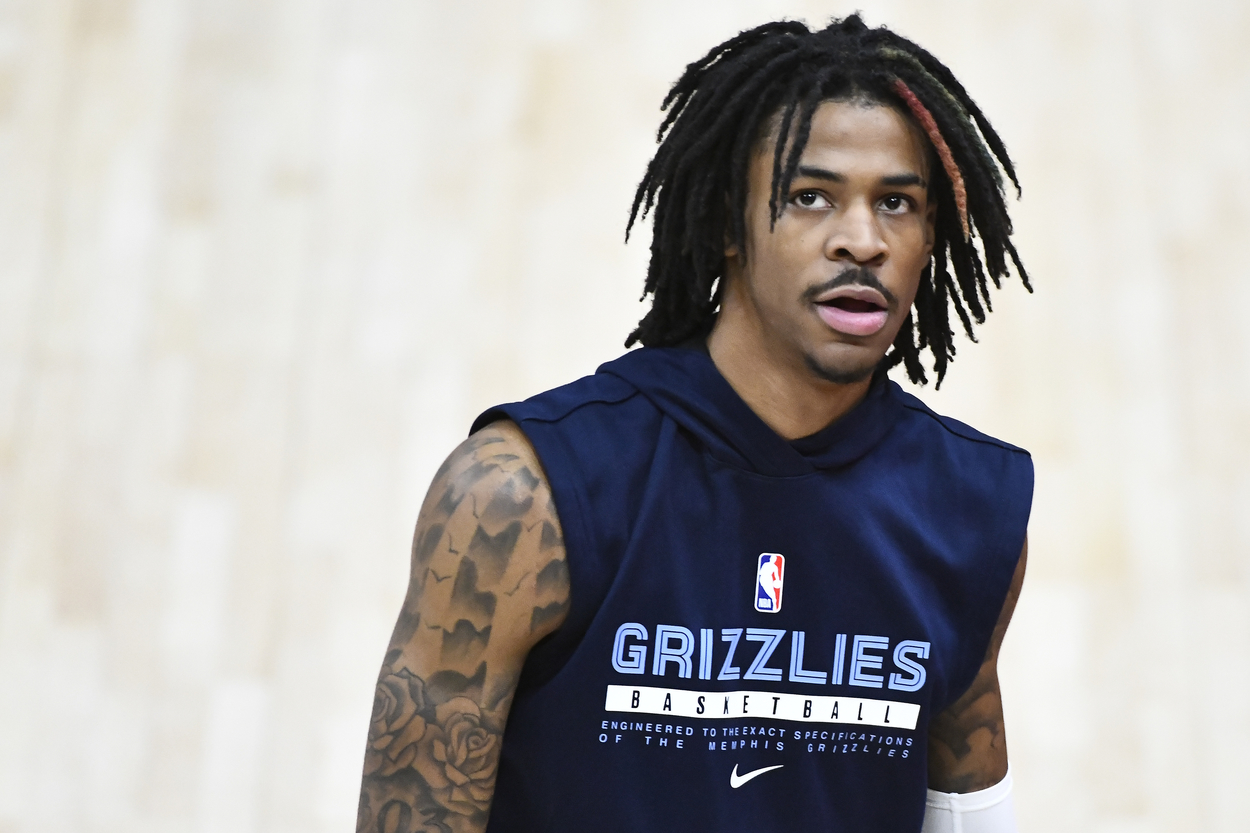 Like many Grizzlies fans, Morant is excited for the season to begin. So much so, he told The Daily Memphian that he woke up an hour earlier than normal just because he's ready for the season.
As many coffee drinkers know, waking up earlier than normal means you're going to have a bad time until the first cup starts to kick in. But the young and sprightly Morant says there's no need for the extra caffeination.
"I don't drink coffee. I'm young. I'm 22. If I need coffee now, then there's something wrong."

Ja Morant
Morant will have some allies with that statement, but also plenty of folks who strongly disagree. Besides all of the Starbucks and Dunkin' establishments he just enraged, a National Coffee Association survey in 2020 found that 50% of Americans aged 18-24 drink at least one cup every day. As a whole, 62% of Americans drink coffee on a daily basis, and typically there's more than a single cup involved.
The league might be sleeping on the Memphis Grizzlies
We know Morant doesn't need to brew a pot of coffee to get himself going. Who knows if the same can be said for his teammates, particularly the older ones. But nevertheless, the Grizzlies are trending in the right direction toward their quest for a title.
Memphis had a quietly active offseason. Its biggest move came just ahead of the draft, shipping Jonas Valanciunas and picks to the New Orleans Pelicans for Steven Adams, Eric Bledsoe, and the 10th overall pick. The Grizzlies would eventually flip Bledsoe and make a couple of other deals, adding former lottery picks Kris Dunn and Jarrett Culver as well as Stanford forward Ziaire Williams.
Adams and Morant should help fill out a starting lineup also occupied by Dillon Brooks, Kyle Anderson, and Jaren Jackson Jr. Both Brooks and Anderson hit career-highs in scoring last year, averaging 17.2 and 12.4 points, respectively. But the 6-foot-11 Jackson could be the ultimate wild card, as the fourth pick from 2018 played in just 11 games last season after averaging 17.4 points and 1.6 blocks in his sophomore campaign.
The Grizzlies will face some stiff competition just to make the playoffs. But no coffee is needed to feel energized about Morant and company heading into the new season.
All statistics courtesy of Basketball Reference.
RELATED: Ja Morant and the Memphis Grizzlies Are the Best Option for Bradley Beal No One Is Talking About