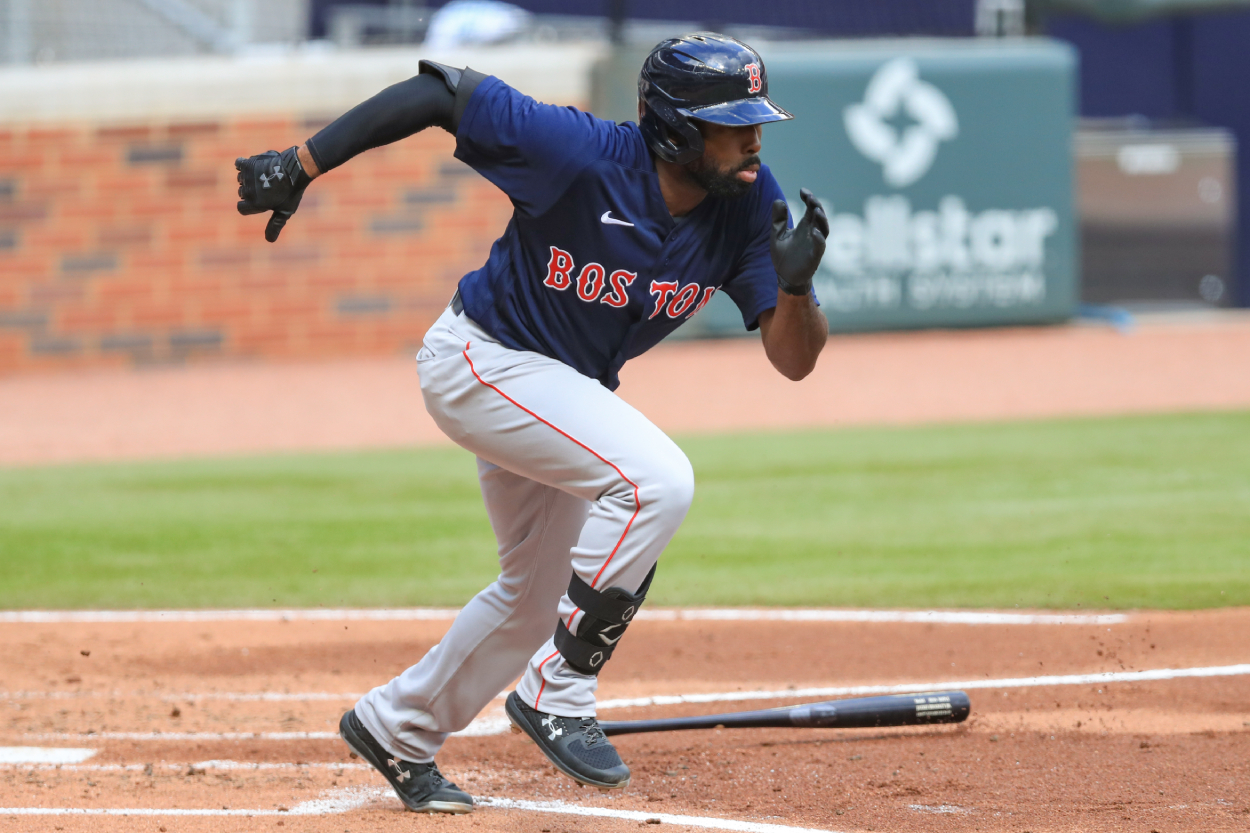 Jackie Bradley Jr. Attended Mookie Betts' Wedding in December and Wound Up Celebrating More Than a Marriage
Jackie Bradley Jr. got an interesting phone call while at Mookie Betts' wedding in December.
Jackie Bradley Jr. became good friends with Los Angeles Dodgers outfielder Mookie Betts during their time together with the Boston Red Sox. The two shared the same outfield from 2014-19 before going their separate ways.
The Red Sox shipped Betts to the Dodgers before the 2020 season, while Bradley went to the Milwaukee Brewers via free agency a year later. The two have remained close, and Bradley was invited to Betts' wedding last December. It was on that wedding night that Bradley received some welcoming news that helped liven up the party.
Jackie Bradley Jr. ready for his second stint with the Boston Red Sox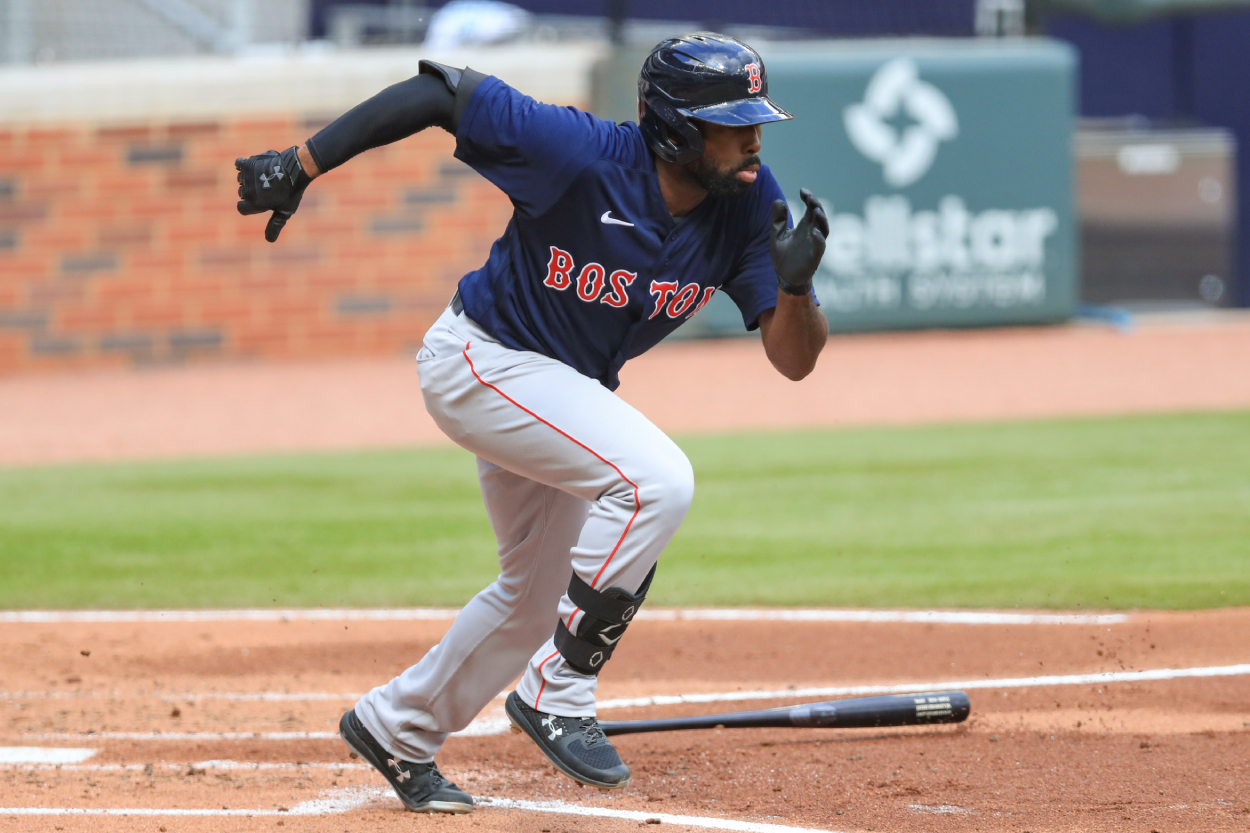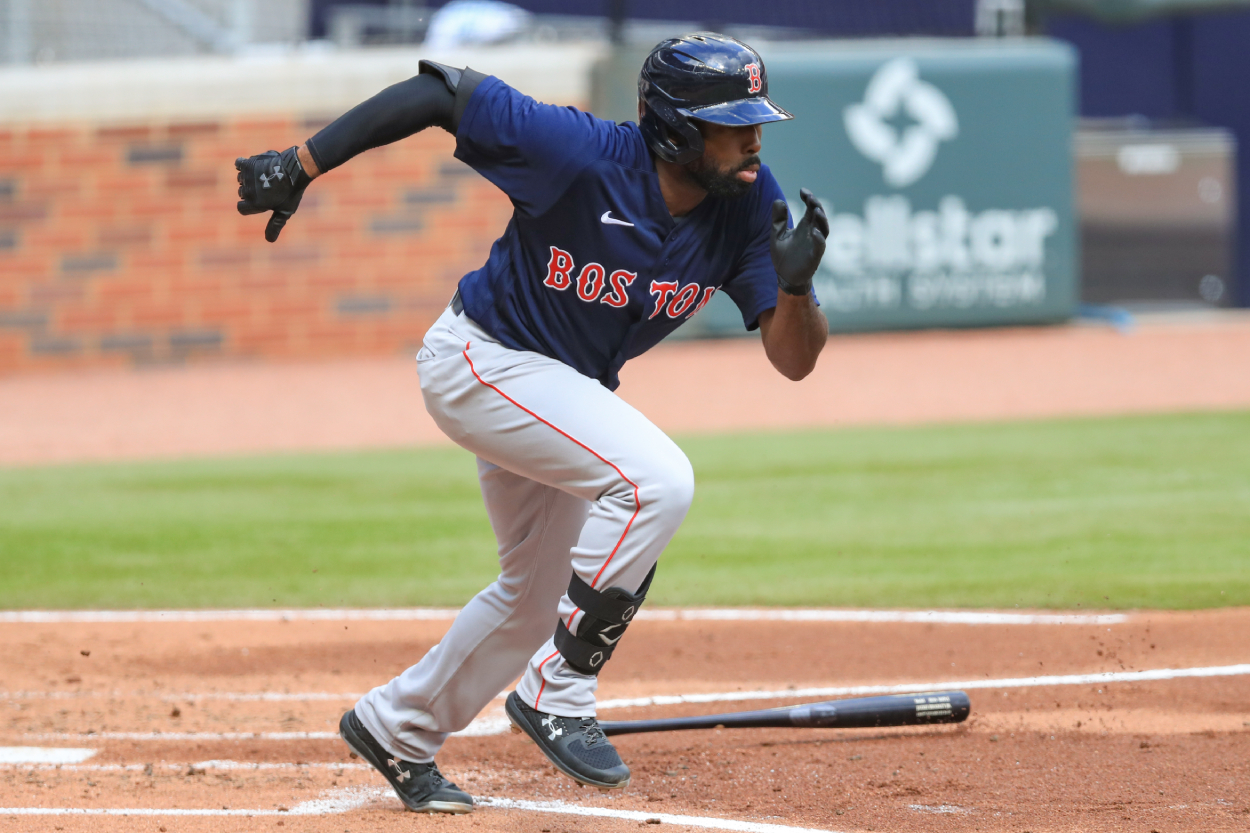 Bradley began his career with the Red Sox in 2013, getting the nod as the opening-day starter in center field. After a tough start to the season, he was sent to Pawtucket to help break out of a 3-for-31 slump and to make room for David Ortiz, who was nursing an Achilles injury.
Bradley bounced back and forth between Boston and Pawtucket a few times that season before settling in nicely as the everyday Red Sox center fielder for much of the 2014 season.
Known mainly as a defensive outfielder, Bradley caught fire offensively in the first month of the 2016 season, hitting safely in 29 straight games. He finished the season with career highs in home runs (26) and RBI (87) and made his lone MLB All-Star Game appearance.
In 2018, he was a Gold Glove winner. After the 2020 season, Bradley tested free agency and the Brewers signed him to a two-year deal worth $24 million.
In his lone season with the Brewers, Bradley hit .163 in 387 at-bats. He finished with six home runs and drove in 29 runs. On Dec. 1, 2021, the Brewers traded Bradley back to the Red Sox.
Jackie Bradley Jr. went to Mookie Betts' wedding and received an unexpected phone call
Bradley and Betts have remained close even after leaving the Red Sox. On Dec. 1, 2021, Betts tied the knot, marrying his girlfriend Brianna Hammonds. Dec. 1 also happened to be the night before Major League Baseball locked out its players.
On the guest list were some former Red Sox teammates, including Bradley and JD Martinez. Bradley said there was a no-cell-phone policy at the wedding, yet it was a phone call he received that gave him even more reason to celebrate that night.
"It all happened so fast but at the moment I really didn't have full time to process it because I was at a wedding," Bradley said, per Mass Live. "So I was focused on that. So here's the real story. I actually come out of the wedding. So it's during the reception now. It was Markus' (Mookie's real name) wedding actually."
Bradley said he had to go to a designated area to call his wife to check on her and his children.
"Five seconds after I hang up the phone, I get a call," he said.
On the other line was Brewers president of baseball operations David Stearns. Stearns informed Bradley he was headed back to the Red Sox as part of a deal for Hunter Renfroe.
"He was like, 'It's back to the Red Sox.' And I was like, 'Wow. Wow.' I mean, I didn't really have anything to say," he recalled. "I was kind of in shock."
Bradley celebrated a lot more than he thought he would that night
Bradley hung up the phone and immediately called his wife back to tell her the news. Then he spoke with Red Sox chief baseball officer Chaim Bloom.
He put his cell phone away and went back into the reception.
He found Martinez and told him the news.
"I gave him (Martinez) a hug," he said. "I was like, 'Hey, teammate. It's good to see you again.'"
Bradley said he tried to take everything in stride, but it was a lot to handle. He was at his friend's wedding, and he also got the news that he'd be moving back to Boston.
"I definitely enjoyed the rest of the night," Bradley said. "I tried to kind of push it to the side momentarily. But it was a lot to grasp at one moment."