Jackie Robinson Changed World History on This Day in 1947
Jackie Robinson's hitless day on April 15, 1947, wasn't what mattered. The final results of the Brooklyn Dodgers' Opening Day victory, a 5-3 win over the Boston Braves, were secondary to what occurred on the field that day.
Robinson, a 5-foot-11 former football and track star at UCLA, was the only African-American player on either team. Jackie Robinson shattered baseball's color barrier on April 15, 1947.
What happened on that fateful day 73 years ago, and what is Jackie Robinson's place in baseball history? Let's take a look back in time.
Jackie Robinson had an interesting path to Major League Baseball
If Major League Baseball was ever going to welcome a black player, that player was expected to be a Negro League star. Negro League players believed one of two outfielders, Larry Doby or Monte Irvin, would break the color barrier.
Doby and Irvin were teammates on the Negro League's Newark Eagles and earned significant interest from teams. Doby debuted with the Cleveland Indians in June 1947, while Monte Irvin played for the Giants two years later.
It was instead Jackie Robinson, who briefly played for the Negro League's Kansas City Monarchs, who broke the color barrier. Robinson spent 1946 with the Montreal Royals, then the Dodgers' top minor league farm team, and joined the Dodgers a year later.
Jackie Robinson went 0-for-3 with a run in his first MLB game. He played first base throughout his rookie year.
Robinson was the inaugural Rookie of the Year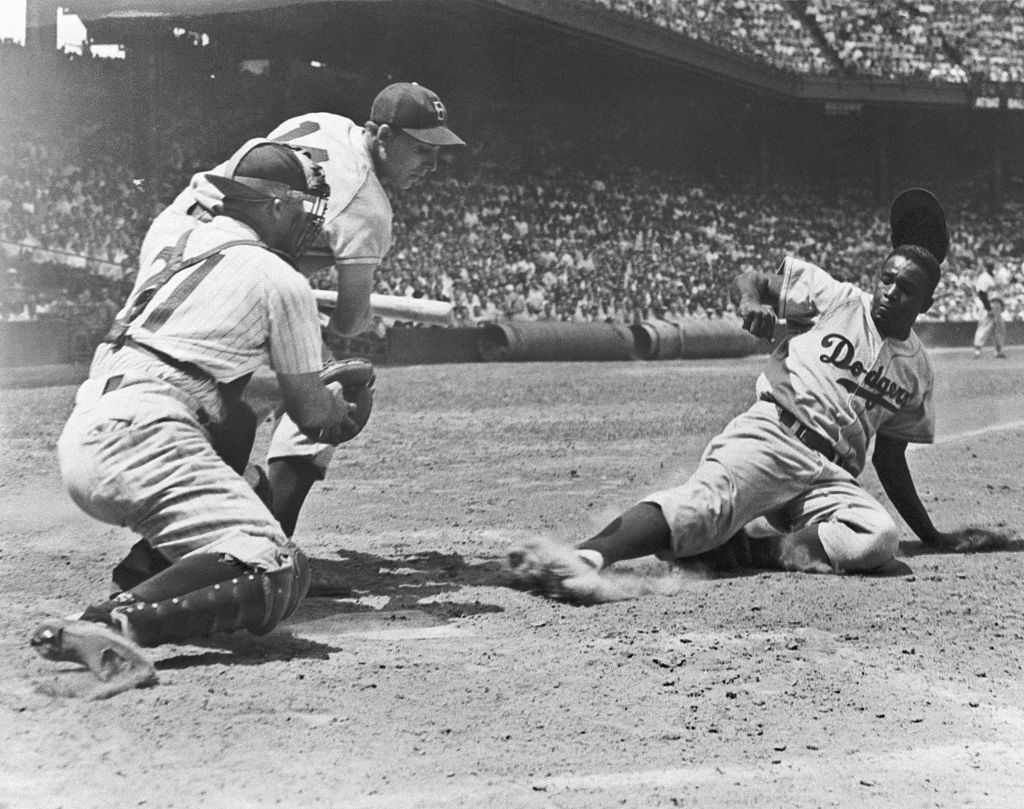 Despite racist taunts from fans, other players, and Philadelphia Phillies manager Ben Chapman, Jackie Robinson ignored the noise and turned in a fantastic rookie season for the Dodgers. Robinson hit .297 with 12 home runs, 48 RBIs, 29 stolen bases, and 74 walks to only 36 strikeouts in 151 games.
Using Baseball-Reference's Wins Above Replacement system, Jackie Robinson was worth an even four WAR in his rookie year. Robinson wouldn't post a WAR that low until a 3.7 score in 1954.
Jackie Robinson finished fifth in MVP voting. His excellent first year earned him the inaugural Major League Rookie of the Year.
Robinson earned 129 points, or 78% of the share. He narrowly defeated Giants pitcher Larry Jansen, who went 21-5 with a 3.15 ERA in 42 games.
Robinson hit .259 with three RBIs in the Dodgers' seven-game World Series loss to the rival Yankees.
Major League Baseball always honors Jackie Robinson on April 15
Jackie Robinson retired after the 1956 season. He was inducted into the Hall of Fame in 1962. Major League Baseball regularly celebrated Robinson throughout the years, even after he passed away in October 1972, before the league found a perfect way to honor Robinson.
On April 15, 1997, the 50th anniversary of Robinson's MLB debut, the league announced that no future players could ever wear Robinson's No. 42 again. Players who already wore No. 42, like Yankees closer Mariano Rivera, could continue wearing the number. Rivera's 2013 retirement made him the final player to wear No. 42 on a regular basis.
Hall of Fame outfielder Ken Griffey Jr. was one of several players who wore No. 42 in 2007 to honor the late Robinson. Major League Baseball mandated all uniformed personnel wear No. 42 on Jackie Robinson Day beginning in 2009.