The Jacksonville Jaguars May Cancel 'Minshew Mania' in the First Year of the Urban Meyer Era
Unless Urban Meyer has been lying to us for the past month, it's all but assured that Clemson's Trevor Lawrence will line up under center for the Jacksonville Jaguars in 2021. This will leave little room for Gardner Minshew on the Jaguars' roster. Fortunately, some other teams may have seen some value in the hit-and-miss quarterback.
The Jaguars have received offers for Gardner Minshew
RELATED: Trevor Lawrence Can Thank Colin Cowherd for His Newest Motivational Tool
According to NFL reporter Ian Rapoport, the Jacksonville Jaguars have "received a few calls" regarding the status of Gardner Minshew II. This doesn't necessarily mean that any teams made formal trade offers. However, it does indicate that Minshew has some value to NFL general managers.
Rapoport later mentioned the Chicago Bears as one of the teams who could potentially land Minshew. This is puzzling because the Bears have repeatedly failed in their attempts to replace Mitch Trubisky and Nick Foles this offseason. They have swung and missed on Carson Wentz, Russell Wilson, and (most likely) Deshaun Watson, and were forced to settle with Cowboys backup Andy Dalton.
However, as Rapoport mentioned on NFL Network, Minshew does have experience with current Bears quarterbacks coach John DeFilippo. For Minshew's rookie year in 2019, DeFilippo was Jacksonville's offensive coordinator.
Gardner Minshew was a big deal for a few weeks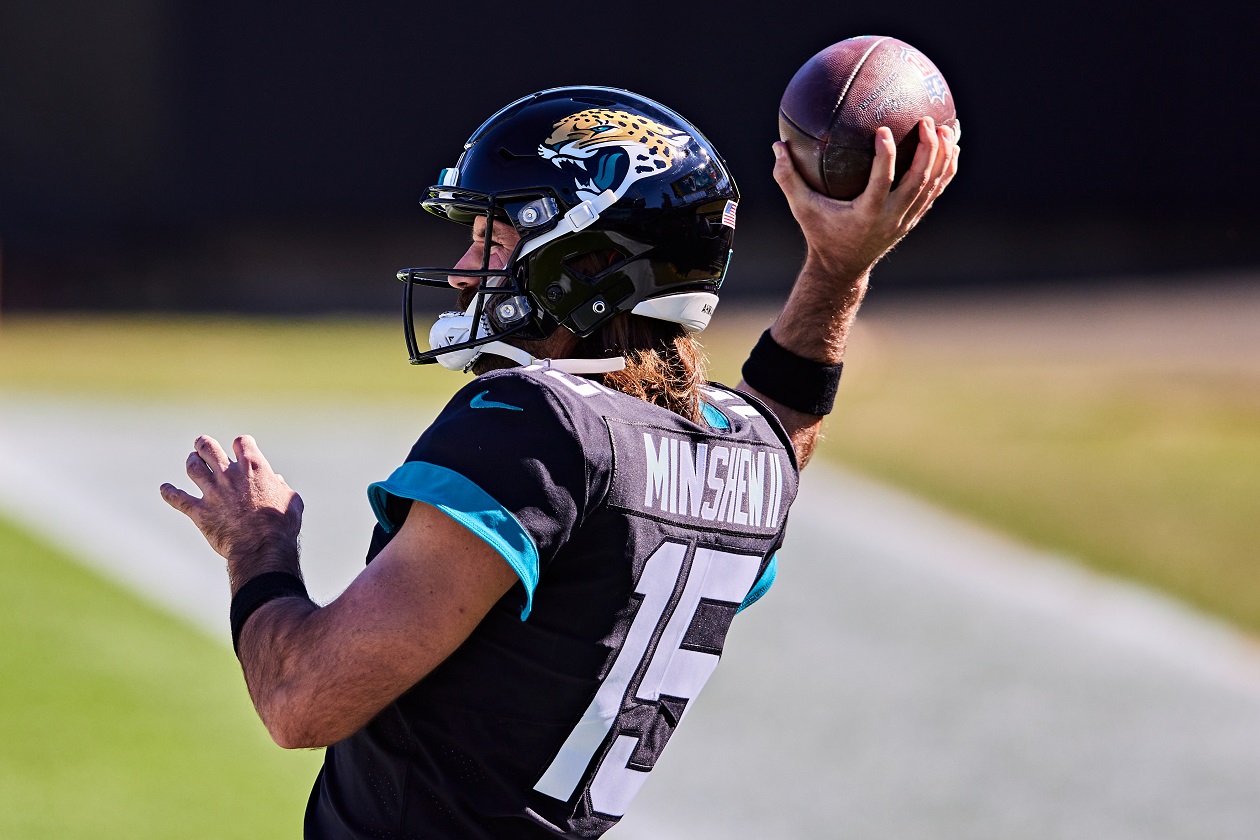 RELATED: Urban Meyer Has Learned a Harsh NFL Lesson
Much like Tim Tebow before him, Gardner Minshew managed to convert a few weeks of big plays into a brief phenomenon.
He made his NFL debut in the opening week of 2019, replacing the injured Nick Foles. Although Jacksonville lost, Minshew set an NFL record for highest completion percentage in a debut performance with his 22-for-25 showing. Minshew racked up some impressive numbers over his first eight games, averaging 247 yards and throwing 13 touchdowns against only two interceptions.
For Jacksonville Jaguars fans who have been used to failure (aside from a 2017 season which turned out to be a massive fluke), Minshew's run of good play represented hope — and they clung to it. "Minshew Mania" was born.
Unfortunately, his play deteriorated over the course of the season, which led the Jaguars to bench him the second Foles' clavicle injury healed. This lasted only two weeks once head coach Doug Marrone found out they were no better off with Foles. Regardless, Minshew Mania was dead along with the Jaguars' brief playoff hopes.
The NFL quarterback trade market is drying up fast
It's hard to make any judgments on Gardner Minshew based on his 2020 season alone. Obviously, he was weighed down by an inferior team.
On the negative side, you have to be doing pretty poorly for a coach to bench you for Mike Glennon. On the positive side, he was the starter of record for the team's only win that season. His completion percentage also jumped nearly six completion points over 2019, for what that's worth.
Still, it seems weird that we're having this conversation at all. Just weeks ago, teams were scrambling to their phones, offering to throw multiple years worth of draft picks for the likes of Carson Wentz, Russell Wilson, and Deshaun Watson. The first two of those quarterbacks were on teams that won a Super Bowl. The third could potentially win one on a team run by people who know what they're doing.
It seems like a pretty steep step down for NFL general managers to suddenly settle for the likes of Gardner Minshew — although, admittedly, you could do far worse.
Statistics courtesy of Pro-Football-Reference.