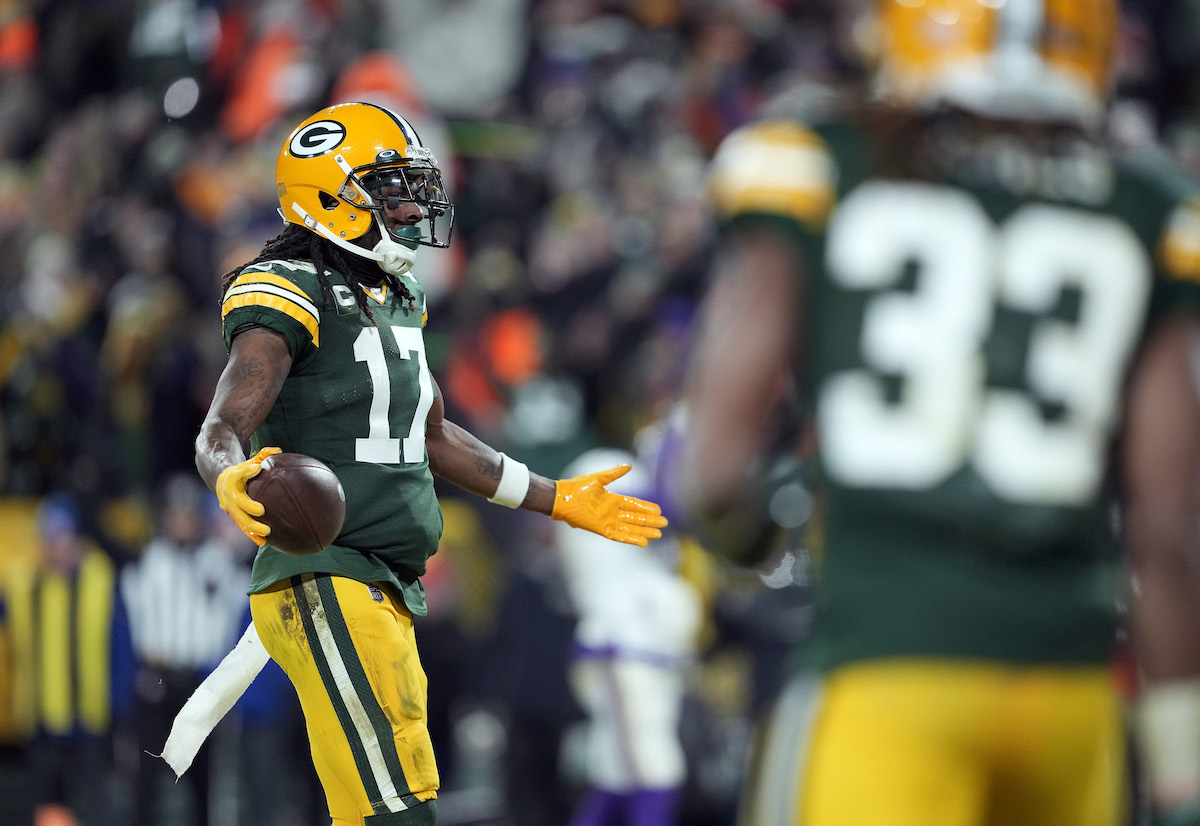 Jacksonville Jaguars Should Hand Davante Adams a Blank Check
The Jacksonville Jaguars should have both the money and the desire to pursue Davante Adams and let him aid Trevor Lawrence's development moving forward.
The Jacksonville Jaguars are coming off a disastrous 2021 season in which Marvin Jones Jr. (73), Laviska Shenault Jr. (63), Laquon Treadwell (33), and James Robinson (31) paced the organization in receptions. Davante Adams, conversely, is hitting the open market after an All-Pro campaign in which he recorded 123 catches for 1,553 yards and 11 touchdowns.
Though Adams could still return to the Green Bay Packers via a new contract or the franchise tag, the Jaguars should do everything in their power to bring him aboard as a one-man support system for rising sophomore quarterback Trevor Lawrence. It would be an expensive venture for a team coming off a three-win effort, but pursuing arguably the best wide receiver in the NFL makes sense this offseason regardless of the price tag.
This is the exact type of situation that mandates the use of a blank check.
Jaguars have roughly all the money to spend
"The Jacksonville Jaguars, another WR-needy team who are a whopping $70 million under the cap, are expected to make a run at Adams," Tony Pauline reported for Pro Football Network, also listing the Los Angeles Chargers, Las Vegas Raiders, and Denver Broncos as potential pursuers of the five-time Pro Bowler.
The Packers, due largely to the cap hold of embattled quarterback Aaron Rodgers, may not have the financial flexibility to retain their best wide receiver. Plus, their offensive system under head coach Matt LaFleur may not necessitate a true WR1 — at least not one of Adams' caliber and expected price point — as Andrew Kulha broke down for Sportscasting:
LaFleur's offense is an offshoot of what we've seen over the past few seasons from Sean McVay with the Los Angeles Rams and Kyle Shanahan with the San Francisco 49ers. At their core, all of these coaches want to run the football first and then use the run as well as motions and misdirections to set up the pass. When it's humming, the offense also opens up a ton of room for tight ends to operate. Just look at what Tyler Higbee has been able to do in LA this season, and, of course, how George Kittle has been used to perfection by Shanahan in San Francisco.

LaFleur's scheme does not require an elite wide receiver.

What he needs is a strong offensive line, good running backs, and a plethora of tight ends, and that's what [general manager Brian] Gutekunst has built for him so far.

Andrew Kulha
The Jaguars have no such luxuries with Doug Pederson coming in at head coach. Their offensive line needs work. Their running back corps, led by James Robinson and a healthy Travis Etienne Jr., should be strong. Their tight end group is completely forgettable. And their group of wide receivers, while filled with explosive yards-after-catch playmakers, needs a true top option to make life easier on Trevor Lawrence.
Another area in which Jacksonville and Green Bay differ? The Jaguars have a significant amount of money to spend this offseason — enough that they could easily pursue Adams, who Spotrac estimates will receive about $25.8 million per year, and still fill in some of the many other organizational cracks.
According to Over the Cap, Jacksonville ($46.5 million) trails only the Chargers ($48.9 million) and Miami Dolphins ($55.5 million) in effective cap space. It has the financial bandwidth to pursue the big fish and still seek out upgrades at other needed areas.
Fortifying the defensive line, offensive line, and linebacker corps might be easier with more monetary flexibility, but eschewing the Christian Kirk/Mike Williams/Allen Robinson tier in favor of the positional standout would also make life that much easier on a certain second-year quarterback.
Showing the commitment to Trevor Lawrence is vital
Lawrence's rookie year wasn't exactly successful.
The disastrous Urban Meyer stint at head coach stunted the progression of the 2021 No. 1 overall pick, as did the lack of quality players throughout the rest of Jacksonville's roster. He still showed flashes of the potential that made him so intriguing while he was thriving at Clemson, but he was also inarguably one of the NFL's least valuable players during his inaugural campaign.
Lawrence should look significantly better under Doug Pederson, but Adams would help the cause far more than any other potential offseason addition.
With the Tigers, Lawrence thrived making big plays down the field but ultimately operated within a more simplistic system, making plenty of easier reads along the line of scrimmage and throwing a plethora of screen passes and RPO deliveries to wide receivers on slants or separation into the flats. The Jaguars should run plenty of those sets under Pederson, and that's where Adams would be a huge boon.
The 29-year-old thrives in virtually every situation, but he truly distances himself from the field as a route-runner.
No one is better at using a quick release and flashy footwork to instantly create space between himself and a cornerback, and he can use that to excel in so many different packages. Whether he uses the separation on a slant, a stop route, or a vertical route up the sidelines, he makes life easier for quarterbacks by virtue of giving them so little to think about.
With DJ Chark Jr. hitting free agency himself, the Jaguars don't have anyone who can serve as even a simulacrum of that player, much less a player who fits that archetype and isn't plagued by drop issues.
Adams, if he even escapes the Packers' clutches, is going to be a coveted commodity with a salary that could rise as high as $30 million per year. The Jaguars should do everything possible to be the ones who foot that bill. They can afford it, and bringing him aboard would leave Lawrence with little doubt about their commitment to his development.
Addressing the offensive line is a must, but that can be done with cheaper signings and by using the No. 1 overall pick of the 2022 draft. Without someone who can create separation and give Lawrence an opportunity to show off his arm and processing ability, those inevitable improvements would be wasted.