The Jacksonville Jaguars Just Spent $44.5M To Make Life Easier for Trevor Lawrence
The Jacksonville Jaguars are facing a sweeping, expensive reboot. Centered around two college football stars, head coach Urban Meyer and quarterback Trevor Lawrence, the all-or-nothing moves are nothing new to fans. Jags ownership tends to put up big cash for splashy signings while failing to put together a cohesive team.
If wins are the goal, simply spending on proven players and coaching staff isn't enough. But one offseason move could be a big hint that something special is happening in Jacksonville. Lawrence needs a well-above-average defense to give him any hope of a smooth learning curve in the NFL. He just might have one in former Seahawks cornerback Shaquill Griffin.
Shaquill Griffin went from fighting for college playing time to being a lockdown NFL cornerback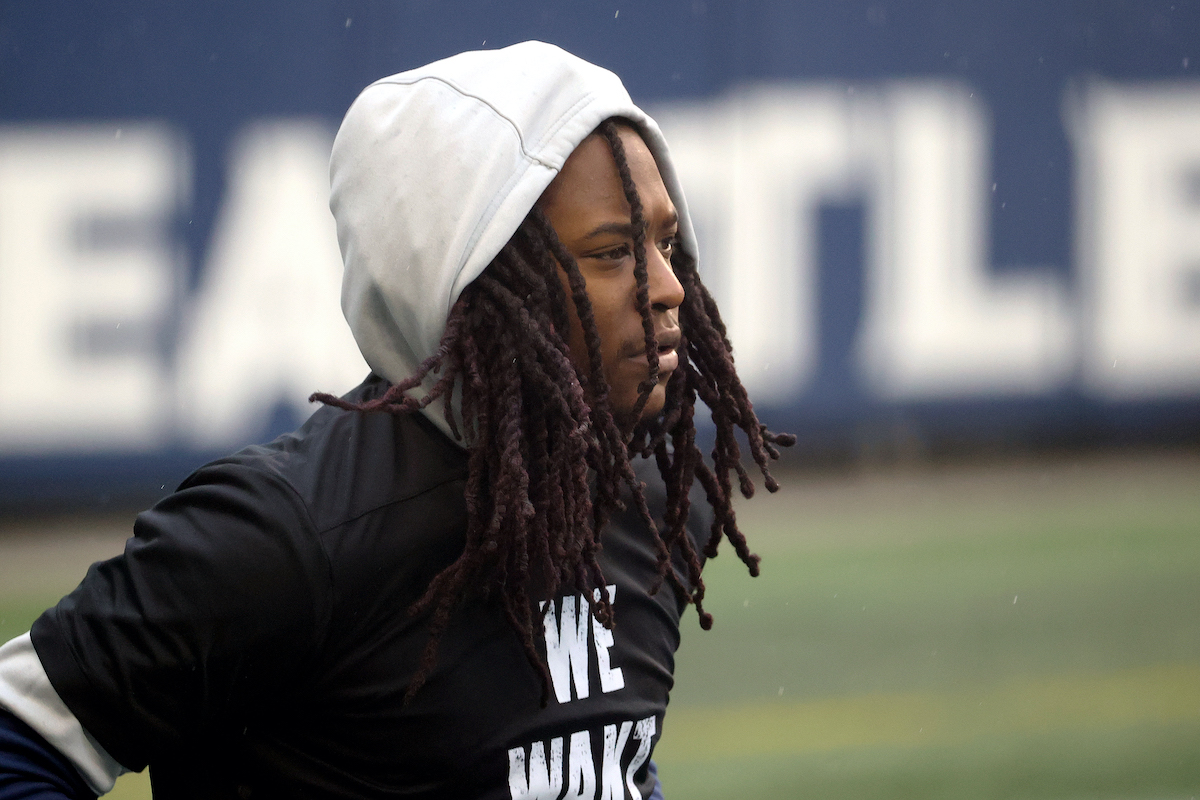 At 6-feet-0, 198 pounds, Griffin isn't the type of defensive player that NFL scouts size up at a glance. He has spent his career repeatedly earning his playing time. In his four seasons with the University of Central Florida Knights, he gradually earned more time, eventually proving his worth for the NFL draft in 2017.
After barely qualifying for minutes as a freshman, Griffin wrapped his senior year with UCF looking every bit like NFL material. He recorded 49 tackles, snatched four interceptions, defended 15 passes, and recorded one fumble recovery according to Sports Reference. That performance earned him a shot at the NFLPA Collegiate Bowl and the NFL Scouting Combine.
Ultimately, he went to the Seahawks with a third round pick in 2017. He repeated his old pattern, working his way up from fourth in the depth chart to a crucial option at CB who started most games. A Jaguars.com report on the CB notes that, across four seasons, Griffin started 53 games and played in 57. In that time he recorded 248 tackles, with 48 passes defensed. He also recorded six interceptions, including three in his final season in Seattle.
Griffin will make adjusting to the NFL easier for Trevor Lawrence
The Jaguars are sitting on the first overall pick for the 2021 NFL draft. Barring something incredibly strange going down, Lawrence is going to Jacksonville this April. There, he'll face a unique learning curve as both he and his head coach adjust to the NFL after years of Division I experience.
Lawrence has some solid help on the offensive end. The Jags signed Shaquill Griffin's teammates, wide receiver Phillip Dorsett and running back Carlos Hyde, according to Yahoo Sports. They'll be reunited with another Seattle alum in offensive coordinator Brian Schottenheimer.
But if the Jaguars intend to keep Lawrence calm and measured, a great way to do it is with proper support on the defensive end. Hence, a major deal to sign a rapidly developing lockdown CB in Griffin.
Could Shaquill Griffin help change perceptions around the Jaguars' free-agent signings?
The Griffin signing looks good on paper. But so have many high-profile signings in Jacksonville over the years. The team has remained a poor destination for many great players and coaches alike. It is, to put it bluntly, a place where greatness simply doesn't translate to very many wins. According to Forbes, they have one of the worst spending-to-wins ratios in the NFL.
Despite making headlines nearly every offseason, the team has made the playoffs just once in 12 seasons. Owner Shad Khan finally went for a full top-down shakeup in 2019. He fired head of football operations Tom Coughlin, and sent many of his biggest signings like QB Nick Foles packing.
There aren't great signs that this will change immediately. USA Today reports that even with these 2021 signings, the Jags remain 32nd overall in NFL power rankings. Meyer's heavy hand in this particular rebuild should, at least, provide a new direction for the team compared to the old attempts. Snatching up Griffin now, just after his best season, could pay off handsomely if his current arc of improvement continues. If Meyer's instincts have failed him, however, it would be nothing new in Jacksonville.