Jacob deGrom Diagnosis Allows New York Mets Fans to Breathe
It appears the New York Mets have dodged a bullet for now. Two-time Cy Young winner Jacob deGrom left his start Sunday against the Arizona Diamondbacks after five innings. The right-hander had skipped his previously scheduled start, so it would be easy to understand if Mets fans began to press the panic button repeatedly.
Since reaching the World Series in 2015, the Mets haven't had the best luck with starting pitchers. In that five-game loss to the Kansas City Royals, four of the five pitchers that started for New York were 27 or younger. (Note: Bartolo Colon was massively not younger than 27, however.) But since then, there have been rough patches for that youngish quartet. But Monday's news about deGrom, who underwent an MRI Sunday night, felt like a positive for the Mets. Or, at the very least, not a mushroom cloud. That wasn't the case for some of his 2015 teammates.
Jacob deGrom's latest prognosis good news for New York Mets
The New York Mets announced they would be placing Jacob deGrom on the 10-day injured list on Tuesday, retroactive to Monday. According to the team's news release, the MRI came back clean, and he is officially out with right side tightness. deGrom missed his scheduled start on May 3 due to soreness in his right lat muscle, and Sunday's early departure was related to the same issue.
The lanky right-hander has been almost unhittable so far this season, with a 0.68 ERA and 0.600 WHIP in 40.0 innings over his six starts. Somehow, the Mets have only managed to split those six games. New York hitters seem to have some allergic reaction to wood when deGrom pitches. In his six starts, the Mets have mustered 17 runs with two shutouts against them.
deGrom was part of the post-World Series injury parade in Flushing Meadows. In 2016, the Mets shut him down in September after he made only 24 starts. He had surgery to repair his ulnar nerve, likely a complication from Tommy John surgery in 2010, according to MLB.com. He recovered to win back-to-back Cy Youngs in 2018 and 2019, which put him light years ahead of some of his 2015 rotation mates.
If not pure carnage, the Mets 2015 starters have taken their lumps
No pitcher embodied the bad luck of the New York Mets in the wake of their World Series appearance than Matt Harvey. An All-Star in 2013, he missed the 2014 season after Tommy John surgery. But he came back as good as new in 2015. Harvey had a 2.71 ERA in 29 starts, striking out 8.9 batters per nine innings with a 1.019 WHIP. But the next five years were rough.
Between 2016–20, Harvey pitched for four teams and didn't post an ERA below 4.86. He surrendered 21 homers in just 92.2 innings in 2017 for the Mets and last season served up six bombs in only 11.2 innings for the Royals. Now 32, Harvey has made seven starts this season for the Baltimore Orioles. He has a 3.60 ERA and 1.286 WHIP in 35 innings, the best numbers he's had since 2015.
Harvey had shoulder surgery after being shut down in July 2016. In 2018, he had surgery to treat thoracic outlet syndrome. That's a condition associated with shoulder pain and numb fingers. But Harvey hasn't been alone in his health struggles.
Jacob deGrom the last man standing from the 2015 World Series rotation for the New York Mets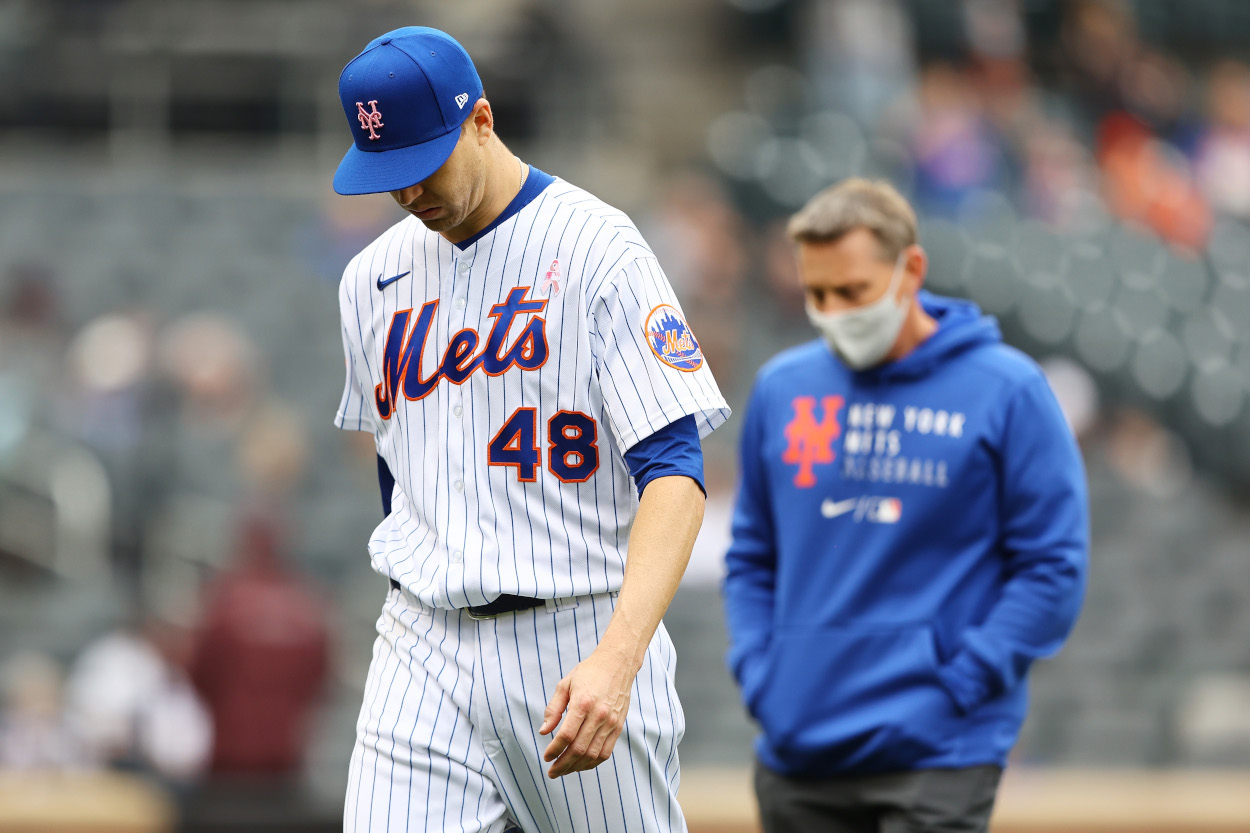 The other two young starters for the New York Mets in the 2015 World Series loss were Steven Matz and Noah Syndergaard. Matz received Rookie of the Year votes in 2016 (he pitched only 35.2 innings in the regular season in 2015) but has struggled since. Since the World Series, Matz has a 4.51 ERA and 1.322 WHIP in 581 innings. He also dealt with ulnar nerve problems in 2017 and had shoulder issues last season. Matz was traded to the Blue Jays in January.
Syndergaard, meanwhile, was limited to seven starts in 2017 due to a partially torn lat muscle and hasn't pitched in a game since Sept. 29, 2019. A torn ligament in his elbow last spring led to Tommy John surgery. He won't be back before June at the earliest.
The New York Mets expect Jacob deGrom to recover in a short time. But if he's not? That would be just another turn of bad luck for a franchise that's been drowning in it for going on six years now.
Statistics courtesy of Baseball Reference.