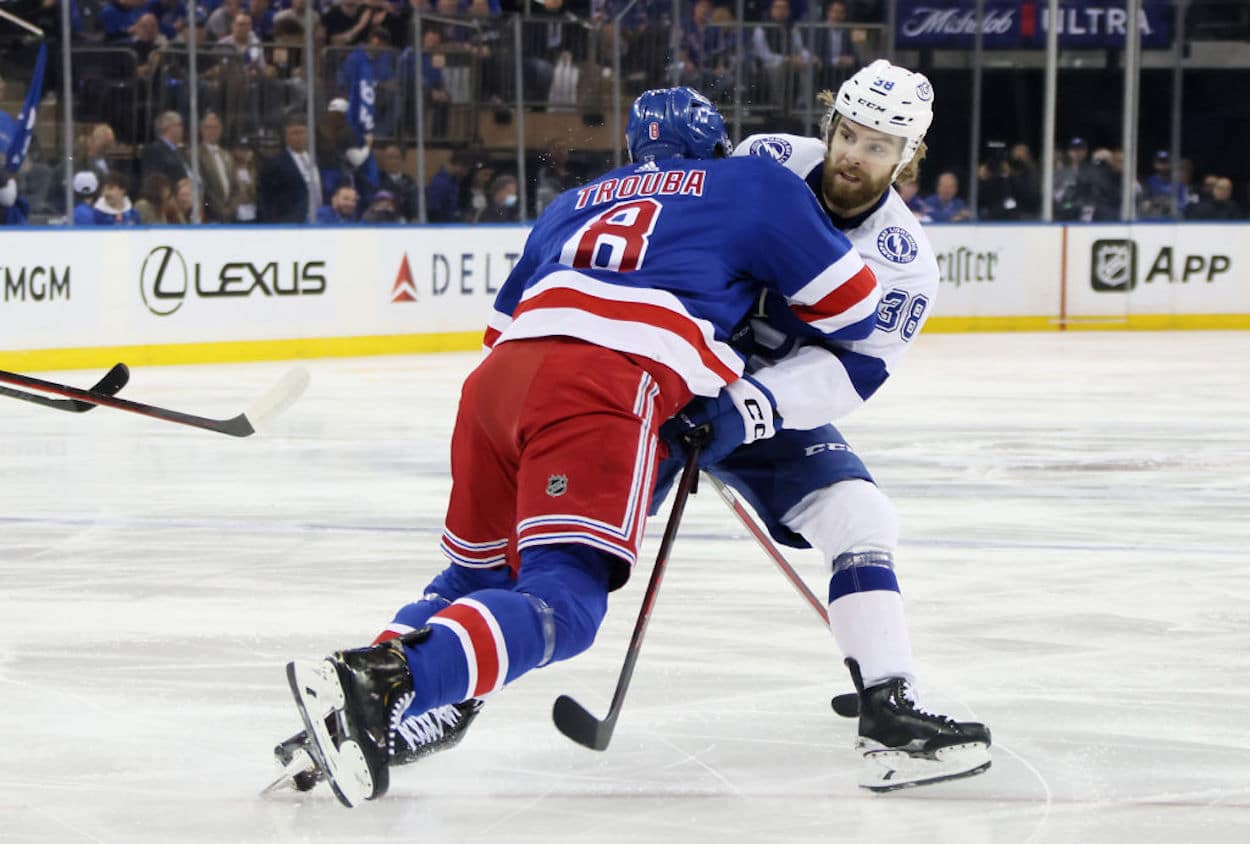 Jacob Trouba's Attempted Elbow Proves That the NHL Can't Have Its Cake and Eat It Too
Jacob Trouba didn't connect with his flying elbow on Thursday night, but that doesn't mean the play is any less problematic.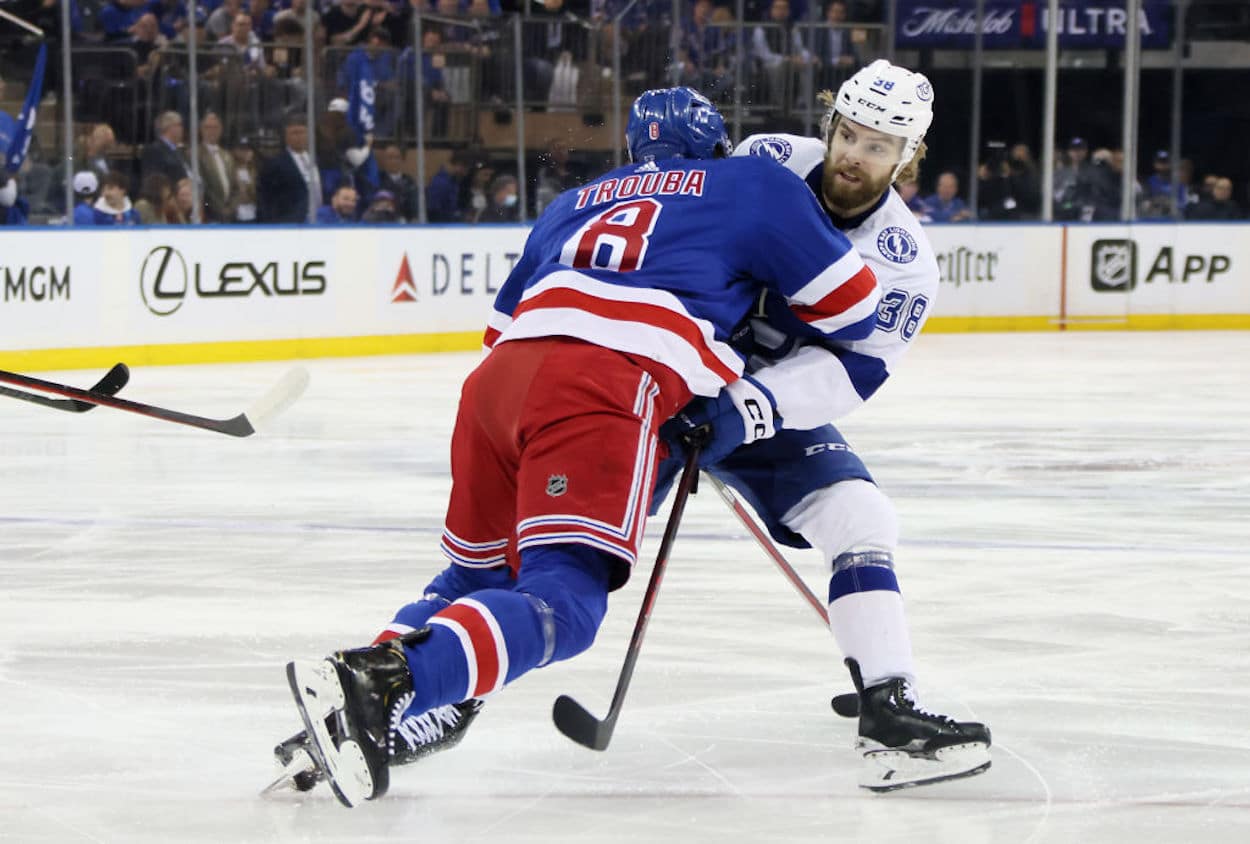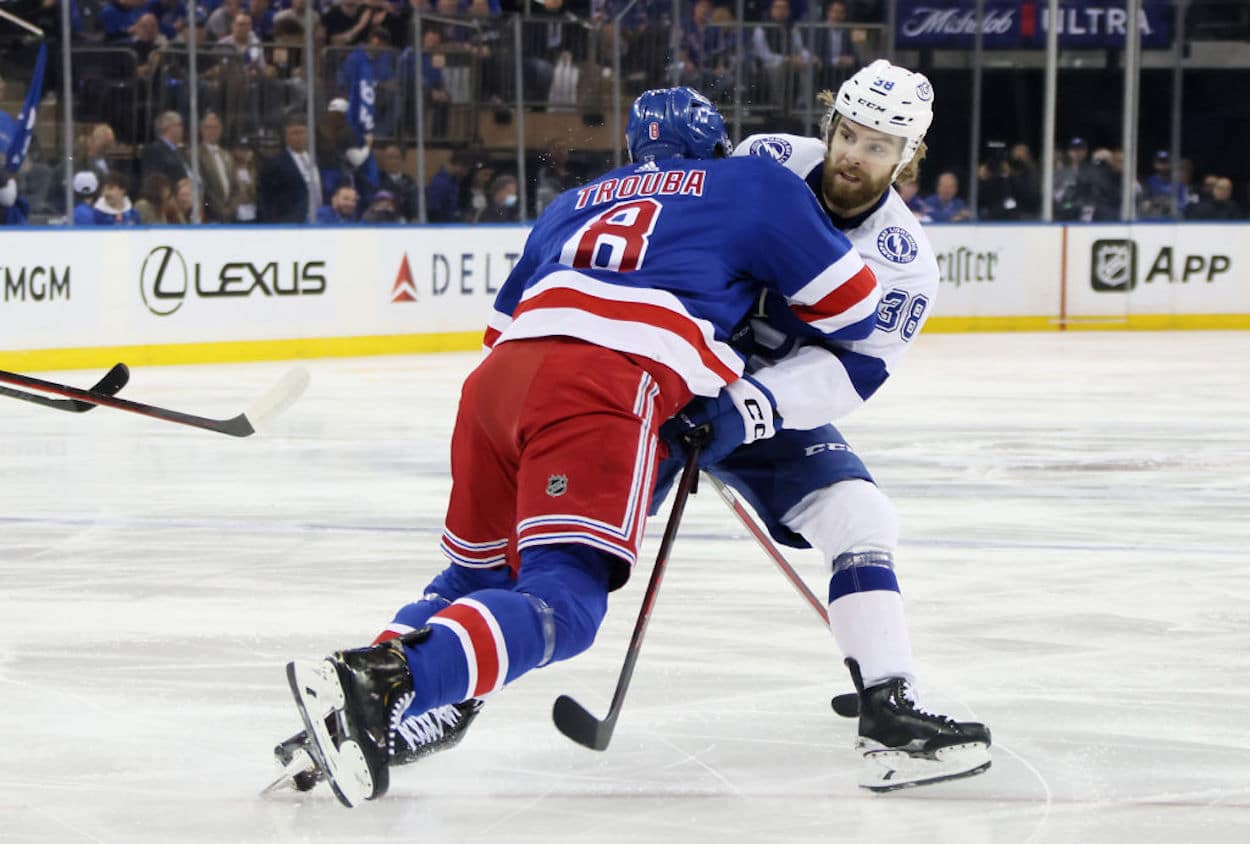 While Igor Shesterkin may have been the New York Rangers' key man this season, there were plenty of players who helped the hockey club surge into the postseason. One of those was defenseman Jacob Trouba. While Michigan native did pot 39 points, he also added a physical edge to the back end of a young team.
According to traditional hockey wisdom, that's a good thing. No squad, especially one stocked with skilled players, can afford to be "soft." Having someone capable of lying the lumber, whether it's Trouba or Ryan Reaves, keeps the opposition honest.
When we look at things from a more modern perspective, though, it gets a bit trickier. Let's consider Trouba's attempted elbow during Game 5 of the Eastern Conference Finals, in combination with his previous playoff hits, as an example of that.
As the Rangers have advanced through the 2022 NHL Playoffs, Trouba has made a controversial hit in each of the first two rounds. During the opening stanza against Pittsburgh, he caught Sidney Crosby up high. The hit was ruled accidental, but the Pittsburgh star missed the next contest.
During the second-round series with Carolina, Trouba delivered a controversial hit to a falling Max Domi. Then, during Game 7, the Rangers defenseman laid out Seth Jarvis. He appeared to sustain a concussion on the play — he's since spoken about not remembering much of that evening — and, to make matters worse, his struggles getting to the bench caused the Hurricanes to take a too many men on the ice penalty. Once again, Trouba avoided any consequences, as his hit was ruled to be a clean body check that happened to include some head contact.
Trouba didn't just avoid suspensions on those plays, though. He received positive press for his old-school game and propensity for delivering important hits.
On June 3, for example, The Athletic ran a story titled "Jacob Trouba's hits 'change the game' for Rangers — and all-time hitters are taking notice," which featured quotes from Darius Kasparaitis and Chris Pronger. A few days earlier, the New York Post wrote that "Jacob Trouba delivers another game-changing hit for Rangers." While it was a bit less editorialized, even NHL.com published a story on May 25 titled "Trouba hit on Domi sets tone for Rangers in Game 4 win."
In fairness, those sentiments were at least partially based on quotes emerging from the Rangers' locker room. Regardless of the origin point, though, the implicit statement was that Trouba's hits were more than OK. They were important and deserved to be praised.
That takes us to Game 5 of the Eastern Conference Finals. During the game, a clip hit social media of Trouba attempting to throw an elbow at Tampa Bay's Ondrej Palat. If the defenseman connected, there's probably an injury, a brawl, and a suspension, all things that would detract from what's been a high-quality series. He missed, however, and found himself on the ice.
While that clip was at least partially used to mock the Rangers defenseman, it's tough to avoid viewing it through the context of Trouba's previous hits. Does he make that play if he's already been called to the principal's office during these playoffs?
Hits to the head have always been a tricky thing for the NHL to tie down. While egregious violations are penalized, most players are usually smart (and hopefully empathetic) enough to avoid intentionally blowing someone up. Plenty of injuries come from plays like Trouba's, where some head contact is part of an otherwise legal hit.
Those plays have always been given a pass under the logic of keeping physicality in hockey. While that may make sense on paper, it's failed in practice. You can't say you're serious about player safety and essentially outline the ways you can legally concuss your opponent.
A potential solution, however, exists within the NHL rulebook. As hockey fans all know, a player is responsible for keeping control of his stick; other than a follow-through, there are no excuses for a high-sticking penalty. If your stick catches someone up high, you're going to the box.
Imagine that logic being applied to high hits. If you hit someone in the head, regardless of the intention, you're going to the box. Would there be some growing pains? Some penalties that feel unfair because you were in the wrong place at the wrong time? Of course. But no one is up in arms about changing how high sticking is called.
Taking it back to Trouba, he's an example of how the NHL makes its own problems. If you set precedents for legalized headshots and praise big hitters, then you can't act shocked when someone tries to throw a flying elbow. It's ugly, but you've allowed that to happen.
If you want to genuinely look out for player safety, you're going to have to accept some angry fans and learn to promote the game in a different way. Again, it won't be easy, but if you decide that it's worth it to limit concussions, those slings and arrows will be well worth it.
As the cliche says, though, you can't have your cake and eat it too.
 Like Sportscasting on Facebook. Follow us on Twitter @sportscasting19 and subscribe to our YouTube channel.