Jacoby Brissett Has Unfairly Become Odd Man Out in Colts' Quarterback Room
Jacoby Brissett has gone from possible face of the Indianapolis Colts to presumptive backup in mere months. A former third-round pick of the Patriots who impressed in two seasons as the Colts' starter, Brissett will spend the 2020 season backing up longtime Chargers quarterback Philip Rivers.
Jacoby Brissett, by no fault of his own, has become the odd man out in the Colts' quarterback room. Here's how he can change that, and what the Colts should do with the fifth-year quarterback.
Jacoby Brissett doesn't deserve the blame for last year
Jacoby Brissett has quietly been an extremely efficient quarterback in his 30 starts as a Colt. Brissett completed 60.9% of his passes last year for 2,942 yards, 18 touchdowns, and six interceptions. The former third-round pick ran for another four scores in 15 games.
Brissett had similar numbers through 15 starts in 2017. He completed 58.8% of his passes that year for 3,098 yards, 13 touchdowns, seven interceptions, and four rushing scores.
Given how quickly Brissett was not only thrown into starting duty, but a new overall role with the Colts when Andrew Luck abruptly retired last summer, it is fair to say he had a strong season.
Injuries, however, devastated the Colts' playoff hopes and created concerns about Brissett's future in Indianapolis. The Colts signed Chargers legend Philip Rivers when free agency opened in March.
Weeks later, the Colts added a young quarterback, Washington's Jacob Eason, in the 2020 NFL draft.
Are the Colts doing right by Brissett?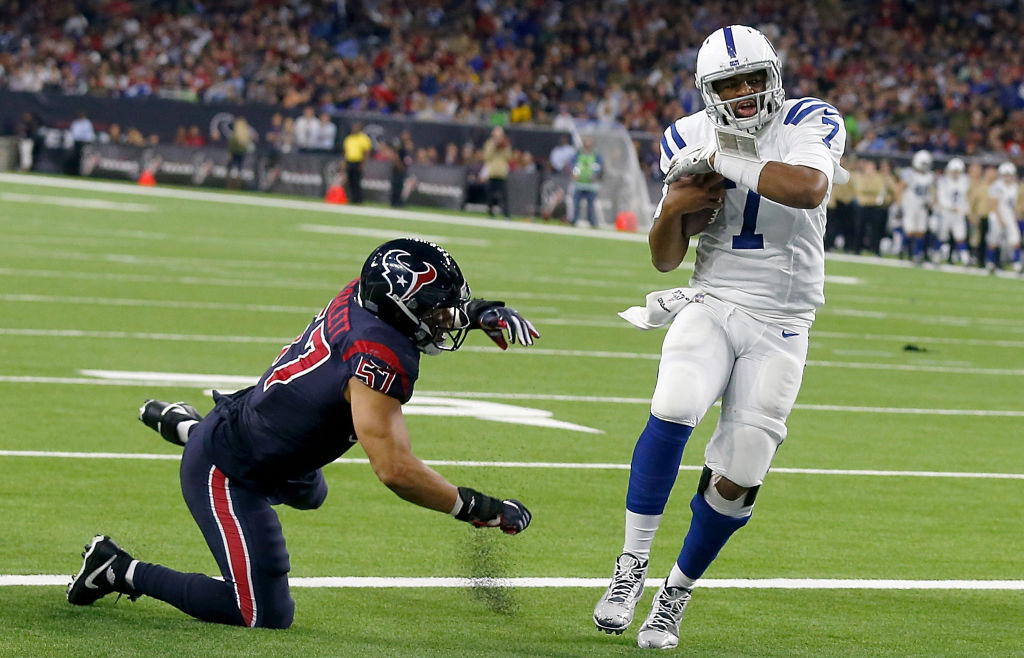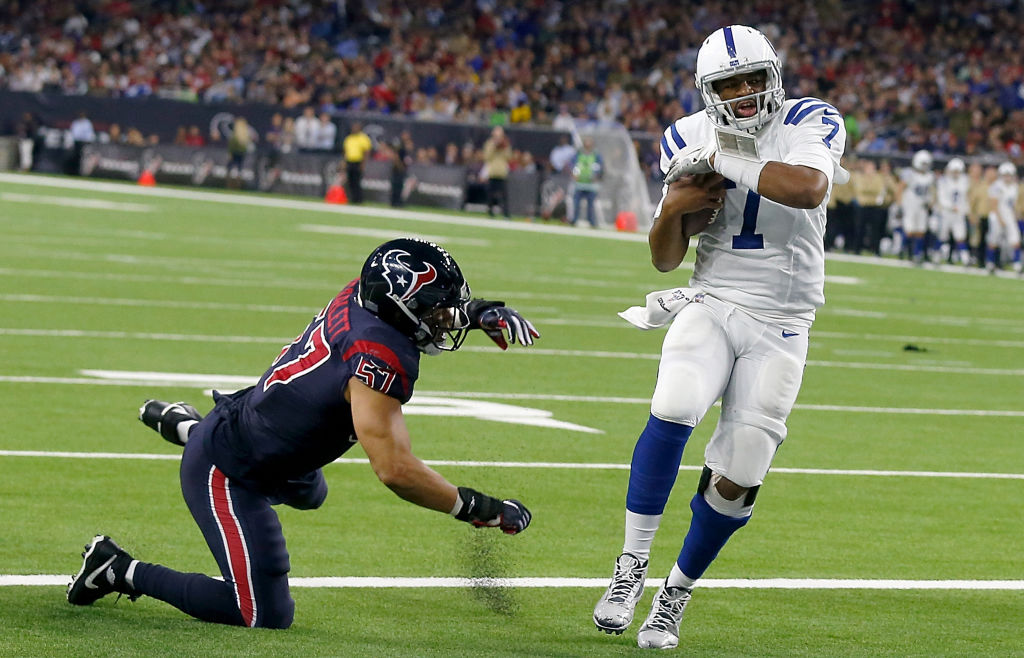 The Indianapolis Colts had every right to make the quarterback moves they did. Philip Rivers played last season behind a terrible Chargers offensive line — Pro Football Focus ranked them 29th out of the league's 32 teams — and he should benefit from a new home.
Jacob Eason never grew into the amazing prospect many thought he would become. Eason will start his career in the same room as two established quarterbacks and under a brilliant offensive mine in season.
Jacoby Brissett's situation is similar to Chad Pennington's final days in New York. Although Pennington was 32 and Brissett is still only 27, both were established quarterbacks in their cities coming off injury-affected seasons.
The 2008 Jets, fresh off a disappointing 4-12 season, traded for future Hall of Famer Brett Favre and selected Tennessee quarterback Erik Ainge in the NFL draft's fifth round.
Favre started only one year and the Jets drafted USC's Mark Sanchez a year later. Ainge never appeared in a game for the Jets.
The 2020 Colts, fresh off a disappointing 7-9 season, signed future Hall of Famer Philip Rivers and selected Eason in the NFL draft's fourth round.
Only time will tell how long Rivers plays in the blue and white and if Eason, who 247 Sports once called the nation's fifth-best class of 2016, ever plays a game for the Colts.
Is Jacoby Brissett's future truly with the Colts?
There's more to the Chad Pennington and Jacoby Brissett analogy beyond them being similar moves. Both Favre and Rivers, even in their older age, were smart choices for teams that wanted to win now.
The Jets at least did right by Pennington and released him that summer. Pennington, of course, signed with the Dolphins and led
them to an AFC East Division title.
Don't expect the same to happen with Jacoby Brissett playing for the Jacksonville Jaguars this fall, though. Brissett is a free agent next year and, on paper, he is far more valuable to the 2020 Colts than Pennington was the 2008 Jets.
The Colts would save almost $16 million in cap room if they trade him before June 1, according to Over the Cap. Indianapolis would owe Brissett $12.5 million if the team released him at any point.
Barring a tremendous trade offer or an outright refusal to suit up this season. Jacoby Brissett should play the 2020 season in Indianapolis. There is no guarantee Philip Rivers will resemble his former self and the Colts could keep their Super Bowl hopes alive by having Brissett as a possible reliever in that situation.
It is way too early to predict where Brissett will play in 2021, especially if Rivers flourishes under Reich and wants to play again. But don't be surprised to see Jacoby Brissett cash in next spring regardless of how many games he plays this year.